For "Mammal Monday":
Big Step Forward in Protecting Alaska's Caribou
"New strategic plan will manage Alaska's 22 million-acre Western Arctic Reserve. The Bureau of Land Management (BLM) has identified a preferred alternative management plan for the National Petroleum Reserve-Alaska (Reserve), which will determine which lands and waters in the 22-million acre Reserve will be protected and which will be leased for oil and gas development. 
Thanks to National Wildlife Federation supporters and our partners--who generated more than 400,000 comments in total--it appears the BLM will protect much of the Reserve's critical habitat for iconic Arctic wildlife like caribou, grizzly and polar bears, and millions of migratory birds!" More at: http://online.nwf.org/site/News2?page=NewsArticle&id=18451&security=4061&news_iv_ctrl=-1
__________
Should You Let Your Dog Eat Grass?
"Dr. Karen Becker explains why dogs eat grass and sheds some light on the motives behind this popular doggy behavior. Learn what you can do if your dog eats grass often."
More at: http://healthypets.mercola.com/sites/healthypets/archive/2009/12/23/why-dogs-eat-grass.aspx
________
Who Are the Real Animals?
"Is it man's destiny to ride roughshod over animals? In today's world, greed and superstition are two powerful forces more important than the welfare of animals...
I read a shocking news report not long ago. A Quebec woodsman on a Jet Ski tried to kidnap a bear cub swimming across a river.  It's mother and sibling were already on the other side, and this cub was slow in making it across. Grabbing it by the scruff of the neck, the man on the Jet Ski was attempting to capture it to take it back home as a pet.
The bear cub broke free eight times by clawing at him, only to be grabbed again. To wear out the cub, the woodsman started running over it with the Jet Ski, forcing the cub's head under water.
The 55-year-old woodsman got his best grip by holding the cub upside down by a hind leg. He then dunked it again and again under water in a cruel attempt to drain the cub's energy. The cub was now moaning, desperately trying to breathe.
Eventually wildlife officers turned up and captured the bear to release it as an orphan in another part of the forest. It's feared the cub will not survive on its own.
Letters to the editor published in the newspaper were peppered with such words and phrases as "disgusting," "outrage," "upset," "no sane explanation for his behavior" and "too bad we can't dunk the man by his hind leg-maybe he would learn to treat animals with respect." For the woodsman's part, he said that if given a chance, he'd do it again.
Is it man's destiny to ride roughshod over animals? In today's world, greed and superstition are two powerful forces more important than the welfare of animals. Consider, for example, Africa and Asia .
Sometime in the late 1970s half the white rhinoceros population of Uganda suddenly disappeared. Only two were left in the country and the last was shot, probably by poachers.
To be fair, it might be hard to blame genuinely poverty-stricken, hungry people in Uganda if they shoot animals for needed cash or food. But after Idi Amin's reign of terror, tens of thousands of weapons were available and gangs today are often better armed than the rangers who guard park reserves.
Poachers mostly go for ivory, but if they come across a rhino they'll shoot it as well. But they only take the horn, leaving the carcass to rot.  In northern Tanzania poachers have wiped out 90 percent of the rhinos in the past 10 years. It's reported that the greatest demand for rhino horn is South Africa , especially in mutu shops of Johannesburg and Pretoria .
Mutu is a Zulu word for "medicine," and in these shops an array of herbal and animal products-including rhino-are sold. Zulus buy a little powdered rhino horn mixed with dried lice, which they swallow to treat jaundice.
But rhino hide sells more than the horn. Zulus sometimes burn a piece of the hide inside their homes believing the vapors will drive away evil spirits. They also eat a bit of rhino hide to stop a nosebleed or ill effects from snakebite.  North Yemen is a large illegal importer of rhino horn. More than 80 percent of Yemeni men wear daggers called jambiyya, and the best handles are made from rhino horn. This market has increased the value of rhino horn 15-fold-leading to the deaths of thousands of animals.
Probably the oddest medicinal superstition for the rhino product is the practice of zookeepers in Rangoon , Burma , who collect the urine of a baby rhino which they drink as a cure for sore throats and to ward off asthma attacks. The Calcutta Zoo earned $750 in just one year from the sale of an old rhino's urine. At least in these cases the animal isn't killed.
But is this man's destiny, practicing medicinal cures through the slaughter of game animals?
God is a compassionate God. His nature is one of mercy and kindness. We are to become like Him in our attitude and character. His conversation with Jonah showed He cared for animals, too, when debating the destruction Nineveh , which had many thousands of people "and much livestock" (Jonah 4:11). Scripture tells us that God cares for the birds and plants of the field (Matthew 6:25).
This, then, is a great God who cares for the entire physical environment-chief of which are human beings made in His image. When He created the first man, He gave human beings responsibility over His creation, placing Adam in Eden "to tend and keep it" (Genesis 2:15) Man was given a responsibility to rule over the creation, but that rulership must be in wisdom, love, justice and mercy, reflecting the mind and attitude of God Himself.
After all, this life is a training ground for our ultimate destiny. Read our booklet What Is Your Destiny - it's one greater than that of animals. And it's one that requires humans to exercise love and compassion to all living things." From: http://www.ucg.org/commentary/who-are-real-animals/
_______
 Authorities investigate flying turtle incident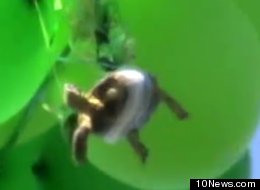 Humane Society officials in Oceanside, Calif., are trying to figure out who attached this box turtle to several balloons and launched it into the air.
OCEANSIDE — "Officials with the San Diego Humane Society are trying to determine who is responsible for a sending a turtle flying into the air Sunday in Oceanside.
The small animal, which weighs less than a pound, was found about 4 p.m. duct-taped to a bunch of balloons that became stuck in a tree on Humboldt Bay Way, Humane Society spokeswoman Kelli Herwehe said.
Neighbors called authorities after seeing the turtle hanging high above the ground, its little legs dangling down. A gust of wind blew the turtle to the ground.
Animal care officers took possession of the uninjured animal and brought it to the society's offices in Oceanside where it will be held as authorities investigate, Herwehe said. Whoever was responsible for sending the turtle aloft could face misdemeanor or felony charges of animal cruelty, Herwehe said.  Anyone with information about the incident can call the Humane Society at (619) 243-3466." From: http://www.utsandiego.com/news/2012/aug/22/authorities-investigate-flying-turtle-incident/
"People for the Ethical Treatment of Animals announced a $2,500 reward for information leading to the arrest and conviction of those responsible for taping a small turtle to a bunch of balloons and setting it adrift."
_______
Rescue dog "pays it forward" and saves dog discarded in garbage can

A dog rescued from a garbage can when he first came in for care a shelter (left) and after (right).
"Peter Kreuthmeier was walking his dog Zeke near his workplace when Zeke insisted in sniffing around a garbage can in a vacant lot in Garfield, Pittsburgh, Pennsylvania. Zeke began pulling Peter over to the plastic garbage can, which was tipped on its side, intent on exploring it more closely.
"Zeke went up to it. He was sniffing and sniffing and pretty soon this dog nose pops out of a hole in the bottom of the garbage can. And then you hear this 'thumpthumpthumpthump' from the bottom of the can like he was wagging his tail." Peter was shocked to realize Zeke had discovered a discarded dog inside the can. The lid of the garbage can was firmly shut, but appears the dog trapped inside had chewed through the bottom."" More at: http://www.dogheirs.com/elleng/posts/1836-rescue-dog-pays-it-forward-and-saves-dog-discarded-in-garbage-can
_________
Voting Guide:
How to Vote Wildlife-Friendly in the 2012 Elections
"The November 6th elections will have far-reaching consequences for America's wildlife from coast to coast for years to come.
Right now, wildlife advocates across the country are pledging to cast their ballots for those candidates who will fight to conserve wildlife habitat, clean air and clean water.
Pledging to vote for wildlife-friendly candidates is bigger than any one race on November 6th. It means researching candidates' positions and comparing their records on key issues for wildlife.
Close Votes in Congress to Defend Wildlife Habitat
Since 2011, the U.S. House of Representatives has voted more than 280 times to weaken clean air, clean water and wildlife protections. Thankfully, because of opposition from the Senate, the president or both, few of these bills have become law.
More often than not, only a handful of votes on Capitol Hill determined whether or not key conservation measures passed, which is why the upcoming elections are especially important for the future of wildlife. 
Key Issues for Wildlife in the 2012 Elections
Before you go to the polls on November 6th, it's important to research presidential and congressional candidates' positions on these key wildlife conservation issues:
Conservation Funding | Clean Water | Climate and Energy | 
Endangered Species | Public Lands | Environmental Education"
More at: https://online.nwf.org/site/SPageNavigator/ActionCenter/elections_Issues2012
________
Register for WCS Run for the Wild  Oct. 6th. 2012
"Mark your calendar for an exciting day at WCS's New York Aquarium in Coney Island on Saturday, October 6. At this family-oriented 5K run/walk on Brooklyn's storied boardwalk, participants will make tracks for walruses and other endangered wildlife at the aquarium and around the globe. Your registration includes:
All-day access to the New York Aquarium
Free commemorative t-shirt
Staggered starts for runners and walkers/ families
Prizes for fundraisers of all levels, including kisses from the aquarium's sea lions!"
_______ 
On This Day:
First drunk driving arrest, Sep 10, 1897:
"On this day in 1897, a 25-year-old London taxi driver named George Smith becomes the first person ever arrested for drunk driving after slamming his cab into a building. Smith later pled guilty and was fined 25 shillings.
In the United States, the first laws against operating a motor vehicle while under the influence of alcohol went into effect in New York in 1910. In 1936, Dr. Rolla Harger, a professor of biochemistry and toxicology, patented the Drunkometer, a balloon-like device into which people would breathe to determine whether they were inebriated. In 1953, Robert Borkenstein, a former Indiana state police captain and university professor who had collaborated with Harger on the Drunkometer, invented the Breathalyzer. Easier-to-use and more accurate than the Drunkometer, the Breathalyzer was the first practical device and scientific test available to police officers to establish whether someone had too much to drink. A person would blow into the Breathalyzer and it would gauge the proportion of alcohol vapors in the exhaled breath, which reflected the level of alcohol in the blood.
Despite the invention of the Breathalyzer and other developments, it was not until the late 1970s and early 1980s that public awareness about the dangers of drinking and driving increased and lawmakers and police officers began to get tougher on offenders. (One tipsy Canadian famously ate his underwear while waiting to take a Breathalyzer test because he believed that the cotton would somehow absorb the alcohol in his system. It did not.)
In 1980, a Californian named Candy Lightner founded Mothers Against Drunk Driving, or MADD, after her 13-year-old daughter Cari was killed by a drunk driver while walking home from a school carnival. The driver had three previous drunk-driving convictions and was out on bail from a hit-and-run arrest two days earlier. Lightner and MADD were instrumental in helping to change attitudes about drunk driving and pushed for legislation that increased the penalties for driving under the influence of alcohol and/or drugs.
MADD also helped get the minimum drinking age raised in many states. Today, the legal drinking age is 21 everywhere in the United States and convicted drunk drivers face everything from jail time and fines to the loss of their driver's licenses and increased car insurance rates. Some drunk drivers are ordered to have ignition interlock devices installed in their vehicles. These devices require a driver to breath into a sensor attached to the dashboard; the car won't start if the driver's blood alcohol concentration is above a certain limit.
Despite the stiff penalties and public awareness campaigns, drunk driving remains a serious problem in the United States. In 2005, 16,885 people died in alcohol-related crashes and almost 1.4 million people were arrested for driving under the influence of alcohol or drugs."
----------
From Me: It was in 2006 that my granddaughter was killed by a drunk driver.
_______
Yesterday:
My daughter hadn't called me on Saturday morning, and as I was in such a hurry to get ready for church, it was just as well.  So I just about knew that she would call, and she did.  She was full of their plans to build a little guest house at their place at Lake Summerville.
Then, this was a nice surprise email about the puppies that I just fostered:
"Hi Penny,
Here is a picture of Minnie in her new home at Nap time with their daughter Bailey. 
Also Streaker went to his new home last night to be with his sister B.T. (now named Nina) so he is doing very well.  I was without any puppies this morning for the first time in over two weeks and it felt great.  I just love the little puppies and they get adopted out pretty fast but they sure are a lot of extra work as you well know.  No more pups for a while. 
Thanks, Kenya"
I get very somber when the the animals are adopted, as I worry about them.  We do our best to make sure that they get good homes, but you never know who might come into their lives. 
The weather cooled down, that is wonderful, and I was able to leave the windows and doors open most of the day, for the first time since summer started.  I took Misty for a walk around here, and we weren't hot at all.  Summertime in TX gives you 'cabin fever'!  It's too hot to do anything but stay indoors. 
This change in the weather brings out the RVer in me, and now I have Hitch-Itch, then I remember that I have all this stuff for sale, and that I don't like to be traveling by myself.  That is when I miss my late Johnnie even more.  The MH hasn't been on a long trip for years, not since he died in 2001, but when I walk in the back door, I still 'see' his head sticking up above the passenger seat.  I had to do all the driving after he got sick. 
I drove the fancy Coachmen Class B on the one trip I made to the San Antonio area to meet Deb and Rod, http://debandrod.blogspot.com/.   But I didn't like that B as as much as my old dual rear wheel B+ RV, and so I sold it.  It was that trip which made me realize that I don't like going solo on long trips. 
I know I want to do something different, but I don't know what.  I spend way too much time on the computer, though I learn a lot.  I 'visit' lots of places that other RVers are enjoying, areas that I will never get to see. 
Sometimes I just want to sell all my computers and call the expensive broadband company to have them turn it off.  Occasionally, I'd just use my old laptop that I can use on dial-up, or someone's WiFi, and keep a printer to print the pictures in it.
Maybe I will get over this restlessness in a few days.