News, Some New, Some Old:
Prayer at the Western Wall
July 31, 2012 - "Mitt Romney prays at Jerusalem's Western Wall. What should all of us be praying for?"
Transcript at: http://www.ucg.org/beyond-today-daily/christian-living/prayer-western-wall
__________
Just Say NO to the Farm Bill Extension!
"This isn't a good-faith effort to help farmers.   It's a dirty, cynical trick." 
"Never before in modern times has a farm bill reported from the House Agriculture Committee been so blocked. POLITICO looked back at 50 years of farm bills and found nothing like this." this."  - David Rogers, POLITICO
"Across the nation, farmers' livelihoods are withering in an intense, record-breaking drought. Congress could be doing something about this right now – they could be passing the 2012 Farm Bill, which funds critical disaster assistance programs that are our farmers and ranchers' safety net in times like these. But are they working to pass the 2012 Farm Bill?  No. 
Instead, late last week, in a surprise move, the majority leadership of the House of Representatives moved to extend parts of the 2008 Farm Bill through next year, including drought assistance but excluding important programs.
The chart gives a detailed look at which programs the one year extension would CUT AND TERMINATE:"  See more and the programs at: http://www.foginfo.org/just-say-no-to-the-farm-bill-extension/    "It looks harmless enough - but this extension would decimate organic."
-------------
Monsanto to get immunity from federal laws?
"The United States is experiencing it's worst drought since the 1950's, but that's not the only thing affecting your food supply these days - a new bill aimed at helping one company in particular is changing the American food chain for the worse. Ronnie Cummins of the Organic Consumers Association joins RT's Liz Wahl for more."
Published on Jul 18, 2012 by RTAmerica
___________
COLUMBIA, Mo. – "Apigenin, a natural substance found in grocery store produce aisles, shows promise as a non-toxic treatment for an aggressive form of human breast cancer, following a new study at the University of Missouri. MU researchers found apigenin shrank a type of breast cancer tumor that is stimulated by progestin, a synthetic hormone given to women to ease symptoms related to menopause.
"We don't know exactly how apigenin does this on a chemical level," Hyder said. "We do know that apigenin slowed the progression of human breast cancer cells in three ways: by inducing cell death, by inhibiting cell proliferation, and by reducing expression of a gene associated with cancer growth. Blood vessels responsible for feeding cancer cells also had smaller diameters in apigenin-treated mice compared to untreated mice. Smaller vessels mean restricted nutrient flow to the tumors and may have served to starve the cancer as well as limiting its ability to spread."
"Chemotherapy drugs cause hair-loss, extreme fatigue and other side effects," Hyder said. "Apigenin has shown no toxic side-effects even at high dosages. People have eaten it since pre-history in fruits and vegetables.""    More at: http://munews.missouri.edu/news-releases/2012/0515-breast-cancer-effectively-treated-with-chemical-found-in-celery-parsley-and-spice-by-mu-researchers/
_________
Rare Early America Map Found In Germany (PHOTOS)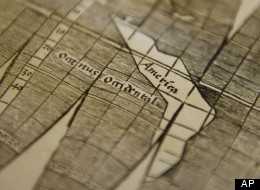 A 500-year old world map by cartographer Martin Waldseemueller of Freiburg Mueller (1470-1522) (Lukas Barth/DAPD)
BERLIN -- "Researchers in Germany have chanced upon a rare early 16th century map of America by the cartographer who named the continent.
Munich's Ludwig Maximilian University said Tuesday that library staff had found a copy of the small map by Martin Waldseemueller wedged inside an unrelated 19th century book.
The 38 centimeter by 27.5 centimeter (15 inch by 10.8 inch) sheet is one of only five known copies of the map that can be folded to resemble a globe.
German Chancellor Angela Merkel gave a similar but much larger map to the United States in 2007 to mark the 500th anniversary of the naming of America.  Waldseemueller believed Italian explorer Amerigo Vespucci, rather than Christopher Columbus, was the first European to discover America and named the continent after him."  More and photos at: http://www.huffingtonpost.com/2012/07/03/rare-early-america-map-martin-waldseemueller_n_1645863.html?icid=maing-grid10%7Chtmlws-main-bb%7Cdl20%7Csec1_lnk3%26pLid%3D175460
__________
Spying on Scientists: How the FDA Monitored Whistleblowers Who Raised Concerns over Radiation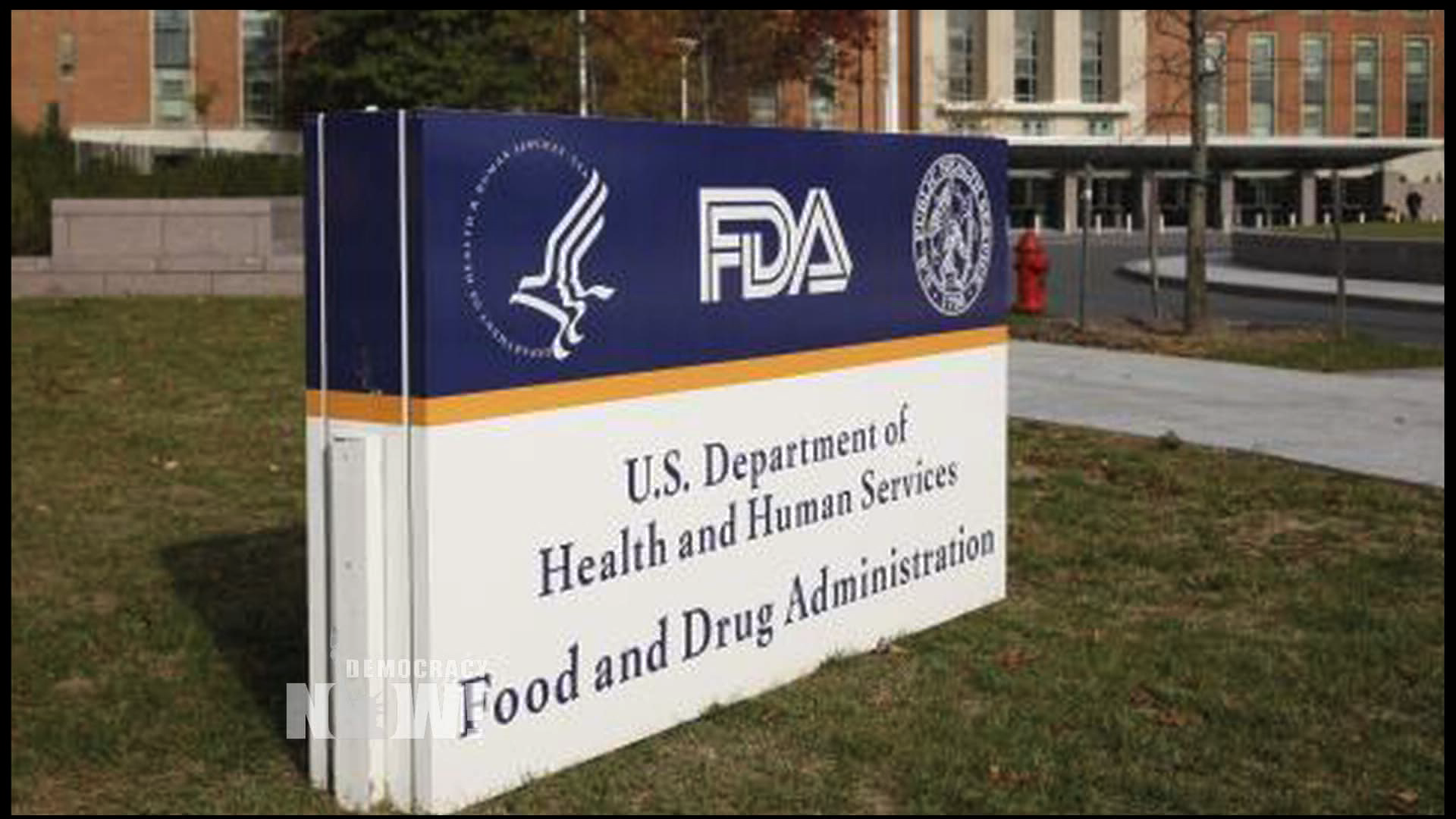 "The Food and Drug Administration has been found to have launched a massive surveillance campaign targeting its own scientists for writing letters to journalists, members of Congress and President Obama. The scientists were expressing their concern over the FDA's approval of medical imaging devices for colonoscopies and mammograms that could endanger patients with high levels of radiation. The covert spying operation led the agency to monitor the scientists' computers at work and at home, copying emails and thumb drives and even monitoring individual messages line by line as they were being composed in real time. The agency also created an enemies list. We're joined by the FDA whistleblowers' attorney, Stephen Kohn, executive director of the National Whistleblowers Center. "For the first time, we now have a glimpse into what domestic surveillance of whistleblowers looks like in this country with the modern technological developments," Kohn says. "The agency [sought] to destroy the reputation of these whistleblowers forever." [includes rush transcript] From: http://www.democracynow.org/2012/7/17/spying_on_scientists_how_the_fda
__________
Plastic Bags Banned on All Hawaiian Islands
HONOLULU
- "Hawaii has just become the first U.S. state to enact a statewide ban on plastic bags. While no law has yet been passed on the state level, each of the counties in the state has now enacted its own plastic bag ban, making the ban statewide in practice without a state law.
Honolulu Mayor Peter Carlisle Friday signed a bill banning the distribution of plastic bags by retailers beginning July 1, 2015. So Hawaii residents and visitors alike will have three years to learn to take reusable bags with them when they go shopping." More at: http://www.ens-newswire.com/ens/may2012/2012-05-17-091.html
__________
On This Day:
Aug 4, 1936:
Jesse Owens wins long jump--and respect--in Germany
"On this day in 1936, American Jesse Owens wins gold in the long jump at the Summer Olympics in Berlin, Germany. It was the second of four gold medals Owens won in Berlin, as he firmly dispelled German Fuhrer Adolf Hitler's notion of the superiority of an Aryan "master race," for all the world to see.
Jesse Owens first made his mark on the international stage at just 21 years old on May 25, 1935, while an undergrad at Ohio State University, by setting three world records and tying another at the Big Ten Championships in Ann Arbor, Michigan. "The Buckeye Bullet" started his afternoon by running the 100-meter dash in just 9.4 seconds to tie the world record. Just 10 minutes later, Owens jumped 26'8 1/4", setting a world record he would hold until 1951. And, ten minutes after that, Owens set another world record in the 220-yard dash with a time of 20.3 seconds. Finally, less than an hour after his afternoon of competition started, Owens ran the 220-yard hurdles in 22.6 seconds for his third outright world record of the day. Owens' impressive performance caused a sensation across the United States, and the track world looked forward to following his progress at the upcoming 1936 Olympics.
Owens was openly derided by Nazi officials prior to his arrival in Berlin; some went so far as to call him and his fellow black athletes "non-humans." Owens responded on August 3, when he edged out African-American Ralph Metcalfe to win the 100 meters in an impressive10.3 seconds, a time that would have set the world record if had not been deemed "wind-aided." The next day, August 4, at the Reich Sports Field Stadium, 110,000 spectators watched Owens slam the door on Hitler's racist theories. In the morning, after fouling on his first two qualifying jumps, Owens finally leaped his way into the final, where he met the young German Lutz Long. Long tied the heavily favored Owens on his second jump, but Owens answered the challenge with a mark of 26' 5 ½", the first jump over 26 feet in Olympic history, and an Olympic record that would stand for 24 years. As Owens and Lutz walked arm in arm around the track, the German crowd roared its approval. Hitler promptly left the stadium, missing the medal ceremony.
Owens would win his third gold medal and set his second Olympic record of the games in the 200 meters the next day. On August 9, he followed that up by helping his team set a new world record--39.8 seconds--in the 4 x 100 meter relay. Owens and Metcalfe replaced two American Jews, Marty Glickman and Sam Stoller, originally scheduled to run the relay that day. Later, the U.S. team was criticized for the move, which was thought to be an appeasement of Hitler and the Nazi party, who would likely have been even angrier to see Jews, already a frequent target of Nazi hate and harassment, bring home a medal."
________
Yesterday:
Misty and I went to get Jay, and when we got back here, Jay put some stuff away where it belongs in my attic, and I went all the way to the end of the attic where we had fixed the crack in the soffit, to make sure that the wasps, dirt-dobbers or whatever they were, hadn't got inside. 
We then did a few odd jobs. We worked on the dog cage some more, and put the shade back on the 15-light Grooming Room door. It had been taken down when Ray painted the door.  This shade was made so that it rolls UP, not down, and can be latched at different heights, so that I can see over it.   The shade had to be re-installed as every time Streaker, the smallest pup, saw me through the window in the door, he would start barking and howling at me for attention.  He is a very spirited pup!
Later, a foster mom came and took pictures of each puppy, so that they can be put on the Petfinder website, so that, hopefully, they will all be booked when they are ready to be adopted, which should be less than a month.  They have to have their second set of shots and be spayed and neutered, then they can go.
It was a lot more relaxed day than the cleaning we had done at Jay's, the day before.