For "Winged Wednesday":
Black-footed Albatross
"The Black-footed Albatross is one of only three species of albatross that nest exclusively north of the equator.  In addition to black feet, it also has a dark bill and almost entirely dark plumage.  With a wingspan of about six feet, this is one of the largest seabirds in the northern hemisphere, although one of the smaller species of albatross globally. Like other albatrosses, this species is slow to mature and has a low reproductive rate.   
More than 95 percent of the world's population of Black-footed Albatross nests in the remote Northwestern Hawaiian Islands, with the single largest colony (>25,000 pairs) on Midway Atoll.  All of these islands are protected, but most of them are low islets that are vulnerable to the effects of sea-level rise and increased storm intensity associated with global climate change.
Currently, though, the greatest threat to the species is the hooks of longline fishing vessels, which are responsible for drowning hundreds of birds every year. Other threats include the introduction of non-native predators to nesting islands, loss of breeding habitat to invasive plant species, and potential long-term impacts of contaminants such as pesticides that accumulate in the marine food web.
ABC continues to work with national and international partners to address the threat to Black-footed and other albatrosses posed by commercial fishing.  We are also collaborating with the National Fish and Wildlife Foundation, the U.S. Fish and Wildlife Service, and other partners to secure predator-free breeding habitat for this and other seabird species on islands in Hawai`i."
Help ABC conserve this and other birds and their habitats!
Listen to a two-minute broadcast about this bird!
Photo: ClipArt.com; Range Map, ABC
___________
"The problems of California's wildlife don't amount to a hill of beans to Peet's new owners." | Photo: Amanda/Flickr/Creative Commons License
"One of the most insidious dangers for wildlife in urbanized parts of the California desert is rat poison. We put out those cardboard bait stations to kill mice and rats. A rodent seals its fate as soon as it eats a few bites, but the poison takes a few days to work. For the few days it might take to die the weakened rodent is even more susceptible to being captured by an owl, or a hawk, or a snake. The poison doesn't break down quickly once ingested, so any animal that eats a poisoned rat swallows every bit of the poison the rat ate.
The EPA has ordered the poison off the retail market due to its devastating effect on wildlife -- not to mention pets and children, who often fall victim to accidental poisonings. A manufacturer of the stuff is refusing to comply with the order, and getting away with it. It's a classic case of corporate greed running roughshod over the public good.
And that's why I've had my last cup of Peet's coffee.
I hasten to point out that there's nothing dangerous about drinking Peet's coffee. If there were, I'd have died sometime in the early 1980s. The connection here is corporate, not chemical. Delineating that connection will take us to Germany, Britain, and the Bay Area, but we will come back to the desert. I promise….."     Complete article at: http://www.kcet.org/updaily/the_back_forty/wildlife/one-of-the-most-insidious.html
__________
A Clear And Present Danger: How Glass Kills Birds, August 8, 2012
"Modern architecture loves glass. Glass makes interiors brighter and adds sparkle to cityscapes. But glass also kills millions of birds every year when they collide with windows. Biologists say as more glass buildings go up, more birds are dying.  So a group of biologists and architects is trying to do something about that. You'll find some of them at the Powdermill Avian Research Center in western Pennsylvania. They're catching birds."
"Biologist Luke DeGroote patrols a mist net that runs for hundreds of yards through a dense, wet forest. It's mid-morning, the sun is just above the tree line, and it's easy to walk right into it. "It's a very fine mesh," he says, "and that's why the birds run into it. They essentially will fly towards the net and fall into these pockets." The pockets at the bottom of the net catch the birds and entangle them.
Biologists normally retrieve the birds — unharmed — and mark them with metal bands to follow their migrations. But today the catch is for Christine Sheppard, an ornithologist with the American Bird Conservancy. Her mission is to stop birds from flying into glass.  A lot of them do, and die."   More at: http://www.npr.org/2012/08/08/157657499/a-clear-and-present-danger-how-glass-kills-birds
First of a two-part series. Read Part 2. 
__________
Damselflies, Dragonflies and Unexpected Discoveries, from Wildlife Promise
Damselfly—thin body, eyes set apart, wings held together while perching
"I've got a new hideout. At least that's what my son calls it—the natural area by the stream down the street. We had stopped by the other day, hoping to catch a glimpse of some tadpoles. We discovered so much more.
Impromptu Exploration
"Why would someone leave their trash here?" my 7-year-old asked when we arrived, pointing to a plastic container in the water. We fished it out but decided quickly that the litter had a higher purpose: It was a tool for parent and child explorers.
My son was the designated scooper, repeatedly gathering cupfuls of water. Those that included aquatic critters left him gleeful. The tadpoles eluded us (too swift!), but we enjoyed close-up views of water striders and other wee creatures in our hour spent observing. One so fascinated us that we took it home to ID it: a damselfly nymph, according to the books and websites we referenced.
What's the Difference? Damselflies vs. Dragonflies
Dragonfly—stout body, eyes close together, wings open while perching
My son knows more about damselflies and dragonflies than I did as a kid. Indeed, it was only a few years ago that I learned the basics of how to tell these insects apart. I have Andy Rabin, a volunteer with Loudoun Wildlife Conservancy, to thank for that. While leading a family nature walk, he shared this fairy-tale comparison:
Fictional dragons are large compared to their fair maiden, or damsel, counterparts—and the same goes for these close cousins of the insect world.
Damselflies usually have thin bodies, while dragonflies tend to be stouter.
When perching, damselflies hold their wings together or partially spread, while dragonflies typically rest with their wings open.
Among the other differences: Dragonfly eyes meet at or near the top of the head, while damselfly eyes are set apart.
We regularly see both types of odonates when we're out and about. Do they visit your neighborhood too? I hope so. They're lovely to behold." From: http://blog.nwf.org/2012/08/damselflies-dragonflies-discoveries/
Find out how to attract these aerial acrobats to your garden.
__________
Escaped Parakeet Arranges His Own Ride Home
"There are a number of ways to help pet birds find their way back home, but this method is one of the most resourceful!   Piko-chan, the lost budgie returned home after telling police his address and phone number, is introduced to the press."
More at: http://healthypets.mercola.com/sites/healthypets/archive/2012/07/13/pet-birds-ways-to-find-owner.aspx
________
Eggs snatched from piping plover nests in Rockaway.
Various species of birds including the endangered piping plover gather…
"Federal parks police are trying to hunt down the person who snatched eggs from two piping plover nests in Breezy Point earlier this month.  The tiny, plump birds are endangered and enjoy federally protected habitats along the Rockaway peninsula.
Officials think the eggs — which were discovered missing the morning of July 4 — may have been stolen by a collector.  "The exclosure was not beat up or bent, there were just two holes ripped at the top of the net," said Tony Luscombe, biological technician with the National Resource Management Division of Gateway National Recreation Area. "The eggs were just gone. That's the only specific reason I can think of."" From: http://articles.nydailynews.com/2012-07-20/news/32768208_1_plover-nests-empty-nests-sarah-aucoin
________
"KittyCam" Reveals High Levels of Wildlife Being Killed by Outdoor Cats
KittyCam stills showing a captured chipmunk and an injured pheobe, National Geographic KittyCam Program
"A new study of house cats allowed to roam outdoors finds that nearly one-third succeeded in capturing and killing animals. The cats, which wore special video cameras around their necks that recorded their outdoor activities, killed an average of 2.1 animals every week they were outside, but brought less than one of every four of their kills home. Of particular interest, bird kills constituted about 13 percent of the total wildlife kills. Based on these results, American Bird Conservancy and The Wildlife Society estimate that house cats kill far more than the previous estimate of a billion birds and other animals each year.
"There is a huge environmental price that we are paying every single day that we turn our backs on our native wildlife in favor of protecting non-native predatory cats at all cost while ignoring the inconvenient truth about the mortality they inflict."   More at: http://www.abcbirds.org/newsandreports/releases/120806.html
View video and photos from the KittyCam at the University of Georgia's website.    
________
Scientists reintroduce endangered falcons in Rapid City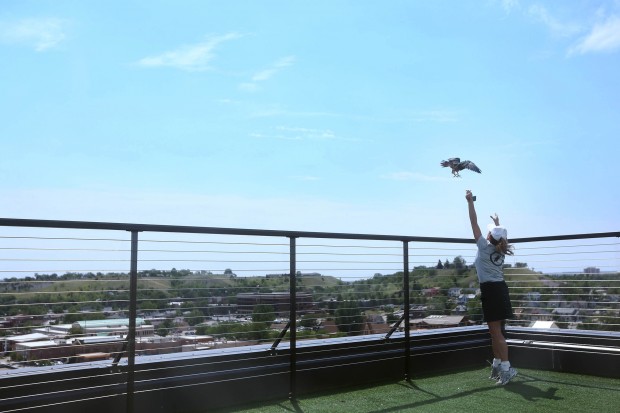 Janie Fink, a raptor biologist with Birds of Prey Northwest, helps a peregrine falcon off the 10th floor of Turnac Tower in downtown Rapid City.
"When you look to the sky in Rapid City this summer, Athena may be looking back.  But don't worry — Athena is a peregrine falcon, not a Greek goddess.
She is one of about 18 of the endangered birds that Birds of Prey Northwest is releasing this summer to Rapid City in connection with South Dakota Game, Fish & Parks.   Her first day of freedom, Athena surveyed Rapid City from a ledge atop the Black Hills Corporation in downtown Rapid City. Then she spread her wings, flapped them, and turned back to peck at a dead quail. The bird will eventually take off from the building on her first-ever flight, but it can take two days or longer for that to happen, said Blake Schioberg, an intern with Birds of Prey Northwest.
The birds face a challenging future. Of the 18 birds the team will release this summer, they hope one male-female pair survives to maturity to mate in Rapid City."  More at: http://rapidcityjournal.com/news/scientists-reintroduce-endangered-falcons-in-rapid-city/article_421bbf70-3f63-51e0-851e-7f1f2f0b9890.html
_________
On This Day:
Panama Canal open to traffic, Aug 15, 1914:
"The American-built waterway across the Isthmus of Panama, connecting the Atlantic and Pacific oceans, is inaugurated with the passage of the U.S. vessel Ancon, a cargo and passenger ship.
On November 6, the United States recognized the Republic of Panama, and on November 18 the Hay-Bunau-Varilla Treaty was signed with Panama, granting the U.S. exclusive and permanent possession of the Panama Canal Zone. In exchange, Panama received $10 million and an annuity of $250,000 beginning nine years later. The treaty was negotiated by U.S. Secretary of State John Hay and Bunau-Varilla, who had been given plenipotentiary powers to negotiate on behalf of Panama. Almost immediately, the treaty was condemned by many Panamanians as an infringement on their country's new national sovereignty.
In 1906, American engineers decided on the construction of a lock canal, and the next three years were spent developing construction facilities and eradicating tropical diseases in the area. In 1909, construction proper began. In one of the largest construction projects of all time, U.S. engineers moved nearly 240 million cubic yards of earth and spent close to $400 million in constructing the 40-mile-long canal (or 51 miles long, if the deepened seabed on both ends of the canal is taken into account). On August 15, 1914, the Panama Canal was opened to traffic.
Panama later pushed to revoke the Hay-Bunau-Varilla Treaty, and in 1977 U.S. President Jimmy Carter and Panamanian dictator Omar Torrijos signed a treaty to turn over the canal to Panama by the end of the century.  A peaceful transfer occurred at noon on December 31, 1999."
_________
The Woodstock festival opens in Bethel, NY, Aug 15, 1969:
"On this day in 1969, the Woodstock Music Festival opens on a patch of farmland in White Lake, a hamlet in the upstate New York town of Bethel.
Promoters John Roberts, Joel Rosenman, Artie Kornfield and Michael Lang originally envisioned the festival as a way to raise funds to build a recording studio and rock-and-roll retreat near the town of Woodstock, New York. The longtime artists' colony was already a home base for Bob Dylan and other musicians. Despite their relative inexperience, the young promoters managed to sign a roster of top acts, including the Jefferson Airplane, the Who, the Grateful Dead, Sly and the Family Stone, Janis Joplin, Jimi Hendrix, Creedence Clearwater Revival and many more. Plans for the festival were on the verge of foundering, however, after both Woodstock and the nearby town of Wallkill denied permission to hold the event. Dairy farmer Max Yasgur came to the rescue at the last minute, giving the promoters access to his 600 acres of land in Bethel, some 50 miles from Woodstock.
Early estimates of attendance increased from 50,000 to around 200,000, but by the time the gates opened on Friday, August 15, more than 400,000 people were clamoring to get in. Those without tickets simply walked through gaps in the fences, and the organizers were eventually forced to make the event free of charge. Folk singer and guitarist Richie Havens kicked off the event with a long set, and Joan Baez and Arlo Guthrie also performed on Friday night.
Somewhat improbably, the chaotic gathering of half a million young "hippies" lived up to its billing of "Three Days of Peace and Music." There were surprisingly few incidents of violence on the overcrowded grounds, and a number of musicians performed songs expressing their opposition to the Vietnam War. Among the many great moments at the Woodstock Music Festival were career-making performances by up-and-coming acts like Santana, Joe Cocker and Crosby, Stills, Nash & Young; the Who's early-morning set featuring songs from their classic rock opera "Tommy"; and the closing set by Hendrix, which climaxed with an improvised solo guitar performance of "The Star Spangled Banner."
Though Woodstock had left its promoters nearly bankrupt, their ownership of the film and recording rights more than compensated for the losses after the release of a hit documentary film in 1970. Later music festivals inspired by Woodstock's success failed to live up to its standard, and the festival still stands for many as a example of America's 1960s youth counterculture at its best."
__________
Yesterday:
Jay called to say that he felt better and wanted to work, so Misty and I went to get him and we had our walk down there.
First, he went up on the roof of the house as the drain in the small bathroom's sink was draining slowly.  I had a feeling it was something to do with the vent.  He took the water hose up there with a jet nozzle on it, and ran water down the vent, and that seemed to help it.  Maybe it was clogged with pine needles, so I might put an RV vent cap on it. 
While he was up there he cut off a couple of pine tree branches that were brushing the shingles on the roof.  As we had to take the cut branches to the burn pile anyway, we raked up some more pine cones and needles to put on there, too.  The hail the other day, made a lot of them fall.  I try to keep the pine cones picked up off the lawn as they aren't good for the mower's blade.  Then he mowed.
My SPCA boss called to say that she can't get here to give the puppies their second batch of shots until Thursday.  Also she said that they are booked for their spay and neuter surgeries for the Thursday after that.  She will pick them up the night before and will keep them until the day after their surgeries, so I will have a rest for a couple of days.