For "Mammal Monday":
A New Explanation for the Steep Rise in Lyme Infections
"Cases of Lyme disease have skyrocketed in North America over the last decade.  A new study seems to prove that monitoring deer populations to assess Lyme disease risk is ill-advised. In fact, reducing the number of deer in an area has little or no impact on the number of Lyme infections.
The study shows fox and coyote populations determine the rate at which Lyme disease spreads.  Up to 90 percent of infected ticks pick up the Lyme bacteria from small mammals, primarily rodents. Red fox prey on these small mammals. Coyotes are natural predators of foxes.
Where coyote populations have increased, fox populations have decreased, and Lyme disease has proliferated.
Richard Ostfeld, a disease ecologist at the Cary Institute of Ecosystem Studies in Millbrook, NY, believes introducing wolves in areas of high coyote populations would control not only the spread of Lyme infections, but also other rodent-related diseases.
While that is unlikely to happen, the new study illustrates just how important predators are to healthy ecosystems."  More at: http://healthypets.mercola.com/sites/healthypets/archive/2012/08/20/lyme-disease-symptoms.aspx?e_cid=20120820_oldPetsNL_art_3
-------------
From me:  One more reason not to mess with Mother Nature! The wolves DO contribute to our well being, and should not be hunted to extinction.
_________
USDA Eyes Whether Tainted Beef Entered Food Supply
FRESNO, Calif. (AP) — "Federal regulators who shut down a Central California slaughterhouse after receiving an animal welfare video were investigating Tuesday whether beef from sick cows reached the human food supply.
The video appears to show workers bungling the slaughter of cows struggling to walk and even stand. Under federal regulations, sick animals cannot be slaughtered for human consumption.
The USDA said investigators are trying to determine whether the cows in the video were just lame or sick, which would render them unfit for human consumption.
The video taken by an undercover investigator for Compassion Over Killing also shows cattle lying in pens unable to move, and at least one unable to stand to leave a stock transportation trailer.
Some clips show cattle with swollen udders that are unable to keep their legs under them. Other footage shows a downed cow trembling and unable to stand even as workers try to pull her up by the tail."     More at: http://www.npr.org/templates/story/story.php?storyId=159455043
-------------
Plant Closed by USDA Supplied Beef for In-N-Out Burger and Schools.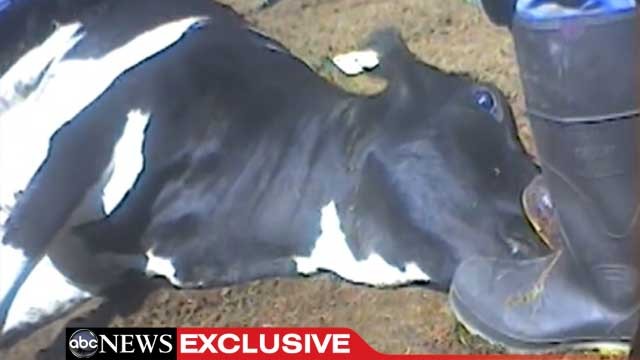 "That investigation resulted in the nation's largest meat recall."
"Central Valley Meat is also a supplier of beef to the USDA national school lunch program. It currently holds a $3.8 million, two-month contract with the government.
Portions of the video will be on "ABC World News with Diane Sawyer."
More at: http://abcnews.go.com/Blotter/plant-closed-usda-supplied-beef-burger/story?id=17051866#.UDQgPkScSwU
_________
Dog and Cat Vaccines are Not Harmless Preventive Medicine
"Vaccinosis is a condition recognized almost exclusively by the holistic veterinary community. It is not generally acknowledged by traditional veterinarians.
Dr. Richard Pitcairn defines vaccinosis this way: "Vaccinosis is to be understood as the disturbance of the vital force by vaccination that results in mental, emotional, and a physical change that can, in some cases, be a permanent condition."
Vaccines are composed of modified live viruses, killed viruses and a number of potentially toxic substances. They also enter the body in an unnatural way (by injection) compared to real viruses. They bypass the body's first lines of defense and are delivered directly to the blood and lymph systems.  Vaccine reactions, or vaccinosis, are wide-ranging. Some reactions are relatively minor, while others are life-threatening.
Fortunately, the traditional veterinary community is slowing becoming aware that vaccines are not the benign disease-prevention tools they were once thought to be.
Most importantly, I don't recommend automatic re-vaccinations at prescribed intervals for any pet."              More at:  http://healthypets.mercola.com/sites/healthypets/archive/2012/08/20/pets-over-vaccination-disease.aspx?e_cid=20120820_oldPetsNL_art_1
________
Stop the Hounding of California's Wildlife
"The Los Angeles Times reports on the HSUS-backed bill to stop the inhumane, unsporting, and high-tech practice of hound hunting of black bears and bobcats—where trophy hunters release as many as 20 dogs, often fitted with radio transmitters on their collars, to chase, attack, and corner a panting animal who may in the end be shot from a tree branch. That bill, S.B. 1221, which has passed the state Senate and two Assembly committees, is slated for a vote on the Assembly floor as soon as this week. Every California voter should call his or her Assemblymember in support of S.B. 1221 today.
There's no question that the final act of the hunt—where the hunter, following the signal emitting the hounds' collars on a handheld directional antenna, shoots the animal at point-blank range—makes a mockery of any notion of sportsmanship or fair chase. It's more of a high-tech killing than it is a fair-chase hunt.
Spokesmen from the trophy hunting lobby claim that it's actually humane to shoot the cornered animal, since the hunter can just about guarantee a killing shot. That's the same, weak rationale for shooting any kind of animal in a fenced enclosure in a captive hunt, or any animal that is lured to bait."  More at: http://hsus.typepad.com/wayne/2012/08/california-hounding-update.html
________
"Anakin is a rescue kitty without hind legs…against all the odds, she's grown up to be a playful, happy, strong and lovable kitty!"
http://videos.theanimalrescuesite.com/?p=1029
________
The HSUS Assists in Rescue of More Than 200 Dogs from Ohio Puppy Mill.     HSUS Offers $5,000 Reward.
"The Humane Society of the United States and other animal rescue organizations were called in by the Humane Society of Richland County to assist in the rescue of approximately 250 dogs from a Shelby, Ohio, property. The owner of the dogs surrendered them to the Humane Society of Richland County earlier this week, and rescuers quickly mobilized to provide the dogs with food, water and veterinary evaluations. The dogs were mainly Chihuahuas and Shar-Peis and were found living in cramped wire cages and pens, covered in their own waste, without access to veterinary care or proper socialization. Many of the dogs suffered from skin irritations, eye infections and severe flea infestations.   "We were shocked to see that these dogs were living in squalid conditions for quite some time, so we are glad that the owner called us in to help."
"To help improve the lives of dogs and protect consumers, The HSUS has established a reward program to offer up to $5,000 to anyone who provides any information leading to the arrest and conviction of a puppy mill operator for illegal animal cruelty. Persons wishing to report a valid tip are encouraged to call 1-877-MILL-TIP and will remain anonymous."
From: http://www.humanesociety.org/news/press_releases/2012/08/ohio_puppy_mill_rescue_081712.html?utm_source=post082412&utm_medium=facebook&utm_campaign=art12
________
These aren't mammals, but they are cute, anyway:
Brave Baby Turtle's Journey From Nest To Sea
"Go, little guy, go! With the help of some charitable humans, they just might make it."   Pictures at:  http://www.buzzfeed.com/gavon/brave-baby-turtles-journey-from-nest-to-sea
________
On This Day:
Mountbatten killed by IRA, Aug 27, 1979:
"On August 27, 1979, Lord Louis Mountbatten is killed when Irish Republican Army (IRA) terrorists detonate a 50-pound bomb hidden on his fishing vessel Shadow V. Mountbatten, a war hero, elder statesman, and second cousin of Queen Elizabeth II, was spending the day with his family in Donegal Bay off Ireland's northwest coast when the bomb exploded. Three others were killed in the attack, including Mountbatten's 14-year-old grandson, Nicholas. Later that day, an IRA bombing attack on land killed 18 British paratroopers in County Down, Northern Ireland.
Louis Mountbatten, the son of Prince Louis of Battenberg and a great-grandson of Queen Victoria I, entered the Royal Navy in 1913, when he was in his early teens. He saw service during World War I and at the outbreak of World War II was commander of the 5th destroyer flotilla. His destroyer, the HMS Kelly, was sunk off Crete early in the war. In 1941, he commanded an aircraft carrier, and in 1942 he was named chief of combined operations. From this position, he was appointed supreme Allied commander for Southeast Asia in 1943 and successfully conducted the campaign against Japan that led to the recapture of Burma."
________
NFL star Michael Vick pleads guilty in dogfighting case, Aug 27, 2007:
"On this day in 2007, Michael Vick, a star quarterback for the Atlanta Falcons, formally pleads guilty before a Richmond, Virginia, judge to a federal felony charge related to running a dogfighting ring. That December, the 27-year-old Vick, once the highest-paid player in the NFL, was sentenced to 23 months in federal prison.
In April 2007, law-enforcement officials raided a 15-acre property owned by Vick in rural Surry County, Virginia, and discovered dozens of pit bulls, some of them neglected, along with evidence of illegal dogfighting activities.
Vick's three co-defendants later changed their pleas to guilty and agreed to testify that the quarterback had participated in the execution of a number of dogs and had bankrolled the gambling and operating funds for the venture, known as Bad Newz Kennels, which had reportedly been in existence for about five years. Animal-rights organizations as well as the general public expressed outrage against Vick and the barbaric details of the case—dogs that underperformed in fights were put to death by such means as drowning, electrocution and hanging.
In May 2009, Vick was released from prison in Leavenworth, Kansas. That July, he was conditionally reinstated by the NFL and the following month signed a two-year deal with the Philadelphia Eagles. While his public image remained tarnished, Vick went on to make a strong comeback on the football field."
_________
Yesterday:
When I woke up I thought it was Monday, the day to put out the trash.  The events of the last two long days of the missing cat made me think that I had lived through an extra day, I guess.  Then I was too engrossed in going through emails to realize what day it was.
One of the male puppies is already in his new home, and settling down well. The other three are being taken care of in other SPCA foster homes, until their new 'parents' can pick them up, as the female pups have to have a little more post-op care before they can go.
When I did grasp that it was Sunday, I had missed the Church of God sermon on WGN TV, and watched it later on their website  http://www.ucg.org/beyond-today .  I did the laundry, some of which is still waiting to be folded, and a little advance cooking for the next few days.  I don't eat much meat, and there is always too much in a package for just one meal, so I can eat some, then freeze the rest for later.
In the afternoon, as my Grooming Room is operational again without puppies running all over it, I cut down Misty, and put her back in her 'Town and Country' pattern.  She isn't bathed or finished yet, but she is old, like me, and doesn't like to have too much done all in one day.