For "Scripture Sunday":
Today is Pentecost. What is Pentecost?
Transcript at: http://www.ucg.org/beyond-today-daily/doctrinal-beliefs/what-pentecost
___________

It is also Shavuot
"Shavuot, the Festival of Weeks, is the second of the three major festivals with both historical and agricultural significance (the other two are Passover and Sukkot). Agriculturally, it commemorates the time when the first fruits were harvested and brought to the Temple, and is known as Hag ha-Bikkurim (the Festival of the First Fruits).
Shavuot is not tied to a particular calendar date, but to a counting from Passover. Because the length of the months used to be variable, determined by observation (see Jewish Calendar), and there are two new moons between Passover and Shavuot, Shavuot could occur on the 5th or 6th of Sivan. However, now that we have a mathematically determined calendar, and the months between Passover and Shavuot do not change length on the mathematical calendar, Shavuot is always on the 6th of Sivan (the 6th and 7th outside of Israel.
Shavuot will occur on the following days on the American calendar:   May 27, 2012 (Jewish Year 5772) All Jewish holidays begin the evening before the date specified. This is because a Jewish "day" begins and ends at sunset, rather than at midnight. If you read the story of creation in Genesis Ch. 1, you will notice that it says, "And there was evening, and there was morning, one day." From this, we infer that a day begins with evening, that is, sunset."  From: http://www.jewishvirtuallibrary.org/jsource/Judaism/holidayc.html
_____________
Britain's Jubilee Year: A Time of Muted Celebration
"As one of the world's most influential and powerful nations reaches a jubilee celebration, the nation faces many challenges. The Queen represents a memory of great glory for Britain. What is the future for this former world empire?"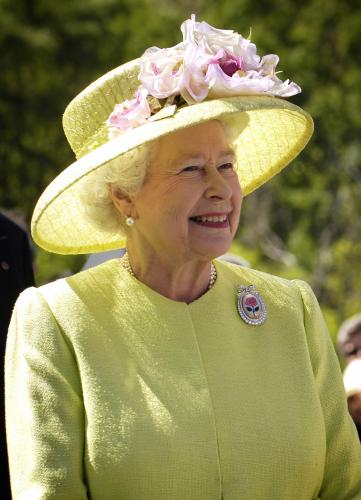 Queen Elizabeth II is a source of stability in unstable Britain
Source: Wikimedia Commons
"During a long period when the general governmental establishment in the United Kingdom and other Western nations is so little admired, certainly Britain has every reason to celebrate Queen's Elizabeth's 60 th year on the throne. She has been and still is a model monarch. She survived her annus horribilus (due to three of her grown children's matrimonial conduct in the 1990s)—having seen her affection from her subjects rise to a new even higher level.
Former Prime Minister Tony Blair said of his Queen: "What I have found to be her most surprising attribute is how streetwise she is. I was always stunned by her ability to pick up the public mood and define it."
Recently married grandson Prince William observed: "You present a challenge in front of her and she'll climb it…She's so dedicated and really determined to finish everything she's started."
Prince Harry joined the chorus: "Every time I find myself whingeing: 'Why did I have to put on a dinner jacket and do this or that?' I think to myself: 'I can't complain. At the end of the day, she has put her country way before anything she's ever wanted to do. It's her job.'"
Finally former American President George W. Bush stated, "Behind the important title is a very kind and compassionate woman."
And yet ironically, the Queen has had to be the British monarch to preside over the decline of a great empire and the gradual waning of power, prestige and world influence. Strongly supported by Elizabeth the II, the British commonwealth of nations has partially mitigated these negative effects, but at the end of the day the commonwealth is not the old empire.
Professor and author Niall Ferguson wrote in Newsweek : "Like much of Europe, the UK economy now finds itself in a double-dip recession. Last week the Bank of England once again revised its growth forecast downwards. Although (mercifully) outside the euro zone, Britain will suffer even more if the crisis over Greece escalates into a full-scale breakdown of the European Monetary Union. International financial crises are not good for international financial centers [like London]" ("London's Last Waltz," May 28, 2012).
Today Britain finds itself faced with many threatening challenges at home, on the continent and further abroad. Take Scotland's serious intent to leave the United Kingdom and negate the Treaty of Union of 1707. The spinoff would be incalculable. As Niall Ferguson further commented, "With Europe on the brink, the U.K. faces its own crisis."
Only a thorough understanding of Britain's prophetic legacy and history can give us the perspective to properly address the "why" of the UK's gradual decline in the world. Watch current news and trends in Britain (from a biblical standpoint) in the pages of The Good News magazine (see Mark 13:32-37)  Request in print or download our free booklet The United States and Britain in Bible Prophecy . By John Ross Schroeder .  Posted May 24, 2012 http://www.ucg.org/commentary/britains-jubilee-year-time-muted-celebration/
____________
Egypt's presidential election
By Associated Press, Updated: Saturday, May 26, 2:20 PMAP
CAIRO — "Former President Jimmy Carter said Saturday that monitors noted violations during Egypt's presidential elections but that the vote was generally acceptable and the irregularities won't impact the final results.
The Atlanta-based Carter Center had 102 monitors at polling centers across Egypt for the landmark vote — the first since longtime leader Hosni Mubarak's ouster last year in a mass uprising. Preliminary results showed a tight race at the top between the Muslim Brotherhood's candidate, Mohammed Morsi, and Mubarak's last prime minister, Ahmed Shafiq. The top two finishers will advance to the June 16-17 runoff."
--------------
Who Will Dominate the Middle East?
"As America pulls out of wars in Iraq and Afghanistan, other powers are rushing in to fill the vacuum. Domestic, regional and global forces are all vying for influence. Where are events in the ever-volatile Middle East headed?"
"Massive crowds protested in Tahrir Square, Cairo, in early 2011 to demand change - and they got it."      Source: Wikimedia
Sunni Crescent vs. Shiite Crescent
"Regional geopolitics pit the powerful "Sunni Crescent" led by Turkey, Saudi Arabia, Qatar and the United Arab Emirates against the beleaguered "Shiite Crescent" states—Iran, Iraq and Lebanon.
Barry Rubin, director of global research in the International Affairs Center in Israel, sizes up the strategic battle for influence in The Jerusalem Post: "The new Middle East strategic battle is heating up, and this is only the start. It has nothing to do with Israel and everything to do with two more serious lines of battle: Arabs versus Persians [of Iran] and Sunni versus Shia Muslims . . .
"The real struggle is over who will control each Muslim majority country and who is going to lead the Middle East . . . The Sunni Arab position was stated very clearly by Amr Moussa, a veteran Arab nationalist and candidate for Egypt's presidency: '(The) Arab Middle East will not be run by Iran or Turkey'" ("The Region: The New Middle East's Internal Divisions," March 4, 2012).
Rubin later clarifies what is emerging: "What we are seeing again, for the first time in three decades . . . is an Egyptian bid to lead the Arabic-speaking world and even the whole region. On this point, Egyptian leftists, nationalists and Islamists are united.
"And in the first round, the battle over control of the Palestinian Islamist group Hamas, which rules the Gaza Strip, Egypt won and Iran lost." (See "Hamas' Shifting Allegiance Reflects New Mideast Dynamics")
Egypt is the largest Arab country, with a population of 83 million, and has long had a major influence on the region. Now that Islamists have won 72 percent of the seats in the lower house and nearly as many in the upper, this fundamentalist orientation will likely be a major influence on the growing number of Islamic governments in the region.
Regional transformation will lead to what is foretold
What all this adds up to is that these multilayered shifting sands of domestic, regional and global forces blowing through the Middle East and North Africa are changing the region more dramatically than at any time in the last half century.
The factors underlying the major power shifts carry long-term effects, creating a dramatically different Middle East than what this generation has known.
And there's another source to help us see what's happening. Bible prophecy reveals how all these shifting forces will eventually play out.
The Arab Spring uprisings, in the short term, have focused the Arab world's attention on the changes swirling around them and away from their longtime nemesis—Israel. But, as prophecy lays out, the persistent hatred of Israel will in the long run grow exponentially as Islamic influence grows. Prophecies indicate that a more united group of Arab nations, perhaps sparked by religious zeal, will focus their rekindled hostility toward Israel.
This hostility will grow to a major crescendo leading to all-out war as we approach the end of this age. Psalm 83 contains an intriguing prophecy that shows a number of Middle Eastern countries forming a confederation of nations determined to cut off Israel from being a nation (verses 3-8).
Out of this region will arise a strong end-time leader Daniel the prophet calls "the king of the South"—successor to the ancient Greek rulers of Egypt (Daniel 11:40).   This ruler, probably backed by other Islamic nations joined in confederacy with him, will start the cascade of terrifying events leading to a massive war with the power and ruler the Bible refers to as "the king of the North"—successor to the ancient Greek rulers of Syria.
This power is synonymous with the final revival of the Roman Empire referred to in Scripture as the Beast—which will consist of a brief union of 10 nations (Revelation 17:12-14)
The forces of the North, Europe at this time, will sweep down through the Middle East in a major military counterattack that will overthrow the southern power and occupy key portions of the Middle East (Daniel 11:40-41) (See also "The Middle East: Focus of End-Time Bible Prophecy")
Ultimately, however, this European power and other eastern forces arrayed against it will resist the return of Jesus Christ as coming King and will suffer utter defeat (Revelation 16:12-14 17:14; 19:11-21).  (Our free Bible study aid booklet The Middle East in Bible Prophecy gives more details.)
In the meantime, Jesus tells all of us to stay on the alert to events heralding His coming (Matthew 24:42)  One major indicator we should be watching for is the rise of a unifying force and leader in the Middle East. Keep your eyes and interests fastened on significant developments in this critically important region."  Complete article at: http://www.ucg.org/news-and-prophecy/who-will-dominate-middle-east/
_____________
On This Day:
Comanche kill mountain man Jedediah Smith, May 27, 1831:
"Jedediah Smith, one of the nation's most important trapper-explorers, is killed by Comanche Indians on the Santa Fe Trail.
Smith's role in opening up the Far West was not fully appreciated until modern scholars examined the records of his far-ranging journeys. As with all of the mountain men, Smith ventured west as a practical businessman working for eastern fur companies. His goal was to find new territories to trap beaver and otter and make trading contacts with Native Americans.
Nonetheless, beginning in 1822 when he made his first expedition with the fur trader William Ashley, Smith's travels provided information on western geography and potential trails that were invaluable to later pioneers. Smith's most important accomplishment was his rediscovery in 1824 of the South Pass, an easy route across the Rocky Mountains in modern-day western Wyoming. The first Anglo-Americans to cross the pass were fur traders returning east from a Pacific Coast trading post in 1812, yet the news of their discovery was never publicized. Smith, by contrast, established the South Pass as a well-known and heavily traveled route for fur trappers. A few decades later, it became a part of the Oregon Trail and greatly reduced the obstacles faced by wagon trains heading to Oregon and California.
During the next seven years, Smith filled in many other blank spots on the map of the Far West. Despite having opened many new territories for future pioneers, Smith had little to show for his years of dangerous efforts. In 1830, he returned to St. Louis, determined to go into the mercantile business and draft detailed maps of the country he had explored. Before he could get started, however, an associate convinced him to take a supply of goods to Santa Fe, New Mexico.
With a party of 83 men, Smith left St. Louis in early 1831 and headed south along the Cimarron River, a region known to be nearly devoid of potable water. Despite his years of wilderness experience, Smith was apparently overconfident in his ability to find water and did not take adequate supplies from St. Louis. By mid-May, the party's water supplies were almost exhausted, and the men started separating each day to search for waterholes.
On this day in 1831, Smith was riding alone when a hunting party of Comanche Indians attacked him. Dazed and weakened by lack of water, Smith nonetheless managed to shoot one of the Comanche before he was overwhelmed and killed."
Did You Know?
Route 66 was built along one of Smith's trails to California.
___________
Golden Gate Bridge opens, May 27, 1937:
"On this day in 1937, the Golden Gate Bridge, connecting San Francisco with Marin County, California, officially opens amid citywide celebration.
Named for the narrow strait that marks the entrance to the San Francisco Bay from the Pacific Ocean, the Golden Gate Bridge was constructed from January 1933 to May 1937. At the time, it was the longest suspension bridge in the world, at 4,200 feet. From the beginning, the bridge's location posed challenges for its construction, not least because of its proximity to the mighty San Andreas Fault, which passes from north to south through the San Francisco Bay area. In addition, the tumultuous waters of the strait posed grave dangers for the underwater construction work necessary to build the bridge.
Still, the engineer Joseph Strauss waged a tireless 16-year campaign to convince skeptical city officials and other opponents of the controversial project. On the bridge's opening day, he triumphantly exclaimed: "The bridge which could not and should not be built, which the War Department would not permit, which the rocky foundation of the pier base would not support, which would have no traffic to justify it, which would ruin the beauty of the Golden Gate, which could not be completed within my costs estimate of $27,165,000, stands before you in all its majestic splendor, in complete refutation of every attack made upon it."
By 6 a.m. on May 27, 18,000 people were lined up on both the San Francisco and Marin sides; in all, some 200,000 showed up that day. At the appointed hour, a foghorn blew and the toll gates opened, releasing the earliest arrivals, who rushed to be the first to cross. Many schools, offices and stores were closed, and the day was designated "Pedestrian Day." The next day, the bridge opened to vehicular traffic. Across the country in the White House, President Franklin Delano Roosevelt proclaimed the bridge open to the world, and by the end of the day, more than 32,000 vehicles had paid tolls and crossed. According to the official Web site of the Golden Gate Bridge, nearly 2 billion vehicles have crossed the bridge (in both north- and southbound directions) in the 70-plus years of its operation."
_____________
The program on WGN This morning:
Calling Evil Good
"Where are the voices crying out against dishonesty, injustice and moral evil? And where are people who will heed the warnings?"
Transcript at: http://www.ucg.org/beyond-today-program/christian-living/calling-evil-good
_____________
Yesterday:
Our usual Saturday conversation with Wendy, my daughter, was clouded by the passing of her 16 year old Pomeranian.  She had raised Snuggles from a pup, and she is taking it hard.  At least she had a week alone with Snuggles at their lake house at Somerville. She had gone up there to babysit a neighbor's wonderful German Shepherd, "Shep", while his 'Mom' was out of town, in exchange for being able to use their internet for her part time job.  (Something to do with daily posting stuff from the stock exchange.) Wendy and Richard intend to retire there, and they know and mingle with their neighbor's more there than the ones they have had in West Colombia, TX for many years.  She has the frame of mind that I did when Levi died, she doesn't want another dog for a long time, if ever. They do have another dog, but it is her son Tony's dog, and he takes care of it.
Jay was ready to go to church when Misty and I went to get him.  On the way to the church down the wiggle-waggle country back roads to Cut-N-Shoot, he even remarked how he was looking forward to going, and he even felt more comfortable singing the hymns.  The sermon was about 'The Battle of Good and Evil: The War for Men's Soul'.  On the way home he reiterated how he wanted to stop drinking, but that it was so difficult after all these decades.  He was put on Ritalin as a small child, then moved on to drugs and alcohol, so he has never known what it is like to be in a normal state of mind.  Maybe, one day!