News, Some New, Some Old:
Israel's New Coalition,
Posted by Ralph Levy on May 10, 2012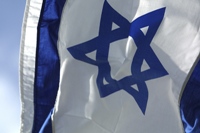 "In a surprise move, Benjamin Netanyahu formed a national unity government with rivals to the left and right. How will this affect the Middle East? When will peace come?
Middle Eastern politics took an unexpected turn on Tuesday (May 8) as Israeli Prime Minister Benjamin Netanyahu surprised political observers by announcing the formation of a broad-based political coalition.
In an unanticipated move, the centrist Kadima party was brought into the government, under the leadership of its newly elected leader Shaul Mofaz. Mr. Netanyahu's coalition now includes parties from the center left to the extreme right of the Israeli political spectrum and commands a virtually unchallengeable majority of 94 seats in Israel's 120-seat Knesset (parliament).
The move to a unity government removes the need for national elections, which had been expected in early September.
Strange bedfellows
They say politics makes strange bedfellows. It has been only a few weeks since Mr. Mofaz was elected leader of the Kadima party, replacing former leader Tzipi Livni as head of the centrist opposition to Mr. Netanyahu. After being elected, Mr. Mofaz was quoted as firmly rejecting any coalition: "No, Kadima under my leadership will remain in the opposition. The current government represents all that is wrong with Israel, I believe. Why should we join it? We will be a responsible opposition" (haaretz.com, March 30, 2012).
Earlier he had harshly criticized Mr. Netanyahu, going so far as to call him a liar: "Israeli citizens must know that they have a lying prime minister" (haaretz.com, Jan. 16, 2012).
Yet politics is politics, and now Mr. Mofaz has been named deputy prime minister in a broad-based government that includes religious parties, small parties to the right of Mr. Netanyahu's Likud, as well as Mr. Mofaz's Kadima party.
Preparing for an attack on Iran?
It has not escaped the attention of observers that there are now three former army chiefs in the government: Shaul Mofaz, the new deputy prime minister; Ehud Barak, defense minister; and Moshe Yaalon, the minister for strategic affairs.
Israeli politics have often coalesced into national unity governments with former military leaders in positions of influence when the nation is threatened or about to take action against its enemies. This has heightened speculation that the new unity government presages an attack on archenemy Iran.
Yet on this there is uncertainty. Israel's political establishment has presented anything but a unified front on attacking Iran. Mr. Mofaz earlier this year sought to distance himself from Mr. Netanyahu's hawkish position on Iran, stating that an attack on their nuclear facilities was only a last resort, after economic and diplomatic moves have failed.
"Netanyahu's irresponsible statements implying that something has to be done within a few months create a bad reality," he declared in an interview with an Israeli newspaper (haaretz.com, March 30, 2012). Others share his reluctance. Both Ehud Barak, Israel's defense minister, and Shimon Peres, who occupies the largely ceremonial role of president, are on record as being reluctant to support immediate military action.
Israel, the Palestinians and peace
In spite of the uncertainty on the defense front, the Israeli economy continues to perform well, notching an impressive 4.6 percent increase in GDP in 2010. Its technology, defense and tourism sectors continue to perform well. Ironically, its economic well-being has spread to the West Bank territories now administered by the Palestinian Authority, which have also experienced growth, reaching a reported 9 percent in 2009, higher than in neighboring Israel.
Yet in spite of economic improvements, not all is well in the Israeli-Palestinian relationship, with the "peace process" all but moribund and frustration on both sides. At the time of writing, Israeli jails are reported to hold some 1,600 Palestinian prisoners who are on hunger strikes and demanding improved conditions.
With the formation of the new national unity government, some Palestinian leaders began to call on Mr. Netanyahu to return to the negotiating table. "'We are hoping that the coalition will be in a position to come back to the negotiating table, bearing in mind that the coalition has a wide base of support,' said Muhammed Shtayyeh, a member of the Palestinian negotiating team" ("Surprise Alliance Resets Israel Policy," The Wall Street Journal, May 9, 2012).
Yet the prospects for peace still look dim. With the situation in Egypt still unstable and explosive and an increase in support for Islamist groups there and in other Arab nations, it looks as if time is running out.
The Jews in prophecy
What does Bible prophecy tell us about the destiny of the Jews in the last days? Perhaps our best source on that topic is the Old Testament book of Zechariah, which traces the relationship between the Jewish people and their Creator, as well as their prophetic destiny.
Zechariah tells us of a time of great trouble for the people of Judah, when Jerusalem and Judah will be almost strangled by their enemies. Yet divine intervention will save the Jews from extinction at the hands of enemies (Zechariah 12:2-4).
Once God does that, there will be a wholesale change of heart among the Jewish people:
"And I will pour on the house of David and on the inhabitants of Jerusalem the Spirit of grace and supplication; then they will look on Me whom they pierced. Yes, they will mourn for Him as one mourns for his only son, and grieve for Him as one grieves for a firstborn"
(verse 10).
Make no mistake: political alliances will not save either the Jewish people or the Middle East generally. Only really turning back to God will do that.
Lasting peace will come!
This part of the world will yet see even more suffering and bloodshed, and no real peace, apart from the lasting peace that will eventually come with the "Prince of peace" Himself (Isaiah 9:6). But come it will!
"And in that day it shall be that living waters shall flow from Jerusalem, half of them toward the eastern sea, and half of them toward the western sea; in both summer and winter it shall occur. And the LORD shall be King over all the earth. In that day it shall be—'The LORD is one,' and His name one. …
"The people shall dwell in it; and no longer shall there be utter destruction, but Jerusalem shall be safely inhabited"
(Zechariah 14:8-9, 11).
We look forward to that day!"
Ralph Levy is a minister of the Church of God, a Worldwide Association, who grew up in England and now lives in the United States. Dr. Levy enjoys reading, travel and foreign languages. He has a Ph.D. in biblical studies and has worked in foreign language and religious education for much of his life.
More on this subject at:
http://cogwa.org/blog/entry/israels-new-coalition
______________
Chiropractors and Naturopaths - Are They Dangerous?
"In 1975 the U.S. Supreme Court ruled in the case of Goldfarb vs. the Virginia State Bar, that learned professions are not exempt from antitrust suits.
In 1982 the Court ruled that the FTC could enforce antitrust laws against medical societies.
The American Medical Association (AMA) has maintained a decades-long battle against "alternative" healing traditions, dating back to the 1920s and arguably even earlier. The courts eventually ruled in favor of the chiropractors in 1987, finding the AMA guilty of a conspiracy to take down the chiropractic profession, as the above article recounts in detail.
These two suits paved the way for five chiropractors to file an anti-trust suit against the American Medical Association (AMA) and several other heath care agencies and societies in Federal District Court (known as the Wilkes Case).
Judge Susan Getzendanner found the AMA and others guilty of an illegal conspiracy against the chiropractic profession in September of 1987, ordering a permanent injunction against the AMA and forcing them to print the court's findings in the Journal of the American Medical Association.
Even with success of the Wilkes Case and other anti-trust litigation, the AMA continues to this day to wage a campaign against chiropractic.
But was this the end of it? Has the AMA resigned itself to the fact that chiropractic, as well as other forms of natural medicine, are here to stay? Not a chance.
The AMA's Bedfellows
Even with the success of the Wilkes Case, the AMA has continued to wage war against natural medicine for the past 20 years—but in more covert ways. It's the "Cold War" phase of this battle, but every bit as fierce. And now the AMA has rallied up a few significant allies, including:
The American Dental Association (ADA)
The American Cancer Society (ACS)
The American Academy of Pediatrics (AAP), and
The American Psychiatric Association (APA)
… not to mention governmental regulatory agencies; all willing to march toward a common goal—a monopoly on medical care in this country. Together, they form a formidable lobbying force that controls just about every regulatory and legislative body in America. The truth is that chiropractic, naturopathic, and osteopathic medicine have PROVEN to be medically effective and cost effective for the patient, and the AMA can't stomach this, viewing natural medicine as a huge threat to their bottom line.
Profit Motives Cleverly Disguised as Concern for Your Health and Safety
According to Naturopathy Digest, the AMA and other medical groups justify their opposition to natural medicine on the basis of three areas of concern:
Quality of patient care
Patient safety
Quality of education of medical practitioners
As the article so eloquently points out, none of these arguments holds up, and most are based on medical and pharmaceutical industry propaganda. If they were TRULY concerned about patient care and safety, they would not be targeting natural medicine, which has an incredibly low incidence of adverse consequences, but instead going after their own allopathic medical practices that are leaving a trail of death and destruction.
Drug "side effects", prescription errors, unnecessary surgeries, nosocomial infections, and hospital "errors" are a leading cause of death in the United States. In fact, one estimate is that allopathic medicine kills 493 American patients daily. The number of people who die each week as a result of medical treatments surpasses the number of deaths caused by the September 11th terrorist attacks.
Yes, each and every week!
Many of the drugs advertised in JAMA (the AMA's scientific journal) are the very same drugs that are killing tens of thousands of Americans each year. This massive funding of the AMA by drug companies is a blatant conflict of interest. If the AMA really cared about your safety, they'd be putting their substantial assets into overhauling the American healthcare system. The AMA is fond of lambasting the education and training of chiropractors, when in actuality, they should be more concerned about the educational qualifications of their own physicians. In their own publications, they have stated:
"Medical education is failing to prepare students adequately for their future practice… medical education is currently being held together with peanut butter and bubble gum."
At least four consecutive studies have documented that most MDs are incompetent when it comes to diagnosing and treating musculoskeletal problems, something at which chiropractors excel. Another example of an abysmal lack of education of Western physicians is in the area of diet and nutrition. The AMA itself has published research showing that dietary interventions should be used before drugs in the treatment of heart disease. Yet, medical students receive virtually NO training in nutrition. Naturopathic and chiropractic physicians, on the other hand, are usually well versed in the importance of nutrition and exercise.
It's Not Just the AMA
Perhaps it's time to take a real look at medical associations, and the concern that they may be doing more harm than good. For groups who claim to exist in order to protect your health, they inevitably end up sabotaging it. It isn't just the AMA. Other medical associations that claim to exist for the betterment of public health include the following:
American Dental Association (ADA):
Continues to support the use of mercury fillings and demonizes biological dentists who oppose the use of mercury in dentistry; continues to support fluoridation, in spite of the evidence it does more harm than good.
American Cancer Society (ACS):
This charity has close ties to the mammography industry, the cancer drug industry, and the pesticide industry; has rampant conflicts of interest; consistently promotes drugs and screening procedures while ignoring environmental causes of cancer.
National Cancer Institute (NCI):
Has spent billions of taxpayer dollars promoting treatments while ignoring strategies for preventing cancer; abundant ties to the cancer drug industry (for more information, read Samuel Epstein's new book, National Cancer Institute and American Cancer Society: Criminal Indifference to Cancer Prevention and Conflicts of Interest)
American Academy of Pediatrics (AAP):
Claiming to be protecting your children, the AAP is largely funded by vaccine manufacturers but refuses to disclose just how much money it gets from them; partners with Congress to protect pediatricians and drug companies from liability for vaccine injuries, while preventing you from getting truthful vaccine information."
Complete article at:
http://articles.mercola.com/sites/articles/archive/2011/12/30/rethinking-medical-associations-best-interests.aspx
____________
Big Pharma Gets 77,500% Return On Lobbying Investment
"Of course, that money that Pharma and the rest of the industries on the chart are making is at expense of American taxpayers and American consumers. But as long as we have a political system that bends to the whims of Big Money, the best ROI you can get is to be a lobbyist." More at:
http://blacklistednews.com/?news_id=18794&print=1
_______________
On This Day:
George VI crowned at Westminster,

May 12, 1937:
"At London's Westminster Abbey, George VI and his consort, Lady Elizabeth, are crowned king and queen of the United Kingdom as part of a coronation ceremony that dates back more than a millennium.
George, who studied at Dartmouth Naval College and served in World War I, ascended to the throne after his elder brother, King Edward VIII, abdicated on December 11, 1936. Edward, who was the first English monarch to voluntarily relinquish the English throne, agreed to give up his title in the face of widespread criticism of his desire to marry Wallis Warfield Simpson, an American divorcee.
In 1939, King George became the first British monarch to visit America and Canada. During World War II, he worked to keep up British morale by visiting bombed areas and touring war zones. George and Elizabeth also remained in bomb-damaged Buckingham Palace during the war, shunning the relative safety of the countryside, and George made a series of important morale-boosting radio broadcasts, for which he overcame a speech impediment.
After the war, the royal family visited South Africa, but a planned tour of Australia and New Zealand had to be postponed indefinitely when the king fell ill in 1949. Despite his illness, he continued to perform state duties until his death in 1952. He was succeeded by his first-born daughter, who was crowned Queen Elizabeth II in June 1953."
_________________
Race car driver A.J. Foyt gets first pro

victory

, May 12, 1957:
"On this day in 1957, race car driver A.J. Foyt (1935- ) scores his first professional victory, in a U.S. Automobile Club (USAC) midget car race in Kansas City, Missouri.
A tough-as-nails Texan, Anthony Joseph Foyt, Jr. raced midget cars--smaller vehicles designed to be driven in races of shorter distances--and stock cars before moving up to bigger things in 1958, when he entered his first Indianapolis 500 race. Foyt won his first Indy 500 crown in 1961, when rival Eddie Sachs was forced to make a tire change in the final laps, giving Foyt the chance to overtake him and win with a then-record average speed of 139.13 mph."
____________
Yesterday:
Misty and went to get Jay, and there are some little wild kittens and their feral mom living under their house. As they don't belong to anyone, they will not be vaccinated or fixed, so they will become sick with FIV, Feline Leukemia or rabies and die, that is if they are not run over. We will start trapping them next week.
No AC needed, so we worked on the cargo trailer. We sure do miss the shade those 5 old pine trees gave us before they were felled. We mostly worked on the plumbing for the sink, found out what we needed for the water lines, and got the drain going through the floor.
The weather has been gorgeous, and it was a "windows-and-doors-open" day.