For "Thursday tRaVersing or RV Day":
Extend A Stay extends your options
"Demonstration on how to install an extended stay kit, which will allow you to extend your stay without running out of propane."
____________
Extend-A-Stay for BBQ:
____________
What's in your fanny pack?
"Have you ever found yourself away from your RV on a walk or hike and came across a flower you couldn't identify, a bird or animal you couldn't quite make out since it was too far away, or you scratched yourself on a tree branch and needed a band-aid?

You could solve all these problems by keeping a small fanny or day-pack on a hook near your entry door, so that it was handy every time you stepped out the door.
Fill it with a couple of field guides for flowers and wildlife, a small first aid kit, pair of binoculars, sun block, mosquito repellant, a couple of snack bars, package of trail mix, and a superlight poncho or windbreaker-in-a-pouch and you're set for most minor emergencies. Make sure your pack has a place for a water bottle, too."  From: http://www.rvquicktips.com/2011/05/whats-in-your-fanny-pack.html
__________________
Towing a travel trailer or 5th wheel trailer.
Q. "I purchased a truck with an advertised tow rating of 9,800 pounds. I want to purchase a travel trailer or 5th wheel that this truck can safely tow, but don't know which type or size of trailer to look at. I am concerned about towing in hills and terrain where it is not just flat. Any suggestions or advice would be appreciated."
Mark Polk Says: "Here is some information to take into consideration before purchasing a travel trailer or 5th wheel trailer.
For starters, I have always felt that tow ratings are somewhat inflated. I once owned a truck rated to tow 8,800 pounds. I towed a trailer that weighed 7,100 pounds and in my personal opinion the trailer was too heavy for the truck, especially in the hills.  So, needless to say I don't always go by the advertised tow rating.
The way I like to explain it is to purchase a trailer with a Gross Vehicle Weight Rating (GVWR) at or below the tow rating of the vehicle. There is a big difference between the dry weight and the GVWR. This ensures that if the trailer were ever fully loaded to the maximum allowable weight the vehicle is rated to handle the weight (at least according to the vehicle manufacturer).
I even like to go one step further and use 75% of the tow vehicle rating for a better margin of safety. In your truck's case that would put the GVWR of a trailer you are considering purchasing at 7,350 pounds, meaning the dry weight would probably be about 5,000 pounds.
Fifth wheel trailers add more weight concerns. They are heavier and place a significant amount of weight directly over the rear axle of the truck (about 25% of the trailer weight). In addition to other weight ratings you need to consider the axle rating of the truck.  It would be difficult to find a 5th wheel with a GVWR of 7,500 pounds unless it is a lightweight unit.
For both travel trailers and 5th wheel trailers an important weight consideration is the tow vehicle Gross Combined Weight Rating or GCWR (often times overlooked) The tow vehicle GCWR is the combined weight of both the fully loaded truck and the fully loaded trailer when combined.
You cannot exceed this rating or any other weight rating for that matter. You would need to find out what the GCWR is for your truck and estimate the loaded weights for both the truck and trailer to see if it stays below the vehicle's GCWR.
These are just a few considerations but it should help in selecting a trailer that is properly matched for your tow vehicle."
___________________________
Crossroads RV to introduce new fifth-wheel front slide.  7,500 pounds True Weight.

"CrossRoads RV has redefined the lightweight fifth wheel market with an innovative front cap slide-out system. Models are offered at 25 feet and up, have full depth slide-outs, and start around 7,500 pounds true weight."  More at: http://fifthwheeling.rvtravel.com/2011/11/crossroads-rv-to-introduce-new-fifth.html
______________
Save money, time and effort with brake speed bleeders
"As discussed in a previous article, ("Don't forget to change your brake fluid regularly") owners of a motor home or towing truck with a hydraulic brake system that uses Ethylene Glycol-based brake fluid (DOT 3, DOT 4, DOT 5.1) should replace the brake fluid every two years or sooner.
Do-it-yourself RVers may be familiar with the traditional method of bleeding brakes to remove old fluid by having one person pump the brake pedal while a second person opens and then closes the factory bleeder screw. This approach is slow and laborious, and requires close coordination between the two people to avoid pulling air into the brake system.
Fortunately, there are three other methods which enable just one person to bleed the brakes and, if done correctly, will not allow air into the system:
Pressure bleeder - this attaches to your master cylinder and pressurizes the system, pushing the old brake fluid out of the brake lines. These work well but good quality pressure bleeder systems start at around $80.
Vacuum bleeder - this attaches to each bleeder screw (one at a time) and pulls the fluid from the master cylinder. Decent vacuum bleeder systems start at around $40.00 and you still have to "make the rounds" to each wheel to draw the old fluid out.
Speed bleeders - these replace the factory bleeder screw on each wheel and have a built-in check valve so fluid can flow out but air cannot enter the system. A set of four costs around $25.
There are several brands of speed bleeders available for purchase; I personally use
Dorman speed bleeders
and they work as advertised.
Speed bleeders are very easy to install: simply remove the factory bleeder screw at each wheel and replace it with the speed bleeder, making sure to screw the speed bleeder in tightly to avoid leaks.
To show how easy it is to use speed bleeders, read the instructions at:  http://rvtechtips.blogspot.com/2011/11/save-money-time-and-effort-with-brake.html
____________
A hot tip for a cold night:
http://rvnow.rvtravel.com/2009/01/hot-tip-for-cold-rv-night.html    Carefully use a hair dryer to warm bed.
____________
RV Travel Tip for Pet Parents.
"When staying at a campground, put temporary ID tags on your pets. Include the name of the campground and your site number. An easy way to make them is to cut a disk out of a plastic milk jug. Punch a hole in it with a paper punch. Write on it with a permanent marker, such as a Sharpie."
_________________
RV Travel Joke.
"The couple in the motorhome next door have three new puppies. She had them out for their walk the other day and I went out to admire them. She was telling me their names. The little black one, she named him "Thunder," because he is the loudest. The little white one, she named him "Lightening," because he is the fastest. Okay, that makes sense. So, I asked her, "What did you name the little spotted one?" "Liberace," she tells me. Liberace? "Yes," she explains, "because, he is the pianist." "
______________
On This Day:
Blizzard brings tragedy to Northwest Plains, Jan 12, 1888:
"On this day in 1888, the so-called "Schoolchildren's Blizzard" kills 235 people, many of whom were children on their way home from school, across the Northwest Plains region of the United States. The storm came with no warning, and some accounts say that the temperature fell nearly 100 degrees in just 24 hours.
It was a Thursday afternoon and there had been unseasonably warm weather the previous day from Montana east to the Dakotas and south to Texas. Suddenly, within a matter of hours, Arctic air from Canada rapidly pushed south. Temperatures plunged to 40 below zero in much of North Dakota. Along with the cool air, the storm brought high winds and heavy snows. The combination created blinding conditions.
Most victims of the blizzard were children making their way home from school in rural areas and adults working on large farms. Both had difficulty reaching their destinations in the awful conditions. In some places, though, caution prevailed. Schoolteacher Seymour Dopp in Pawnee City, Nebraska, kept his 17 students at school when the storm began at 2 p.m. They stayed overnight, burning stockpiled wood to keep warm. The next day, parents made their way over five-foot snow drifts to rescue their children. In Great Plains, South Dakota, two men rescued the children in a schoolhouse by tying a rope from the school to the nearest shelter to lead them to safety. Minnie Freeman, a teacher in Nebraska, successfully led her children to shelter after the storm tore the roof off of her one-room schoolhouse. In other cases, though, people were less lucky. Teacher Loie Royce tried to lead three children to the safety of her home, less than 90 yards from their school in Plainfield, Nebraska. They became lost, and the children died of hypothermia. Royce lost her feet to frostbite.
In total, an estimated 235 people across the plains died on January 12. The storm is still considered one of the worst blizzards in the history of the area."
___________
Henry Ford sets speed record, Jan 12, 1904:
"On this day in 1904, Henry Ford sets a land-speed record of 91.37 mph on the frozen surface of Michigan's Lake St. Clair. He was driving a four-wheel vehicle, dubbed the "999," with a wooden chassis but no body or hood. Ford's record was broken within a month at Ormond Beach, Florida, by a driver named William K. Vanderbilt; even so, the publicity surrounding Ford's achievement was valuable to the auto pioneer, who in June of the previous year had incorporated the Ford Motor Company, which would eventually go on to become one of America's Big Three automakers.
Henry Ford was born on a farm in present-day Dearborn, Michigan, on July 30, 1863. In 1896, Ford, then an engineer in Detroit, built a four-wheel, self-propelled vehicle with a gasoline engine that he called the Quadricycle. Three years later, he founded the Detroit Automobile Company; however, by early 1901 the business failed. That same year, Henry Ford became involved in auto racing as a means to promote himself and gather investors for future automaking ventures. Late that year, the Henry Ford Company was established. The following year, Ford left the business after clashing with Henry Leland, who had been hired as a consultant. (Leland subsequently gave Ford's company a new name: the Cadillac Automobile Company.)
On June 16, 1903, Ford incorporated a new company: the Ford Motor Company. In January of the following year, Ford set his record at Lake St. Clair, racing 1 mile in 39.4 seconds for a record speed of 91.37 mph. For the next several years, Ford continued to build race cars that met with varying degrees of success. In 1908, Ford launched a car for the masses, the Model T, which revolutionized the automotive industry--and American society in general--by providing affordable, reliable transportation for the average person. To promote the Model T, Ford entered it in races. In 1909, the Model T won a New York-to-Seattle race and although it was later disqualified due to a technicality, the event provided great advertising for Ford. Over the next few years, the Model T won a variety of races around the U.S. In 1913, Ford, who was reportedly unhappy with certain rules of auto racing, quit the sport. (Now that his company was a success, he didn't require the publicity from racing anyway.)
In 1913, Ford Motor Company began employing the moving assembly line at its plant in Highland Park, Michigan, which reduced the assembly speed of a chassis from 12 hours and eight minutes to one hour and 33 minutes. The following year, Ford produced over 308,000 vehicles, more than the output of all other carmakers combined. The Model T, which was in production until 1927, became the world's top-selling vehicle until the Volkswagen Beetle surpassed it in 1972. Henry Ford died at the age of 83 on April 7, 1947."
___________
Massive earthquake strikes Haiti, Jan 12, 2010:
"On this day in 2010, a magnitude 7.0 earthquake devastates the Caribbean island nation of Haiti. The quake, which was the strongest to strike the region in more than 200 years, left over 200,000 people dead and some 895,000 Haitians homeless.
The earthquake hit southern Haiti at 4:53 p.m. local time. The nation's capital, Port-au-Prince, a densely populated city located about 15 miles from the quake's epicenter, suffered widespread devastation. Countless dwellings were reduced to rubble, while hospitals, churches and schools collapsed and roads were blocked with debris. Numerous government structures were heavily damaged or destroyed, including the presidential palace, parliament building and main prison. (At the time of the quake, Haiti lacked a national building code, and many structures were shoddily constructed.) In the aftermath of the quake, amidst fears that victims' decomposing corpses could spread disease, trucks picked up thousands of bodies and dumped them into mass graves.

Even before the earthquake, Haiti, which occupies the western third of the island of Hispaniola (the Dominican Republic occupies the other two-thirds), was the poorest country in the Western Hemisphere, with 80 percent of its 9 million residents existing in poverty. Political corruption and violence, disease, malnutrition and limited access to education were a way of life for many in Haiti, which gained its independence from France in an 1804 slave revolt.
A large-scale, international relief operation was launched soon after the quake hit, with the United States taking charge and sending thousands of military troops to Haiti to deliver supplies, assist with search-and-rescue efforts and help maintain order. Relief efforts initially were hampered by earthquake damage to roads, communication systems and the Port-au-Prince airport and main port.
Governments and individuals around the world made donations and pledges of aid to Haiti totaling billions of dollars. However, on the first-year anniversary of the disaster, reconstruction efforts were still in their infancy. Thousands of people left homeless by the quake were living in tents, and only a small portion of the heavy debris resulting from the disaster had been cleared."
----------------
Where Did All The Money Go?    Haiti's Slow Recovery.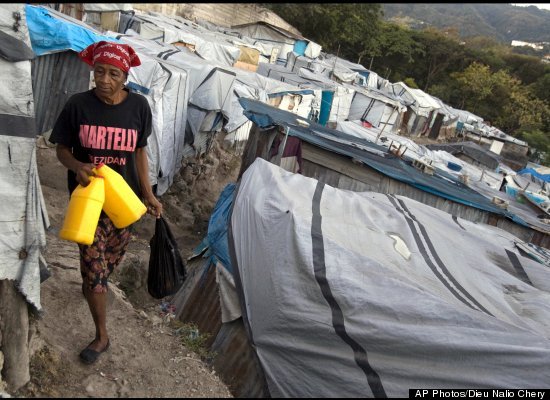 "In this Jan. 5, 2012 photo, a woman wears a T-shirt with the name of President Michel Martelly as she walks through the Beaubin camp for people displaced by the 2010 earthquake in Petionville, Haiti. Two years afterwards, more than half a million Haitians are still homeless, and many who have homes are worse off than before the Jan. 12, 2010 quake."   A lot more at: http://www.huffingtonpost.com/2012/01/11/haiti-earthquake-recovery_n_1197730.html
And read more: http://www.miamiherald.com/2012/01/10/2582235/questions-arise-about-how-haiti.html
_____________
Yesterday:
I was expecting Mindi's dogs to arrive about 10.00AM, so I didn't go anywhere, just worked on drafts for this journal while I was waiting.  When I called, she said that she was on vacation this week!!  Now the dogs are supposed to be here on the 20th.  The reason that I am supposed to take care of them while she works is that the fence hasn't been built at her new house, yet.  So my boarding them will only be temporary.  That gave me time to look for stuff online. 
My old grooming table still isn't right, so after not finding a used one, I posted in "Wanted".  I have been offered all kinds of tables, including a medical one with stirrups!  I ordered an anti-bark, not shock collar, and an audible training device for Caesar.  The items should be here before he can frazzle my nerves again for another three days.