For Thursday: "tRaVersing, or RV Day".
We might have a tornado watch today, so:
"Unfortunately, as we have seen in 2011, natural disasters can happen any time, and with little warning, whole communities can be destroyed, as happened on June 1st in Massachusetts. A day that started out as a beautiful summer like day ended up in tragedy as the Village Green Family Campground in Brimfield Mass. was completely destroyed. One RVer lay dead and up to 100 injured following at least an EF-2 tornado."
More at:  http://rvtravel.com/RVtravelinfo/Chris_Dougherty_Article.shtml
_________________
Hurricane Preparedness for RVers
"If you RV on the East Coast, through the southern Gulf States to Texas, you're already aware that Atlantic, Caribbean, and Gulf of Mexico hurricanes and tropical storms are a fact of life from June 1 through November 30 and the height of the hurricane season occurs from late August through early October."
"Hurricane Wilma in 2005. Hurricane Wilma was a category 5 hurricane and one of the costliest storms in history. Hurricane Wilma's highest sustained winds was at 185 mph. Lowest pressure point measured at 882 mbar." (Credit: hurricane-facts.com)
"Although less common, they do occur on the Pacific Coast in southern California and Baja California, Mexico. The Eastern Pacific hurricane season begins May 15th and also ends November 30th.
As we enter the peak of the hurricane season, you'll turn on the TV and see a meteorologist pointing to a radar blob in the Gulf of Mexico make two basic meteorological points:  'There is no need to panic' or  'We could all be killed'!
You may wish to follow this simple three-step hurricane preparedness plan:
Step 1: Buy enough food and bottled water to last your family for at least seven days
Step 2: Load these supplies into your recreational vehicle
Step 3: Drive to Wyoming and stay there until after Thanksgiving.
While you may deem this plan to be somewhat overkill, it begs the question: What should RVers do?   Above all else, use common sense and remain calm.
Planning and preparation is the key—and that's where you should start NOW. As an RVer you are already several steps ahead in preparation for a hurricane."   Read More: http://blog.rv.net/2011/09/hurricane-preparedness-for-rvers/?utm_source=feedburner&utm_medium=email&utm_campaign=Feed%3A+RvnetBlog+%28RV.net+Blog+Daily+Updates+Feed%29
_______________
Driving Stormy Weather,  A good time to take a break.
"You've been busy all your adult life. Work, raising a family. Now that you are RVing more, it's time to slow down a bit. Especially when your safety is at stake.

Tip: The next time you're driving your big rig and a storm looms up and the wind starts hooting, instead of fighting your barn door of a rig down the road—which is not only stressful but also dangerous--take the next exit and sit it out.
It is a great time to explore an area you might never have considered before, sprawl out on the couch and start that book you've been meaning to read, or take the time to create a "chef's surprise" in your galley to surprise your mate.
Wherever you were headed will still be there after the storm passes over."
____________
Tankmin can make your boondocking chores pleasant
Random drawing on 1/29/12, attendance not necessary, shipping is not included.   (From Me: Try to win one, as they are expensive!)
"Tankmin, the portable RV tank system that lets you pump out your holding tanks, and pump up your freshwater tank -- all without moving the RV."     More at: http://www.rvboondockingnews.com/2011/11/tankmin-can-make-your-boondocking.html
____________
Fire Safety Tip from Mac McCoy
"Have at least two escape routes -- one in the front and one in the rear of the coach. As soon as they're old enough, teach children to open hatches and emergency exits." Learn more about Mac and fire safety.
_____________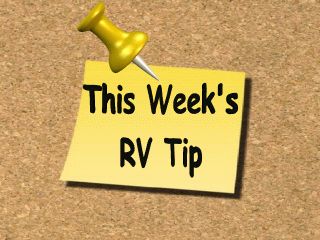 RV Savvy Tips by Mark Polk
"In RV's Carbon Monoxide Gas usually results from: 1.Exhaust leaks from either a vehicle engine or a generator. 2.Improper use of portable gas powered heaters. 3.Someone else's vehicle or generator when camping in close quarters. 4.Malfunctioning or unvented LP gas appliances
If your RV doesn't have a carbon monoxide detector you need to purchase a battery operated carbon monoxide detector designed for use in RV's. Test the carbon monoxide detector every time you use the RV. Replace the carbon monoxide detector batteries when you change clocks for daylight savings time. "
____________
Tips to a Long Lasting Generator, by Mark Polk
"If a generator is properly maintained and cared for it is quite possible it will last longer than the RV itself.
Here are some of my tips to a long lasting generator. 1) Carbon Monoxide Poisoning.  2) Preventive Maintenance. 3) Routine or Scheduled Maintenance. 4) Exercise your Generator. 5) Generator Operating Conditions.  6) Storing your Generator. CO Gas Poisoning Symptoms.  Article at: http://blog.rv.net/2011/10/tips-to-a-long-lasting-generator/?utm_source=feedburner&utm_medium=email&utm_campaign=Feed%3A+RvnetBlog+%28RV.net+Blog+Daily+Updates+Feed%29
_____________
Trivia:
Before the Civil War, many local banks issued their own currency. In New Orleans, where there was a large French-speaking population, a bank produced a $10 bill, with the term "Dix" printed on it, which means "ten" in French. Soon, the bills became known as "Dixes."   Riverboat men from the north, when heading south, would say they were going downriver to pick up some Dixes in Dixie Land. In time, the term Dixie came to be applied to all of the Deep South.
Use vertical strokes when washing windows outside and horizontal for inside windows. This way you can tell which side has the streaks. Straight vinegar will get outside windows really clean. Don't wash windows on a sunny day. They will dry too quickly and will probably streak.

Place fabric softener sheets in dresser drawers to ensure your clothes smell freshly washed for weeks to come. This trick also works with towels and linen.
 
Candles will last a lot longer if placed in the freezer for a minimum of 3-hours prior to burning.
_____________
On This Day:
Australia Day, Jan 26, 1788:
"On January 26, 1788, Captain Arthur Phillip guides a fleet of 11 British ships carrying convicts to the colony of New South Wales, effectively founding Australia. After overcoming a period of hardship, the fledgling colony began to celebrate the anniversary of this date with great fanfare.
Australia, once known as New South Wales, was originally planned as a penal colony. In October 1786, the British government appointed Arthur Phillip captain of the HMS Sirius, and commissioned him to establish an agricultural work camp there for British convicts.  Accompanied by a small contingent of Marines and other officers, Phillip led his 1,000-strong party, of whom more than 700 were convicts, around Africa to the eastern side of Australia. In all, the voyage lasted eight months, claiming the deaths of some 30 men.  As Phillip said before leaving England: "In a new country there will be no slavery and hence no slaves."
Though Phillip returned to England in 1792, the colony became prosperous by the turn of the 19th century. Feeling a new sense of patriotism, the men began to rally around January 26 as their founding day. Historian Manning Clarke noted that in 1808 the men observed the "anniversary of the foundation of the colony" with "drinking and merriment."  Finally, in 1818, January 26 became an official holiday, marking the 30th anniversary of British settlement in Australia.
Today, Australia Day serves both as a day of celebration for the founding of the white British settlement, and as a day of mourning for the Aborigines who were slowly dispossessed of their land as white colonization spread across the continent."
___________
Audie Murphy wounded, Jan 26, 1945:
"On this day, the most decorated man of the war, American Lt. Audie Murphy, is wounded in France.
Born the son of Texas sharecroppers on June 20, 1924, Murphy served three years of active duty, rising to the rank of staff sergeant, and finally winning a battlefield commission to 2nd lieutenant. He was wounded three times, fought in nine major campaigns across Europe, and was credited with killing 241 Germans. He won 37 medals and decorations, including the Distinguished Service Cross, the Silver Star (with oak leaf cluster), the Legion of Merit, and the Croix de Guerre (with palm).
The battle that won Murphy the Medal of Honor, and which ended his active duty, occurred during the last stages of the Allied victory over the Germans in France. Murphy acted as cover for infantrymen during a last desperate German tank attack. Climbing atop an abandoned U.S. tank destroyer, he took control of its .50-caliber machine gun and killed 50 Germans, stopping the advance but suffering a leg wound in the process.
Upon returning to the States, Murphy was invited to Hollywood by Jimmy Cagney, who saw the war hero's picture on the cover of Life magazine. By 1950, Murphy won an acting contract with Universal Pictures. In his most famous role, he played himself in the monumentally successful To Hell and Back.
Perhaps as interesting as his film career was his public admission that he suffered severe depression from post traumatic stress syndrome, also called battle fatigue, and became addicted to sleeping pills as a result. This had long been a taboo subject for veterans. Murphy died in a plane crash while on a business trip in 1971. He was 46."
____________
Soviets liberate Auschwitz, Jan 26, 1945:
"On this day, Soviet troops enter Auschwitz, Poland, freeing the survivors of the network of concentration camps—and finally revealing to the world the depth of the horrors perpetrated there.
Auschwitz was really a group of camps, designated I, II, and III. There were also 40 smaller "satellite" camps. It was at Auschwitz II, at Birkenau, established in October 1941, that the SS created a complex, monstrously orchestrated killing ground: 300 prison barracks; four "bathhouses" in which prisoners were gassed; corpse cellars; and cremating ovens."
__________
"The Twist" ends record-setting run, Jan 26, 1962:
"On January 26, 1962, "The Twist" by Chubby Checker finally ends its record-setting run at #1.
Back in 1958, Ernest "Chubby" Evans was a high-school student and part-time chicken-plucker about to be touched by the hand of fate, in the person of Dick Clark. For his industry holiday card that year, Clark decided to have a Christmas novelty record made, and he delegated the job to a friend in the business named Kal Mann. Mann's friend Tony Anastasi, owner of the Philadelphia poultry market where young Ernest Evans worked, suggested that Mann give his charismatic young employee a shot at recording the tune. Thus did Chubby Evans—renamed Chubby Checker by Dick Clark's wife as a takeoff on "Fats Domino"—take the first, small step down a path toward selling more than 250 million records worldwide."
__________
Yesterday:
It just HAD to start pouring just as Misty wanted her first 'outs' in the back yard.  So we both donned raincoats as she is quite happy to go out in the rain when she has her coat on, and I wanted to make sure she 'went'. 
It was really shopping day, but I had more sense than to get mixed up with the dangerous roads, and drivers!  Especially as the road into town might flood.
Just as it was getting dark, I was outside with Misty when the back yard lights went off. The traffic light on the corner was out, too, so it was pretty widespread.  Misty found her way back in better than I did.  After fumbling around with a flashlight trying to get candles lit, and trying to insert new AAA's in the LED touch light under my range hood, it came back on again. 
No more mention of a tornado here, but there was damage in other places like Brenham and Pearland.  Houston had flooded streets. This was in Huntsville, TX, a few miles north of us.
http://www.click2houston.com/news/Severe-weather-pounds-Houston-area/-/1735978/8492314/-/ansmx8z/-/index.html
But here it was just a dreary rainy day.