For "Travel Tuesday": Let's visit Hochheim, TX in the Texas Prairies and Lakes region.
"The Texas Prairies and Lakes Region offers a wide variety of destinations & attractions, from the fast-paced cosmopolitan excitement of the Dallas/Fort Worth Metroplex with the best in shopping, dining & entertainment, to the beautiful lakes & laid-back country lifestyles found throughout the region. Discover the Excitement of the Texas Prairies & Lakes."
HOCHHEIM, TEXAS
Texas Ghost Town in DeWitt County, Central Texas South, Highway 183 and Highway 111, 16 Miles N of Cuero, 17 Miles SE of Gonzales, 8 Miles W of Yoakum, Population: 70 (2000)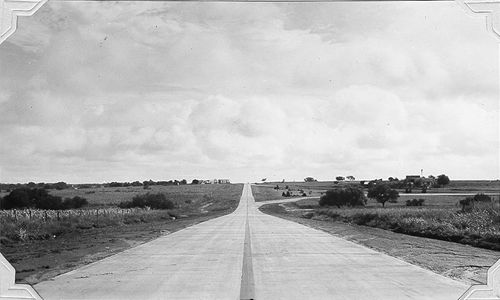 View of Hochheim from the road, Vintage photo courtesy TXDoT 
---
History in a Pecan Shell
"Immigrating to Texas was often a tragedy. Such was the case with Valentine Hoch who bought a homesite in DeWitt County even before leaving his home in Alsace-Lorraine. The man's name is German for "high" so it can be translated as "Hoch's Home" or "High Home" which corresponds to the geographic location of Mr. Hoch's residence.
One of Hoch's children died a few days before they left for America and upon arrival in Indianola, Mrs. Hoch died - leaving Valentine a widower with three surviving children. Arriving at his property in 1856, Valentine spent the next two and a half years building his two-story house from stone gathered from the Guadalupe River. Hoch remarried a woman with three children of her own and soon other families were arriving. The community became known as Hocheim to the German speaking residents and as "Dutchtown" by the Anglo settlers.

The community prospered since it was the Indianola-Austin stageline and a post office was granted in 1870. Hochheim had most essential business in the 1880s including at least two stores, a blacksmith, a Masonic lodge and a druggist. Daily stages to Gonzales and Cuero (the nearest railroad connection) made life a little easier for the 200 citizens - half of which were German-speaking. The population peaked with 261 residents in 1904. It declined to around 100 in the 20s and remained there for the next 40 years. After a brief climb back to 175, it dipped down to 70 where it remained for the 2000 Census.
The town remains on the state map and retains a post office on the highway. Valentine Hoch's stone house still stands just south of town - a mile from the river."
------
STAGECOACH INN, Then and Now
THEN:
--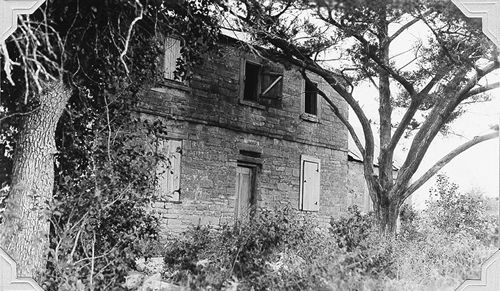 NOW:
--
Stagecoach Inn historical marker, Photo courtesy Sarah Reveley, 2008
Hochheim General Store, Then and Now
THEN:
Vintage photo courtesy Mel Brown
NOW: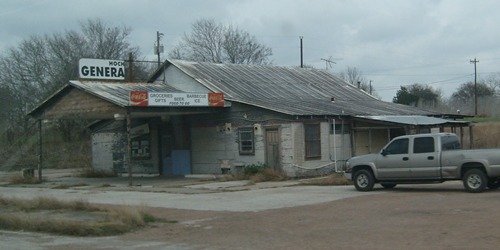 Photo courtesy Sarah Reveley, 2008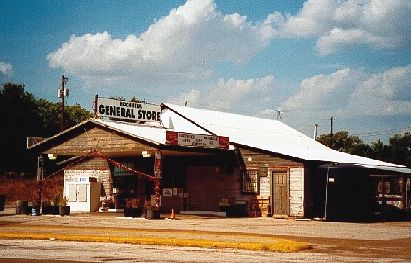 The General Store in 2001.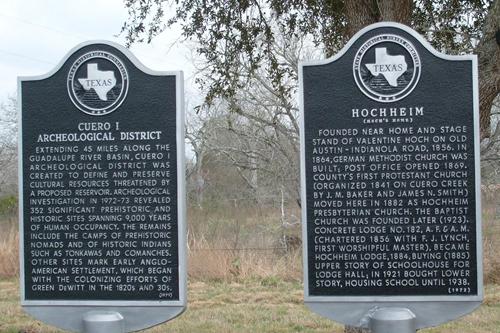 Hochheim markers, Photo courtesy Sarah Reveley, 2008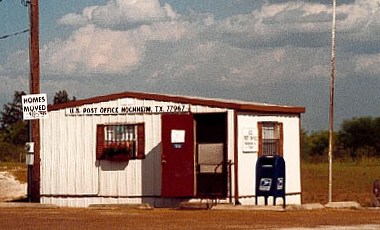 US Post Office in Hochheim, TE photo, July 2001
------
Hochheim's Stagecoach Inn
Before Trains, Planes and Automobiles: Hochheim's Stagecoach Inn recalls the 1850s
A way station for travelers in early Texas, the Stagecoach Inn lay along the Austin-Indianola stage road. Find it today off US 183, near Hochheim. (Photo by Michael Amador)
"Tucked away on a backroad in the northeast corner of DeWitt County lies a remnant of early Texas. A two-and-a-half-story structure built of stone from the banks of the nearby Guadalupe River, the 1856 Valentin Hoch Home stands amid rolling blackland prairie dotted with live oaks and pecans. The secluded setting makes it easy to imagine Valentin Hoch, a German immigrant and stone mason, stopping at this spot and saying to his children, as reported in family histories, "Here we shall build our home."
Not long after the house was completed, it became a stagecoach stop, one of the way stations that made travel across Texas possible in the days before railroads. An article by Mike Cox in the Texas Almanac states that 31 stage lines were operating in Texas before the beginning of the Civil War. "Those were the major transportation routes of the day," says local historian Doug Kubicek, "and the stops along the way like Hoch's place —which became known as the Stagecoach Inn—were crucial. They offered a place for drivers to change horses and for travelers to have a meal and sometimes spend the night. One of their most important functions was mail delivery. Places like the Stagecoach Inn really opened up the interior of Texas for settlement."
According to Bob Brinkman, an architectural historian and coordinator of the Texas Historical Commission's Historical Markers Program, several things make this site special. "The house is a testament to Hoch's craftsmanship and practicality," he says. " I'm amazed every time I see it how well it's integrated into the landscape: He sited it on a hill among a grove of trees so that it could catch the prevailing breezes.
"But the other reason it's one of my favorite sites is because the story of the Hoch family is so interesting," adds Brinkman. "Like many immigrants, they endured great hardship and tragedy, yet they eventually made a good life in this new land."
An account by Valentin Hoch's great-granddaughter Mildred Allen Duhon describes the family's voyage from Germany to America: "Just days before they left … , the youngest child … became ill and died. In the fall of 1845 the family ... began their journey. On their way to America, another child … died and was buried at sea."
Soon after the ship anchored at Indianola (then called Indian Point), Hoch's wife also died. Duhon wrote, "It was said that she died of either scarlet fever or cholera, but others say she died of a broken heart."
Details about the whereabouts of Hoch and his remaining three children for the next two years prove sketchy, but in February 1848, Hoch purchased 45 acres of land near the Guadalupe River, the family's eventual home site. According to accounts by Duhon and other family members, Hoch spent several years quarrying the stone and assembling the materials to build the house.
He was still building it when a neighbor told him about a woman named Johanna Flemming who had come to Indianola and recently lost her husband. Desperately needing someone to help look after his children, Hoch went to Indianola to see Flemming, who had three small children of her own. When he returned, he brought all three with him. Valentin Hoch and Johanna Flemming married on August 18, 1854; their union resulted in four more children.
An inscription in stone over the east entrance reads "V. Hoch 1856." Other lintels bear dates of 1857 and 1866, indicating that Hoch completed the house in stages. The attic was designated for the boys, the second story for the girls, and the bottom floor for the adults. They stored food and supplies in the cellar, including wine that the family made from mustang grapes gathered along the river.
The home lay along an old freight trail, and the government soon awarded contracts to Hoch for mail delivery. According to a Recorded Texas Historical Marker placed in 1964, the home "served as an inn on the Austin-Indianola stage road. While drivers changed four-horse teams, the passengers welcomed the chance to enjoy the inn's food and hospitality."
Doug Kubicek says there's tangible evidence that the home was on a stage route. "The first time I went out to the site, I nearly fell on my face in the wagon ruts on the east side of the house—they're still two to three feet deep in places," he notes.
The Stagecoach Inn sparked settlement in the area. The community of Hochheim (Hoe-hime, meaning "Hoch's home" in German) grew up around it and today lies six miles west of Yoakum. Three generations of Hochs lived in the house, which remained in the family until 1899, when it was sold to rancher Valentine Bennett. His descendants restored it in 1954, earning several awards. The site was placed on the National Register of Historic Places in 1974.
A local insurance company acquired the property in 2000 and established the Hochheim Historical Foundation to serve as the Stagecoach Inn's caretaker. Restoration efforts continue through the foundation, whose aim is to preserve the site as a German heritage center."  By Nola McKey
______
Hochheim Texas USA
"Hochheim Texas is a small historic Texas town near Gonzales TX and Shiner TX. Valentine Hoch built a home there about 1856 with stones he quarried from the banks of the Guadalupe River. Valentine Hoch is a Son of the Texas Republic, here when Texas was The Republic of Texas.  I love to stop by and see his home which became known as the Stagecoach Inn. Hochheim Prairie Insurance maintains the old Historic House Museum there."
_____
On This Day:
First meteor shower on record, Nov 12, 1799:
"Andrew Ellicott Douglass, an early American astronomer born in Vermont, witnesses the Leonids meteor shower from a ship off the Florida Keys. Douglass, who later became an assistant to the famous astronomer Percival Lowell, wrote in his journal that the "whole heaven appeared as if illuminated with sky rockets, flying in an infinity of directions, and I was in constant expectation of some of them falling on the vessel. They continued until put out by the light of the sun after day break." Douglass' journal entry is the first known record of a meteor shower in North America.
The Leonids meteor shower is an annual event that is greatly enhanced every 33 years or so by the appearance of the comet Tempel-Tuttle. When the comet returns, the Leonids can produce rates of up to several thousand meteors per hour that can light up the sky on a clear night. Douglass witnessed one such manifestation of the Leonids shower, and the subsequent return of the comet Tempel-Tuttle in 1833 is credited as inspiring the first organized study of meteor astronomy."
______
Voyager I flies near Saturn, Nov 12, 1980:
"More than three years after its launch, the U.S. planetary probe Voyager 1 edges within 77,000 miles of Saturn, the second-largest planet in the solar system. The photos, beamed 950 million miles back to California, stunned scientists. The high-resolution images showed a world that seemed to confound all known laws of physics. Saturn had not six, but hundreds of rings. The rings appeared to dance, buckle, and interlock in ways never thought possible. Two rings were intertwined, or "braided," and pictures showed dark radial "spokes" moving inside the rings in the direction of rotation. Voyager 2, a sister spacecraft, arrived at Saturn in August 1981. The Voyagers also discovered three new moons around Saturn and a substantial atmosphere around Titan, Saturn's largest moon."
______
Yesterday:
As I was going into Conroe for a doctor's appointment, Jay wanted to go with me.  So Misty and I drove down there to pick him up and had our walk down there.
Back here, I let Misty into the house, change cars, and loaded up the paper and plastic recycling into the van.  We left early enough that we could drop off the paper, and make a quick trip to Lowe's where I looked at some mini-blinds for the screen porch.  There are times when the sun really comes in there.  Not wanting to loose the light, but needing to stop the glare, mini-blinds seemed to be the answer.  Lowe's didn't have them narrow enough.
When we got to the clinic, they had postponed the appointment to today, so we proceeded to Walmart to see about getting a tire for my van.  They said it would be a 2 hour wait so we gave up on that.  I did get the mini-blinds there, but we will have to cut about 3/4" off the sides.  We have done that before.  Just take off the ends, wrap the blind tightly with some masking tape, cut it with a circular saw, and replace the ends.
In the afternoon, Misty's vet called and said that the blood tests showed that she is going into kidney failure and has to be put on a prescription diet.  Upon talking to other foster moms who had been in this same situation, and are experienced vet techs, they aren't too keen on those diets.  Like most prescriptions, they are made of cheap ingredients and are just money makers.  So I searched the internet all afternoon, and found out bad things about the prescription kidney diets for dogs.
The most famous and most prescribed one, even has ethoxyquin, (a Monsanto product) in it!  http://www.dogfoodadvisor.com/red-flag-ingredients/ethoxyquin-dangerous-dog-food-additive/ More about this at: http://www.whole-dog-journal.com/issues/13_5/features/Dog-Food-Preservatives_16221-1.html
But I did find some special homemade recipes for dogs with renal failure and printed them out.  Though what I had been cooking for her was not very far off from the recommended diet, so her kidneys must just be getting old. Apparently, now she needs more fat and less phosphorus.  Recently, I have been lax about cooking for Misty as I have been so busy getting this house ready to sell, so I'll go back to cooking for Misty today.