For "Mammal Monday":
Dogs and Carbohydrates — A Surprising Secret Revealed
"Zero. That's how many carbohydrates are nutritionally required by a dog to sustain life.

The fact that a dog food doesn't need to contain any "carbs" at all seems hard to believe.  But it's true.
You see, according to the National Research Council and compared to the other two major nutrients —protein and fat — no carbs are considered essential for a healthy canine diet.
Dogs don't need corn. And they don't need wheat, barley rice or potatoes, either.  Dogs simply don't need any carbohydrate ingredients — at all.  Yet surprisingly, "carbs" represent the dominant ingredient found in most dry dog foods.
Why Dog Food Companies Love Carbohydrates
Since the early 1950s, dog food manufacturers everywhere have fallen head-over-heels in love with carbs because they're:
Abundant
Durable (long shelf life)
Essential to the kibble-making process
Cheaper (per calorie than protein or fat)
Please notice that not one of these reasons has anything to do with nutrition — not one."       More at:  http://www.dogfoodadvisor.com/canine-nutrition/dog-food-carbohydrates/    by MIKE SAGMAN
---------
Dog food reviews and dog food ratings updated regularly.
Search by Brand:
Brands A to Z  at: http://www.dogfoodadvisor.com/
_______
Corn in Dog Food. Really?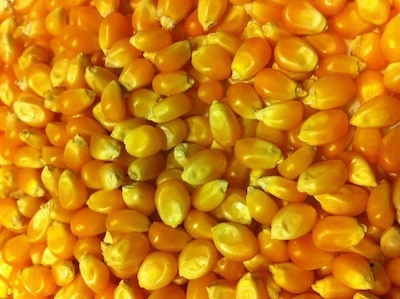 "If you look at the ingredients of the vast majority of major brand dog foods sold in your local grocery store you will see most of them contain some type of corn such as cornmeal. Fact: dogs are meat eaters; even their teeth tell us this. They do not have grinding molars, they have ripping canines. Have you ever heard of a farmer having issues with dogs raiding their corn fields? No, what we might hear is a dog raiding the chicken coop for meat.
Corn has been linked to many dog ailments such as allergies, joint swelling, bloat and there have been some cases of aflatoxin contamination associated with corn in dog food.
A dog's body cannot process corn properly. It is difficult for them to digest it. Corn is a cheap filler, a starchy energy which serves little to no nutritional value. A lot of it comes out in their waste.:  More at: http://www.dogbreedinfo.com/care/corndogfood.htm
_______
Why 84% of Pet Owners Don't Know What to Feed Their Aging Pets
"A recent survey conducted by Tufts University uncovered the fact that most U.S. pet owners hold certain beliefs about dog food marketed for 'senior' pets that may or may not be true.
The majority of people surveyed (over 84 percent) believe older dogs should eat differently than adult dogs, but only about half of them feed a senior diet. The reality is nutritional requirements should be tailored to the individual dog -- not based simply on the age of the animal.
In fact, studies point to an increased need for protein as your pet ages.
The reason senior dog food formulas have reduced protein content is based on flawed logic.
The exceptionally poor quality protein used in most commercial pet foods is difficult for the bodies of even young, healthy pets to process. Rendered protein sources put chronic strain on your dog's kidneys and liver as her body attempts to digest and assimilate food that is not biologically suitable.
Years of a diet based on terrible quality, rendered protein compromises kidney and liver function, which is why commercial 'senior' dog foods contain less protein than adult maintenance formulas.
It's an unfortunate situation, because your dog actually needs more protein as she ages – not less -- in order to maintain healthy lean muscle mass and good organ and immune function. But the type of protein most dogs thrive on is whole, unprocessed, and preferably raw." More at: Click here: Surprising Findings about Dog Food for Older Dogs
_______
FDA Proposes Safety Rules for Pet Food
"The Food and Drug Administration is acting to protect the country's animals from food-borne illness by regulating the process by which animal feed and pet food is produced.
The action comes on the heels of the news last week that the FDA is seeking the public's help in pinpointing the source of an illness that has claimed the lives of 580 pets and sickened over 3,000 since 2007.
The illness, which Pet360 reported on last week, appears to come from tainted jerky treats, many of which were manufactured in China.
The new regulations, the first of its kind for the FDA, would require makers of animal feed and pet food to write a plan to prevent known food-borne illnesses, as well as enacting procedures in their manufacturing processes where problems might arise.
Animal feed and pet food manufacturers, for example, would be required to monitor and record at what temperatures their canned foods are produced and how long they are cooked.
These rules are being proposed six years after the largest pet food recall in the history of the U.S., which killed hundreds of animals. That recall was linked to melamine, found in plastics, that was used in dog food produced in China."  More at: Click here: FDA Proposes Safety Rules for Pet Food - Pet360 Pet Parenting Simplified
And safe handling of pet food: http://www.unionleader.com/article/20131102/NEWS01/131109831
_______
"These days, many people take their furry friends along on road trips. However, a new environment can pose certain risks to the animal. To keep your pet safe while you're traveling through the countryside, follow these few tips.
Restraint system
Seeing a dog stick its head outside a window is a common sight on the roadways, but it isn't a safe way to travel. Cars can suddenly stop, insects can fly into your pet's face and a number of other things can happen. To avoid mishaps, sit your dog or cat in the back seat in a pet harness or crate.
Identification tags
Be sure your pet has its collar on with up-to-date identification tags. It's also important to have your pet's medical records with you in the unfortunate case that you have to stop at a vet while on the road.
Pack food
Just like you probably pack food on long trips, have a goodie bag full of pet treats. You can purchase an inflatable bowl for water and kibble. Additionally, have your pet's favorite toys on hand to keep it calm during the ride."  From: http://love.theanimalrescuesite.com/tips-to-keep-your-pet-safe-during-road-trips/#4rO0Is87buvhbaEO.99
_______
The Hidden Lives of Wolves
"Jim and Jamie Dutcher spent several years living with a pack of wolves at the edge of Idaho's Sawtooth Wilderness, observing the complex social hierarchy of this misunderstood species."
Full movie: http://youtu.be/hE6hS4RAF6Q
______
On This Day:
Iranian students storm U.S. embassy in Tehran, leading to oil embargo, Nov 4, 1979:
"On this day in 1979, hundreds of Iranian students storm the U.S. Embassy in Tehran, taking more than 60 American hostages. The students, supporters of the conservative Muslim cleric Ayatollah Khomeini, were demanding the return of Iran's deposed leader, the Shah Mohammed Reza Pahlevi, who had fled to Egypt in January 1979 and by November was receiving cancer treatment in the United States. After the student takeover, President Jimmy Carter ordered a complete embargo of Iranian oil.
1979's hostage crisis compounded the energy crisis—and, in fact, many historians believe that the combination of the two events cost President Carter his job—but there were a few winners. Japanese carmakers, for instance, gained a reputation for building inexpensive, reliable, efficient cars that were particularly well-suited to the new era of austerity. Datsun, Subaru, Toyota and Honda—whose Accord sedan was one of the most successful cars of 1979—all used the energy crisis to gain a permanent foothold in the American marketplace.
Despite his best efforts to win the hostages' freedom while he was still in office, Carter did not get much credit for their release: The Iranians let the hostages go on January 20, 1981, just minutes after new elected president Ronald Reagan finished his inaugural address."
______
Barack Obama elected as America's first black president, Nov 4, 2008:
"On this day in 2008, Senator Barack Obama of Illinois defeats Senator John McCain of Arizona to become the 44th U.S. president, and the first African American elected to the White House.  Obama's vice-presidential running mate was Senator Joe Biden of Delaware. Obama, who was born in 1961 in Hawaii to a white woman from Kansas and a black man from Kenya, graduated from Harvard Law School and was a law professor at the University of Chicago before launching his political career in 1996, when he was elected to the Illinois State Senate.
Obama was inaugurated on January 20, 2009. On November 6, 2012, he defeated Republican challenger Mitt Romney to win a second term in the White House."
______
Yesterday:
Claudia (Jay's mother) and I were going pick up a pick-up truck from her daughter.   This truck is to tide her over until she figures out whether to buy a new car, or get her car's cracked head replaced.  Jay is still working in Onalaska TX, so we knew that we would have a quiet trip without him along.
After I had fed the critters and dressed, I took Misty for a walk around here.  She was especially interested in something in the burn pile of pine needles.  It's been too windy to start the fire.  Could be anything, maybe mice trying to keep warm, or a snake, or even next door's dog's pee!  She sure is a good sniffer.  It's good to see her interested in things at her age.
Claudia and her daughter finally got the logistics worked out, so we drove down to the Olive Garden in Spring, TX to meet them.  Her daughter seems to think that Claudia is senile, and kept on giving her instructions about the truck.  It is a burgundy 2001 Dodge 4-door F150 V8 with all the buttons and nice cloth seats.  Her daughter was concerned about Claudia falling trying to get into the regular size truck, and asked her to bring a step stool!  But she forgets that Claudia used to drive a full-size pick-up to Houston and back every day, and how tall she is.  Now, I would have trouble as I am just a little squirt!  
They had to leave, but Claudia and I ate a tasty lunch at the Olive Garden.  We talk a lot on the phone, but seated at a restaurant is a different atmosphere.  It is the first time we have gone out to lunch by ourselves, without Jay interrupting all the time.  We even had left-overs to bring home.
I waited until Claudia had the truck started, then she steamed along the freeway, a lot faster than I was going.   But I was going slower than usual as there is still an unknown vibration in my van. 
The kitten and the cat had a field day, they got into a box of styrofoam peanuts.  On top of that, I have a lot of housework to catch up on today.