For "Winged Wednesday":
Araripe Manakin


"The discovery of the striking red, white, and black Araripe Manakin in 1996 stunned bird enthusiasts all over the world. The bird's habitat is humid riverbank "gallery" forest watered by streams arising from springs at the base of the Araripe Plateau. These streams continue into arid caatinga (dry shrubland and thorn forest), which surrounds the riverbank forests.
The Araripe Manakin's Critically Endangered status, which has led to its listing as an Alliance for Zero Extinction (AZE) species, has also focused attention on the importance of conserving its unique habitat, which determines not only this bird's continued survival but also the quality of life for thousands of people living in this largely impoverished region of northeastern Brazil. Both bird and habitat are threatened by the clearing of these forests for farming, cattle, and home-building.
In 2003, the first information about the Araripe Manakin's biology and threats to its survival were presented in a management plan aimed at local stakeholders. Just this year, the bird became the first species in Brazil to receive a National Conservation Action Plan — making it a widely recognized symbol for biodiversity, natural resources conservation, and the importance of environmental sustainability.
With ABC support, the Brazilian NGO Aquasis and the Araripe Manakin Conservation Project are maintaining an experimental tree nursery and beginning a long-term habitat restoration initiative with local partners, providing hope for the future of this rare bird.
You can help the Araripe Manakin by joining our Spring 2013 Fundraising Challenge. We urgently need your support to conserve gallery forests and other critical bird habitats!" Photo by Ciro Albano; Range Map by NatureServe

Can't click the link? Copy and paste this URL: https://www.abcbirds.org/membership/donate.cfm
________
A migratory shorebird that has flown more than 400,000 miles has reappeared once again.
"The bird, dubbed "B95" after the number on his leg band or "Moonbird" for the distance he has flown over his lifespan, is a rufus red knot (Calidris canutus rufus) that scientists have been tracking for 19 years. Each May his arrival is anxiously awaited by researchers who want to see whether he survived his annual 16,000-kilometer migration (9,940 mile) each way from the Canadian Arctic to South America's Tierra del Fuego.
This year he arrived on May 16 at Mispillion Harbor in Delaware.
Rufus red knots once numbered around 100,000 on Delaware Bay but their population has declined to a fraction of that due to over-harvesting of horseshoe crabs.
Over the years, B95 has become a symbol of the plight of the species. He was immortalized last year in a book, Moonbird, by Phillip Hoose, as well as a statue built at Mispillion Harbor."  More at: http://news.mongabay.com/2013/0522-b95-returns.html
_______
Plight of the puffin: Colorful birds are starving
By CLARKE CANFIELD Associated Press
FILE - In this file photo made in July 2007 an Atlantic puffin with a beak crammed with hake makes its way to a burrow to feed its chick, Monday July 9, 2007, on Eastern Egg Rock, Maine.
Puffins raise one chick per year. Scores of puffins were found washed ashore in New England and floating dead in waters off eastern Maine this past winter, with necropsies suggesting they starved to death. (AP Photo/Robert F. Bukaty, file)
PORTLAND, Maine — "The Atlantic puffin population is at risk in the United States, and there are signs the seabirds are in distress in other parts of the world.
In the Gulf of Maine, the comical-looking seabirds have been dying of starvation and losing body weight, possibly because of shifting fish populations as ocean temperatures rise, according to scientists."   From: http://www.rep-am.com/articles/2013/06/03/news/connecticut/728399.txt
_______
ABC Joins with Birds & Beans to Promote Bird Friendly® Coffee
Scarlet Tananger by Ralph Wright
"We've joined with Birds & Beans to encourage all coffee drinkers who care about bird conservation, sustainable farming and the environment we all share to always buy and drink certified 'Bird Friendly®' coffee.
Both ABC and Birds & Beans are about bird conservation through taking action. American Bird Conservancy works in partnership with several Latin American organizations to purchase, conserve, and restore lands vital to migratory birds. Meanwhile, Birds & Beans goal is to stop the destruction of organic, rustic canopy traditional coffee farms in Latin America. Sustainable, organic, shade coffee farms are critical to bird conservation.
ABC and Birds & Beans will be working together over the years ahead with current and prospective Bird Friendly coffee farmers to increase organic coffee yields – closing the gap with 'chemical and sun coffee' yields without lowering sustainability levels.
"Shade coffee farms like those supported by Birds & Beans are essential to the future of neotropical migrants," says David Younkman, Vice President for Conservation at ABC. "There's no easier way for people who love birds to help the environment than buying Bird Friendly coffee."
To celebrate this this collaboration, Birds & Beans will be randomly gifting 25 ABC memberships, a $40.00 value, to Birds & Beans drinkers who have an ongoing subscription for the coffee or who order online in June. Visit Birds & Beans website to learn more: www.birdsandbeans.com/ "

DON'T DRINK COFFEE WITHOUT THIS LOGO ON THE BAG!
"Most of the coffee sold in America today is literally killing the songbirds we love – and destroying a sustainable method of farming that supports rural communities in Latin America and keeps farm workers and their children away from toxic chemicals.
The only way you can be certain that the coffee in your cup is Bird Friendly® is if the Smithsonian Migratory Bird Center seal is on the bag! By buying certified shade coffee you can become part of a truly sustainable chain from seedling to cup. Be part of the solution to a better life for all and enjoy the best coffee you've ever tasted."
THE BIRDS - Sustainability for these wonderful birds – and many more species like them – starts with a cup of 'Birds & Beans the good coffee'™.  http://www.birdsandbeans.com/
For a list of bird species found regularly by scientists in rustic shade coffee farms, click here
Learn more about our birds at Cornell Lab of Ornithology's All About Birds http://www.allaboutbirds.org/guide/search "
_______
Bycatch from Gillnet Fishing Puts Seabird Death Toll in Hundreds of Thousands
Northern Gannets are one of the birds that are killed in large numbers by gillnets. Photo by Alan Wilson.
Washington, D.C., June 6, 2013) "A new study published in the journal Biological Conservation provides the first global review of seabird mortality associated with the gillnet fishing industry and finds that, at a minimum, 400,000 seabirds are killed accidentally in gillnets each year, with numerous species suffering potentially significant impacts.
Gillnet fishing uses a mesh net that may be anchored to the sea bottom or float in the water column with the top portion buoyed in some fashion, enabling the net to effectively become a wall that traps certain fish depending on the size of the mesh openings. These nets are indiscriminate; all marine life that cannot pass through or around them can become entangled and drown or become prey for other species."  More at: http://www.abcbirds.org/newsandreports/releases/130606.html
_______
I Won't Stand For Cruelty to Geese. By Chrissie Hynde, Lead singer of the Pretenders
"Geese raised for foie gras spend their final weeks in cramped pens that reek of the fumes from the waste that accumulates beneath the metal grates on which they're forced to stand. Knowing what it means when the worker with the force-feeding pipe approaches, the terrified geese try desperately to escape, but they have nowhere to go and are too sick and weak to get very far anyway. Some birds are so ill that they can't even stand up - but the workers still mercilessly pump more mush down their throats.
Force-feeding causes the birds' livers to balloon to up to 10 times their normal size and become diseased with what is known as "hepatic steatosis". In addition to being miserably ill with a painful and debilitating disease, the geese can barely breathe because their grotesquely enlarged livers displace their lungs and other internal organs. In PETA's video, geese can be seen panting constantly in a vain attempt to suck oxygen into their squashed lungs. Veterinarian Holly Cheever has compared what force-fed birds endure in their final days to being smothered."  More at: http://www.huffingtonpost.co.uk/chrissie-hynde/foie-gras-i-wont-stand-for-cruelty-to-geese_b_3306793.html  By Chrissie Hynde, Lead singer of the Pretenders
--------
Kate Winslet Exposes Foie Gras Cruelty
"Kate Winslet narrates this shocking undercover footage of the torture that ducks and geese endure in foie gras production."
--------
Sir Roger Moore Sets His Sights on Foie Gras
"Ducks and geese raised for foie gras are force-fed until their livers become painfully diseased and enlarged and, in some cases, their organs rupture, abuse that would be illegal if dogs or cats were the victims. For more information and to take action visit: http://action.peta.org.uk/ea-campaign... "
_______
BirdNote Weekly Preview: Cowbirds, Thrushes, and Cuckoos ... 
Upcoming Shows
Brown-backed Solitaire
SUNDAY
Burning Montezuma's Aviaries
by Todd Peterson
LISTEN NOW ►
Pectoral Sandpiper
MONDAY
The Arctic Plain in June
featuring Gerrit Vyn
LISTEN NOW ►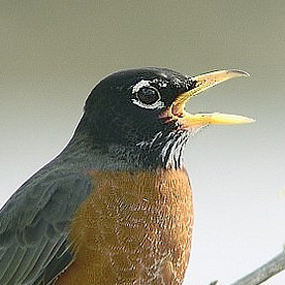 American Robin
TUESDAY
Voices and Vocabularies - The Robin's Evening Song
by Bob Sundstrom
LISTEN NOW ►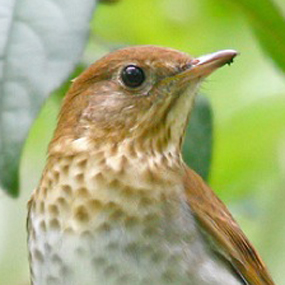 Veery
WEDNESDAY
Voices and Vocabularies - Exquisite Thrush Songs
by Bob Sundstrom
LISTEN NOW ►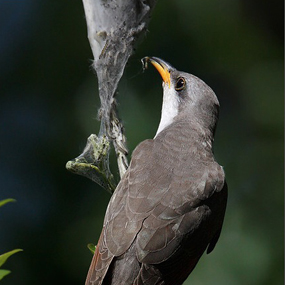 Yellow-billed Cuckoo
THURSDAY
Cuckoos - Tent Caterpillar Birds
by Dennis Paulson
LISTEN NOW ►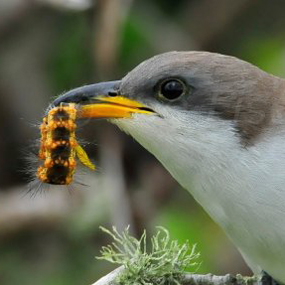 Yellow-billed Cuckoo
FRIDAY
Where Are the Yellow-billed Cuckoos?
by Chris Peterson
LISTEN NOW ►
Yellow Warbler
SATURDAY
Cowbirds and Yellow Warblers
by Bob Sundstrom
LISTEN NOW ►
______
On This Day:
Edsel Ford agrees to manufacture Rolls-Royce engines for war effort, Jun 12, 1940:
"On this day in 1940, Edsel Ford telephones William Knudsen of the U.S. Office of Production Management (OPM) to confirm Ford Motor Company's acceptance of Knudsen's proposal to manufacture 9,000 Rolls-Royce-designed engines to be used in British and U.S. airplanes.
According to Douglas Brinkley's biography of Ford, "Wheels for the World," Ford had in effect already accepted a contract from the German government. The Ford subsidiary Ford-Werke in Cologne was doing business with the Third Reich at the time, which Ford's critics took as proof that he was concealing a pro-German bias behind his claims to be a man of peace. As U.S. entry into the war looked ever more certain, Ford reversed his earlier position, and in May of 1941 the company opened a large new government-sponsored facility at Willow Run, Michigan, for the purposes of manufacturing B-24E Liberator bombers for the Allied war effort. In addition to aircraft, Ford Motor plants produced a great deal of other war materiel during World War II, including a variety of engines, trucks, jeeps, tanks and tank destroyers."
______
Reagan challenges Gorbachev to tear down the Berlin Wall, Jun 12, 1987:
"In one of his most famous Cold War speeches, President Ronald Reagan challenges Soviet leader Mikhail Gorbachev to tear down the Berlin Wall. Two years later, deliriously happy East and West Germans did break down the infamous barrier between East and West Berlin."
______
Yesterday:
Misty and I went to get Jay, and had our walk down there.  It was shopping day as we needed parts to finish the roof on the screen porch. 
First, we went to the appliance repair place to pick up the fridge we had dropped off last week.  It's diagnosis was terminal, so it's owner wanted it to be taken across the scales at the metal recycling place near the repair place.  We did that, and then went about our business. 
I was looking for a small cordless phone, and as they seem to have got larger over the last few years, I hoped that there would be one of the older, smaller ones at Angelic Thrift Shop, as we were passing there, anyway.  No, there wasn't, but I did buy a salad spinner to use after I have soaked my kale or spinach in vinegar-water, and a new unwrapped filter for my Brita jug. 
As I had worn shoes that looked good, but were hurting my feet and back, I wasn't too enthusiastic about walking around the stores, I wish I could wear my comfy old holey work shoes to town!  (I did one day, accidentally, and felt very self-conscious, but I could walk up a storm!)  My foot was crushed during the WWII bombing, and I can't wear just any shoes.  Nevertheless, I did walk around Walmart to look at their phones, and Krogers to get a few things.  At Lowes, Jay and I each had several things to buy, and got what we needed.
Nila is very happy to be here, she is a sweet kitty.  I would think about keeping her, but she is a young cat, and also a 'hider'.  I am hoping to give an older cat a home, one that is less adoptable, and a 'greeter'. 
Now that we have the wider flashing and the screen wire for the screen porch, we should be pretty busy today.