For "Winged Wednesday":
Lark Bunting
"The Lark Bunting is actually a North American sparrow. Breeding males are distinctive, with all-black plumage set off by a large white patch on the upper wing. Nonbreeding males and females are grayish brown with white striping.
Lark Buntings forage on the ground, mainly taking insects, especially grasshoppers. They eat seeds in winter, when they often congregate in large flocks. They prefer grassland with some shrub cover for nesting; the nest, a loose bowl of grass, fine roots, and plant stems, is on the ground. Populations in any given area may fluctuate depending on precipitation levels.
Christmas Bird Counts and Breeding Bird Surveys show this handsome bird to be one of the fastest declining in the United States; habitat loss and fragmentation, pesticide poisoning, and overgrazing are the chief causes. Livestock water tanks also pose risks; large numbers of buntings in search of a drink often drown or fall prey to domestic cats lurking around tanks.
Important conservation measures needed for the Lark Bunting include protecting and restoring native grasslands, delaying mowing of hayfields until after the breeding season to prevent destruction of nests, and minimizing pesticide use.
Help ABC conserve this and other birds and their habitats!
Listen to a two-minute broadcast about this bird!
Photo: James Ownby; Range Map, NatureServe
________
Wood Duck
A female Wood Duck
"Male Wood Ducks are among the most handsome ducks in North America. But the female, while drabber, sports some vivid coloration as well. See for yourself >>"
_______
Hawks aren't fancy; they're happy just to grab a bite on the road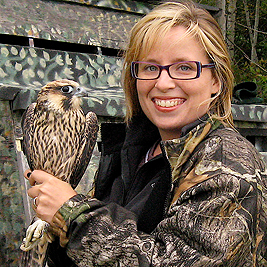 Sharon Stiteler runs Birdchick.com (Photo courtesy of Sharon Stiteler)
"Highways offer ample hunting ground. Litter thrown from cars attracts mice and rats, and light posts provide excellent perches for hawks to watch for small furry things. Cars also do a good job of killing raccoons and rabbits, providing a fast-food meal. Sometimes hawks don't have to kill anything, but need only fly down and eat the car-tenderized carcasses.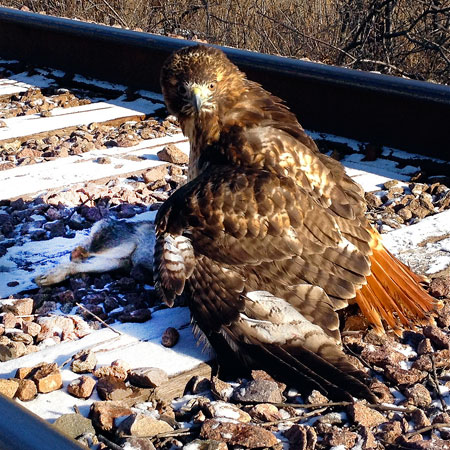 A red-tailed hawk had a meal along a set of railroad tracks. (Courtesy of Sharon Stiteler)
"Though roadsides and highways offer vermin bounty, they are not the safest hunting environment. A focused hawk, especially a young, inexperienced bird, can misjudge vehicle speed and collide with a windshield. Car collisions are a common injury among birds of prey brought in to the University of Minnesota's Raptor Center."    More at: http://minnesota.publicradio.org/display/web/2013/02/27/stiteler
_______
The Owl Comes Into Its Own
Matt Cardy/Getty Images
An Avian Tribe Apart: Scientists and bird lovers delve into the subtle and surprising world of owls.
"The two barred, or Strix varia, owls were just rousing themselves in the outdoor enclosure, and they looked bigger and more shaggily majestic than I expected, with capes of densely layered cream-and-coffee plumage draped on their 17-inch frames and pompous, Elizabethan feather ruffs encircling their necks. Like any good royalty, they ignored me.
That is, until I pulled out my phone with the birdcall app and started playing the barred owl song. The female's languid eyes shot wide open. The male's head spun around in its socket by 180 of the 270 degrees an owl's head can swivel.
With the distinctive forward-facing gaze that can make owls seem as much human as bird, the barred pair stared at me. I played the call again, the male grew bored, and I was about to put the phone away when suddenly the female — the larger of the two owls, as female birds of prey often are — pitched her body forward on her perch, lifted up her heavy, magnificent wings and belted out a full-throated retort to my recorded call.
After a brief pause, she hooted the eight-note sequence once more, at which point an astonished zoo-goer nearby burst into applause."  More and video at:  http://www.nytimes.com/2013/02/26/science/long-cloaked-in-mystery-owls-start-coming-into-full-view.html?pagewanted=all
_________
BirdNote Weekly Preview:
Woodpeckers, Loons, and Chickadees ...
Upcoming Shows
Yellow-bellied Sapsucker
SUNDAY Drumming with Woodpeckers by Bob Sundstrom LISTEN NOW ►
Tree Swallow
MONDAY Birds Return with the Light by Todd Peterson LISTEN NOW ►
Red-throated Loon
TUESDAY Red-throated Loons At Deception Pass by Todd Peterson LISTEN NOW ►
Black-capped Chickadee
WEDNESDAY Voices and Vocabularies - Clever Chickadees by Bob Sundstrom LISTEN NOW ►
European Starling
THURSDAY A Tree Alive with Song - European Starlings by Bob Sundstrom LISTEN NOW ►
Great Horned Owl
FRIDAY Great Horned Owl Duet by Frances Wood LISTEN NOW ►
Mallard
SATURDAY Everybody Knows a Mallard by Frances Wood LISTEN NOW ►
_______
On This Day:
Bayer patents aspirin, Mar 6, 1899:
"On this day in 1899, the Imperial Patent Office in Berlin registers Aspirin, the brand name for acetylsalicylic acid, on behalf of the German pharmaceutical company Friedrich Bayer & Co.
Now the most common drug in household medicine cabinets, acetylsalicylic acid was originally made from a chemical found in the bark of willow trees. In its primitive form, the active ingredient, salicin, was used for centuries in folk medicine, beginning in ancient Greece when Hippocrates used it to relieve pain and fever. Known to doctors since the mid-19thcentury, it was used sparingly due to its unpleasant taste and tendency to damage the stomach.
In 1897, Bayer employee Felix Hoffman found a way to create a stable form of the drug that was easier and more pleasant to take. (Some evidence shows that Hoffman's work was really done by a Jewish chemist, Arthur Eichengrun, whose contributions were covered up during the Nazi era.) After obtaining the patent rights, Bayer began distributing aspirin in powder form to physicians to give to their patients one gram at a time. The brand name came from "a" for acetyl, "spir" from the spirea plant (a source of salicin) and the suffix "in," commonly used for medications. It quickly became the number-one drug worldwide."
______
Yesterday:
Jay called and wanted to work, so Misty and I went down there to pick him up.  But when we got here, he laid down on my couch.  I asked him what he was doing, so he got up and said that he was too messed up to work, and he walked to the store around the corner.  About 1/2 an hour later he called me to say he was sitting in the woods drinking beer! 
So Ray and I did all the heavy work.  We pulled the big 220v. heat/air conditioner out of it's case in Ray's living room window, put it on the four-wheeled hand truck, rolled it down his steps to our wash area, cleaned it with coil cleaner, and then gently hosed it down.  While it was drying, we got the case out of his window and cleaned that.  Then we took the A/C back into Ray's and plugged it in to make sure it still worked.  Ray always covered the sensitive parts with plastic bags, but you never know with an A/C that old. 
Then it was rolled up my steps, still on the hand truck, and rolled into my living room.    We are going to hardwire it into my house temporarily, for the heater inspection. 
We had to stop then, as it was time for me to take Satchmo to the vet.  I drove to another town to take Satchmo back to the rescue's vet who saw him a week ago.  I had been feeding him more than twice as much as any other cat, but he hadn't put on any weight in that week.  Not even an ounce.  The tumor had grown, and he had other serious health problems, possibly FIV.
The vet said that it would be better, all things considered, if Satchmo went to Rainbow Bridge.  I came home, crying, without Satchmo.  I had only had him for just over a week, but I loved him very much.
The foster that had Satchmo didn't even notice that he was sick, and she switched him into my carrier inside her car, so I didn't get to really see him until I got him home. Until then I had only seen pictures of him.  He was a moth eaten skeleton, with hardly hair on his back end.  He looked a lot better after I cared for him, but it was too late.
I wish my Satchmo had had an excellent foster home who really looked after their cats, and cared for them the way we do at the SPCA.
Some things I did learn through all this, is not to feed animals out of the cans that have the white BPA linings, as it can cause thyroid problems, and make sure you get to handle and inspect the animal you are adopting.
I was so upset that the vet gave me an loving 8 (?) year old homeless cat that he had there.  They tested him and he is FIV and FeLV negative !!  I put him in the Grooming Room for a couple of hours to let him settle down, while I changed out the box, dishes and blankies in my bathroom where Satchmo had been. Then I let "Terry" wander around the house. 
What a difference a day cat makes !  Terry, though a little thin, doesn't hide all the time, like Satchmo did.  He is outgoing, and makes 'biscuits' on me, purring with adoring eyes.  He is so glad to be out of that cage at the vet's office.  During the night he jumped up and quietly slept on my bed, so we were both as happy as could be.
Satchmo will always be in my heart, but I know that this is going to be a better day.