For "Summary Saturday", News, some New, Some Old:
Historic agreement signals beginning of end for tragic mining practice
Polluted Cabin Creek in West Virginia.
(Mark Schmerling)
"Patriot's statement shows that the nation's second largest coal company sees the writing on the wall: Mountaintop removal coal mining is severely harming people, and the environment, and it should end. The costs for Appalachian communities are simply too high, both morally and financially for these companies. It's time for investors to follow through and start putting funds in clean energy industries like renewables, that could create 52,000 new jobs in the four Appalachian states alone, according to the Appalachian Regional Commission."  More at: http://earthjustice.org/blog/2012-november/patriot-agrees-to-end-mountaintop-removal-mining
________
If the national debt doesn't matter, then why are we still paying federal income taxes?

"The U.S. federal government is over $16.2 trillion in debt. But that doesn't really matter, we're told, because the Federal Reserve -- a private banking monopoly -- can create an unlimited quantity of dollars to keep buying up the U.S. debt. This is called "QE unlimited," meaning unlimited quantitative easing (money creation).
On top of that, U.S. Treasury Secretary Timothy Geithner recently suggested we simply eliminate the debt ceiling altogether and launch America into INFINITE debt.
This program of fiscal suicide is already under way. The Federal Reserve announced a few weeks ago that it would begin buying up to $80 billion a month in U.S. debt, continuing indefinitely.
At the same time all this is going on, the government insists it needs to confiscate an ever-expanding portion of your income in order to increase "government revenue." Current federal tax "revenues" (which is a warped word to use for taxes in the first place) are at roughly $2.4 trillion a year.
But hold on just a second... and here's the IQ test, are you ready?
If the Federal Reserve can just create trillions of dollars a year in new money and hand it over to the federal government, then why are tax revenues needed at all?"      More at: http://www.naturalnews.com/038069_national_debt_income_tax_social_engineering.html
________
Private land development in U.S. parks criticized
National parks' landscape changing as private land developed.
(CBS News) "The National Park Service is announcing that a 30-acre piece of private land in Utah's Zion National Park will not be developed. That's welcome news for conservationists, as a growing number of private homes are being built in some of these protected areas.
Our national parks have been called "America's best idea," places untouched by time. Nearly 300 million people visit America's national parks each year.
When National Parks and "McMansions" meet
People don't think of the parks as places where you could build a vacation home. But people are now erecting McMansions in the middle of some of the most pristine places in the United States."
More at: http://www.cbsnews.com/8301-505263_162-57530300/national-parks-landscape-changing-as-private-land-developed/
_______
Israelis begin to recover from a week of conflict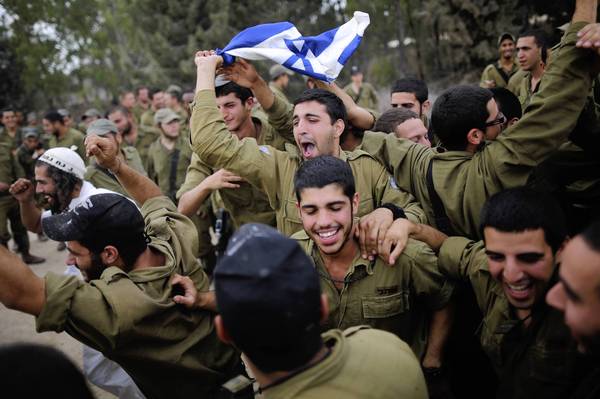 Christopher Furlong / Getty Images
Israeli soldiers dance to music provided by visitors who turned up to show their support at the border with the Gaza Strip.
KIRYAT MALACHI, Israel — "As the news sunk in Thursday that a cease-fire had ended an eight-day crisis that saw about 1,500 rockets launched from the Gaza Strip, Israelis began cleaning up, rebuilding and getting their lives back in some semblance of order.
Military flatbeds loaded with tanks headed north, away from Gaza, on Thursday as the Israeli government appointed two committees to help damaged communities and injured residents, tally the destruction and assess compensation. Prime Minister Benjamin Netanyahu urged the panels to work "quickly and without bureaucracy.""     Read more
_______
180 Seconds of Coal Ash Problems.
More at: https://secure.earthjustice.org/site/Advocacy?cmd=display&page=UserAction&id=1379&JServSessionIdr004=pmh4wkd07d.app333b
________
Before Winter Storms and Extreme Cold
"To prepare for a winter storm you should do the following:
Before winter approaches, add the following supplies to your emergency kit:

Rock salt or more environmentally safe products to melt ice on walkways. Visit the Environmental Protection Agency for a complete list of recommended products.
Sand to improve traction.
Snow shovels and other snow removal equipment.
Sufficient heating fuel. You may become isolated in your home and regular fuel sources may be cut off. Store a good supply of dry, seasoned wood for your fireplace or wood-burning stove.
Adequate clothing and blankets to keep you warm.

Make a Family Communications Plan. Your family may not be together when disaster strikes, so it is important to know how you will contact one another, how you will get back together and what you will do in case of an emergency.
Listen to a NOAA Weather Radio or other local news channels for critical information from the National Weather Service (NWS). Be alert to changing weather conditions.
Minimize travel. If travel is necessary, keep a disaster supplies kit in your vehicle.
Bring pets/companion animals inside during winter weather. Move other animals or livestock to sheltered areas with non-frozen drinking water."  From: http://www.ready.gov/winter-weather
______
noPhoto Device Blocks Red Light Cameras, May Be Solution To City Camera Tickets
"It's a simple concept that utilizes sophisticated technology: The optical trigger detects the flash of the camera as it surreptitiously snaps the license plates of cars caught running a red light. The trigger in turn sets off the xenon flashes, overexposing the picture of the plate."          More and VIDEO at: http://www.huffingtonpost.com/2012/10/19/nophoto-invention-blocks-red-light-cameras-may-be-solution-to-city-camera-tickets_n_1989352.html
From me: I already solved it…Don't run Red Lights. If you run red lights, you should be ticketed, it can KILL.
_______
Now You Can Help Homeless Pets While You're Shopping Online
"Just about a year ago, a website called AdoptAShelter.com was launched to tap into the existing Internet economy and redirect some of the revenue generated to help animals.
When online shoppers visit the site, in a matter of seconds they can select the shelter of their choice and start shopping at any one of nearly 500 retailers, including Amazon.com, Petsmart, eBay, and others.
Over 700 animal charities in 48 states have registered with the site. So if you shop online, consider making your first stop AdoptAShelter.com so a small percentage of your purchase price can go to help homeless pets."
More at: http://healthypets.mercola.com/sites/healthypets/archive/2012/08/22/help-homeless-pets.aspx?e_cid=20120822_oldPetsNL_art_3
_______
Blind, Deaf, 3-Legged Dog Named 'True' Saves Oklahoma Family From House Fire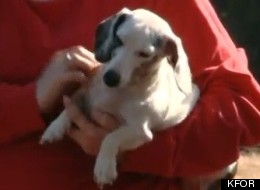 "A blind, deaf 3-legged dog saved his Oklahoma family from a house fire by warning them to get out in time.
Katie Crosley and her baby son, Jace, lost everything in an house fire, but they survived thanks to a heroic three-legged, blind and deaf dog, KFOR reports.
Crosley had no idea that an electrical short set her Grady County, Okla., cabin aflame as she slept soundly on Sunday morning, but her disabled Dachshund, True, sensed the danger, according to the news outlet. The rescue dog woke his owner, and she was able to get out of the burning house with her baby, Jace.    "We're thankful for him," Crosley told KFOR of True. "This could have been a bad deal."   True was able to save his family despite his severe disabilities, and he's not the only adopted dog out there protecting his owners."  More and VIDEO at: http://www.huffingtonpost.com/2012/11/21/blind-deaf-3-legged-dog-saves-family_n_2171614.html?icid=maing-grid10%7Chtmlws-main-bb%7Cdl29%7Csec1_lnk3%26pLid%3D237432
________
On This Day:
Jack Ruby kills Lee Harvey Oswald, Nov 24, 1963:
"At 12:20 p.m., in the basement of the Dallas police station, Lee Harvey Oswald, the alleged assassin of President John F. Kennedy, is shot to death by Jack Ruby, a Dallas nightclub owner.
On November 22, President Kennedy was fatally shot while riding in an open-car motorcade through the streets of downtown Dallas. Less than an hour after the shooting, Lee Harvey Oswald killed a policeman who questioned him on the street. Thirty minutes after that, he was arrested in a movie theater by police. Oswald was formally arraigned on November 23 for the murders of President Kennedy and Officer J.D. Tippit."
________
Hijacker parachutes into thunderstorm, Nov 24, 1971:
"A hijacker calling himself D.B. Cooper parachutes from a Northwest Orient Airlines 727 into a raging thunderstorm over Washington State. He had $200,000 in ransom money in his possession.
Cooper commandeered the aircraft shortly after takeoff, showing a flight attendant something that looked like a bomb and informing the crew that he wanted $200,000, four parachutes, and "no funny stuff." The plane landed at Seattle-Tacoma International Airport, where authorities met Cooper's demands and evacuated most of the passengers. Cooper then demanded that the plane fly toward Mexico at a low altitude and ordered the remaining crew into the cockpit.
At 8:13 p.m., as the plane flew over the Lewis River in southwest Washington, the plane's pressure gauge recorded Cooper's jump from the aircraft. Wearing only wraparound sunglasses, a thin suit, and a raincoat, Cooper parachuted into a thunderstorm with winds in excess of 100 mph and temperatures well below zero at the 10,000-foot altitude where he began his fall. The storm prevented an immediate capture, and most authorities assumed he was killed during his apparently suicidal jump. No trace of Cooper was found during a massive search.
In 1980, an eight-year-old boy uncovered a stack of nearly $5,880 of the ransom money in the sands along the north bank of the Columbia River, five miles from Vancouver, Washington. The fate of Cooper remains a mystery."
________
Yesterday:
Ray brought a neighbor's little old black and tan "Rosie", a Chihuahua, over for bathing, nail cutting, ear cleaning etc.  She was very wiggly during her bath, and I could tell that she had been scared by having water running over her nostrils in the past.  When will people realize that is a dog's weak spot, they are just terrified by that.  I think she knows now that I won't do that to her, if I bathe her again.
Some time was spent trying to answer, file, forward, or delete emails, and then I went through the Thanksgiving left-overs.  Some were put in the freezer, some were given to Ray, and some were eaten.  Ray liked the veggie juice I made with my auger juicer, he had never had any fresh homemade before.  It was made with kale, beet, carrots, red cabbage, and apple for sweetness.  Organic, of course!
It drizzled off and on, but not enough that Misty had to wear her raincoat.  If it is really raining,  she won't go out unless she is wearing it.
It was warm though, so the foster cats, Prime and Prissy spent their time on the screen porch most of the day.