News, Some New, Some Old:
"In January 2011, Fleetwood shut down its Somerset, PA camper plant. Now 51 of the 115 workers looking for jobs have found them. Layoffs weren't so congenial: One worker says Fleetwood "tried to gyp" workers out of a half-month's pay, but
government intervention prevailed, according to a story in the local Tribune-Democrat."
___________
"The Trinity Broadcasting Network is involved in a legal battle involving allegations of financial fraud and lavish spending, including the purchase of a $100,000 motorhome for family dogs, the Los Angeles Times reported."
___________
"A plan to relocate bison from Yellowstone National Park to other locales in an effort to reintroduce the beasts to former haunts has been put on hold. Over 60 "buffalo" had been enroute to new homes when a Montana judge issued a restraining order."
____________
How to 'Cheat' on Your Taxes ... Legally!
"It's just the beginning of April, but there's already tension in the air. Tax Day is almost here, carrying with it the yearly tradition of cursing the government, searching out every possible deduction and finally, grimly writing a check to the IRS.
Politics aside, nobody likes sending money to Washington: In fact, the government loses an estimated $450 billion per year to tax cheaters. And, even though most of us pay our taxes on time and in full, few of us don't occasionally consider how we could bring down the bill with a little ... coloring outside the lines.

With that in mind, here are a few of our favorite tax "cheats" -- deductions that might seem to be a little outside the bounds, but are totally legal. If you're not taking advantage of these nice little tax breaks, it might be time to have a talk with your accountant. As for us, we met with Jeff Spengler and Paul Block, accountants with Parente Beard, one of the country's top accounting firms, to figure out exactly where the line is between cheating and getting the money you deserve!"  Read the tips at: http://www.dailyfinance.com/2012/03/26/how-to-cheat-on-your-taxes-legally/?icid=maing-grid10%7Chtmlws-main-bb%7Cdl11%7Csec1_lnk1%26pLid%3D147871
______________
The Consumer Trends That Are Slowly Killing Walmart
"
Walmart (WMT) revolutionized consumers' lives for decades. It built a successful retail empire across the country, powered by its low prices.   But Walmart has failed to keep up with the innovation, and now other companies are successfully changing consumers' behaviors in a way that is slowly killing the world's most famous retailer.       Want proof?
Look no further than its most recent quarterly earnings report. Although it marked its second full quarter of positive same-store sales growth (albeit a measly 1.5%) after nine consecutive quarters of declining same-store sales, overall earnings still declined 13%.
So what's happening?       It's Not Them, It's You

Shopping behavior has changed. And even though the recession forced many Americans to "trade down" to cheaper items like the ones Walmart is famous for, consumers sought out new ways to do so. In many cases they traded even further down and headed right for the Dollar Generals (DG) of the world.
More frightening for the company is that even Walmart's core customer base of low-income households is now a significant part of this epic shift in shopping behavior." More at: http://www.dailyfinance.com/2012/03/26/the-consumer-trends-that-are-slowly-killing-walmart/?icid=maing-grid10%7Chtmlws-main-bb%7Cdl14%7Csec1_lnk3%26pLid%3D146857
____________
Organize Your Freezer Once, Never Do It Again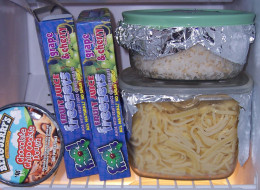 "Don't let frozen food spoil and go to waste. Enjoy your leftovers before it expires while keeping your freezer neat and organized. How do we do that? Containment, coding and labeling are key.
-Store leftovers in square, stackable clear plastic containers. Label each leftover container with the contents and a "used by" date, and rotate older items forward as you add new ones.
-Keep like items such as packages of frozen fruit and vegetables together in freezer bins or simple plastic baskets.
-Color-code freezer bins (or baskets) with colored dot stickers. Green means vegetables, red for meat, yellow for chicken, etc.
-Stack frozen meals with labels facing out.
-The door is the warmest part of the freezer, so store juice, butter, or frozen waffles there, but never meat."
_______________
More Than Half of Tuna Species Facing Extinction, But Over-Fishing Them is "Too Profitable" to Stop...
"As we've written about previously, tuna's in trouble, and it's
not just limited to one species and/or one geographical region. A new study conducted by the International Union for Conservation of Nature (IUCN) and published in the prestigious journal Science found that 5 out of the 8 tuna species are at "risk of extinction".

The problem in good part lies with the commercial appeal of these species. There is little interest in stopping over-fishing because it's so profitable. And when there are regulations, they are hard to enforce because of the logistical difficulties of monitoring fishing, and because of a lack of political will. Basically, money talks. More at: http://www.treehugger.com/clean-technology/more-than-half-of-tuna-species-facing-extinction-but-over-fishing-them-is-too-profitable-to-stop.html
_______________
Today is World Health Day! The theme for this year is "Aging and Health."
Age-Activated Attention Deficit Disorder!
"A sketch about one of the hazards of getting older."
"Visit http://www.ampsvideo.com/film-talk/attention-deficit.htm for an article about the making of it."
---------------
On Aging….
"With the timing of a professional comedian, this diminutive "little old lady" shines a very funny light on the foibles of aging, to the delight of an audience filled with senior-care experts.
"A friend of the couple who founded Home Instead Senior Care, Mary Maxwell was asked to give the invocation at the company's 2009 Convention. Initially it seemed like a normal prayer, but it soon took a very funny turn. Her deadpan delivery and lines like ...This is the first time I've ever been old... and it just sort of crept up on me ... had everyone rolling in the aisles."
For more of Mary's unique view on aging, check out her video blog on CaregiverStress.com:
http://www.caregiverstress.com/voice/mary-maxwell/
____________
Senior Moments.
"Show is called "Senior Moments" with all funny songs & stories about getting old!"
__________
(Lookin' Up My) Back Door
"Time for your colonoscopy? Got a friend turning fifty? Take a "wild ride on a flying scope" with this digestive ditty sure to make your toes and bowels move! The divine Ms. Butt Meddler, known for her cheeky and probing insight, will bring you laughter and the intestinal fortitude you need for your own personal periscopic procedure with this charming bowel ballad."
______________
Three Days and Three Nights
April 6, 2012 - "How do you come up with three days and nights from Good Friday to Easter Sunday? Do the math." Transcript at:
http://www.ucg.org/beyond-today-daily/doctrinal-beliefs/three-days-and-three-...
____________
On This Day:
Lewis and Clark depart Fort Mandan, Apr 7, 1805:
"After a long winter, the Lewis and Clark expedition departs its camp among the Mandan Indians and resumes its journey West along the Missouri River.
The Corps of Discovery had begun its voyage the previous spring, and it arrived at the large Mandan and Minnetaree villages along the upper Missouri River (north of present-day Bismarck, North Dakota) in late October. Once at the villages, Meriwether Lewis and William Clark directed the men to build a sturdy log fort. The following winter was a harsh one, but the expedition had plenty of provisions. The two captains made the best of their enforced halt, making copious notes in their journals and preparing maps of their route. Most importantly, they met frequently with the local Indians, who provided them with valuable information about the mysterious country that lay ahead.
As spring came to the upper Missouri, Lewis and Clark prepared to resume their journey. Lewis penned a long report for President Thomas Jefferson that would be sent back down to St. Louis with 16 men traveling on the expedition's large keelboat. Although Lewis had yet to explore any truly unknown country, his report provided a good deal of valuable information on the upper Missouri River region and its inhabitants. He optimistically predicted the expedition would be able to reach the Pacific and make a good start on the return journey before the coming winter. "You may therefore expect me to meet you at Monachello [Monticello] in September 1806," he told the president.
In fact, the journey was more difficult and slow than Lewis anticipated. The expedition actually spent the winter of 1805-06 along the Pacific Coast, and Lewis did not finally meet with Thomas Jefferson in Washington, D.C., until January 1, 1807. However, as Lewis and Clark prepared to leave Fort Mandan on this day in 1805, they did not know the trials ahead and were likely filled with optimism and excitement. As the keelboat shoved off and started down the Missouri with Lewis' report to Jefferson, the Corps of Discovery (and their female guide, Sacagawea) resumed the far more difficult task of rowing their small boats upstream.
That night Lewis wrote in his journal that, "Our vessels consisted of six small canoes, and two large pirogues. This little fleet altho' not quite so rispectable as those of Columbus or Capt. Cook, were still viewed by us with as much pleasure as those deservedly famed adventurers ever beheld theirs." As Lewis began his journey into a land "on which the foot of civilized man had never trodden," he proclaimed this day of departure as "among the most happy of my life.""
_______________
Auto pioneer Henry Ford dies, Apr 7, 1947:
"On this day in 1947, Henry Ford, the founder of Ford Motor Company, which developed the first affordable, mass-produced car--the Model T--and also helped pioneer assembly-line manufacturing, dies at his estate in Dearborn, Michigan, at the age of 83.
Ford was born July 30, 1863, on a farm located in present-day Dearborn. The eldest of six children, he was educated in a one-room schoolhouse and as a teenager trained as an apprentice machinist in Detroit. During the 1890s, while working as an engineer, Ford experimented with internal combustion engines and in 1896 built his first self-propelled, gas-engine vehicle, known as the Quadricycle.
Ford made two failed attempts at establishing a successful auto manufacturing company before incorporating the Ford Motor Company in 1903. Though Henry Ford was interested in mass-producing an affordable car, his Detroit-based company initially made just a few cars per day. Then in 1908, Ford introduced the Model T, which was easy to drive and maintain and sold for around $850; the vehicle quickly became a huge success. Within 10 years, half of all cars in the U.S. were Model Ts and by 1927, when the last Model T came off the assembly line, more than 15 million had been sold."
_____________
Yesterday:
Misty and I were still dopey from not getting much sleep the night before, so we just hung around the house.  She slept, while I puttered around doing a few odd jobs.  I found out that the food that she had eaten at Jay's, had onions in it, http://www.sarahsdogs.com/qa/why_cant_dogs_eat_onions.html, and http://www.peteducation.com/article.cfm?c=2+1659&aid=1030, therefore I am glad that she kept on upchucking it, rather than suffer permanent damage or a trip to the vet.  So it was worth being woken up those many times to take her outside the night before. She is over it, and a lot better now. 
As it wasn't humid, it was a lovely 'door-and-windows-open' day.