News, Some New, Some Old:
With all the politics going on:   "Why is a banana like a politician? When he starts, he is green, then he turns yellow, then he is rotten."
"Congressmen should wear uniforms like NASCAR drivers so we could identify their corporate sponsors."
______________
See the $5 million garage and driveway elevator used to park a Chevy Cruze
"If you're going to the trouble of building a 6,000-sq. ft. underground garage at a Lake Tahoe estate, as software magnate Tom Gonzales did, you might as well spring for the ultimate in
car elevators
, namely one that can lift a parked motorhome and holds more vehicles than most driveways. That's one way to spend $5 million." More and video at:
http://autos.yahoo.com/blogs/motoramic/see-5-million-garage-driveway-elevator-used-park-133847141.html
______________
Argentina Baby Alive After 12 Hours In Morgue
BUENOS AIRES, Argentina — "A mother in Argentina says she fell to her knees in shock after finding her baby alive in a coffin in the morgue nearly 12 hours after the girl had been declared dead.   Analia Bouter named her newborn Luz Milagros, or "Miracle Light." The tiny girl, born three months premature, was in critical but improving condition Wednesday in the same hospital where the staff pronounced her stillborn on April 3." More at: http://www.huffingtonpost.com/2012/04/11/argentina-baby-alive-morgue_n_1417041.html?ref=mostpopular
______________
In Good Conscience,   By Kevin Grange 
During World War II, thousands of conscientious objectors worked to restore and preserve our national parks and other federal lands.
"Standing at the airplane door in a canvas jumpsuit and leather football helmet, soaring above a remote southwestern section of Glacier National Park in 1945, Luke Birky checked the ripcord on his emergency chute, wiped the sweat from his brow, and took a deep breath.
"Let's go!" yelled the spotter, pointing to the door.
One by one, the members of Birky's crew shuffled forward. As they leapt from the "tin goose," an old Ford Trimotor, the static line deployed their chutes, which burst open in the smoky afternoon sky like fluffy white pieces of popcorn. Below, Mount Saint Nicholas exploded out of the earth like a massive arrowhead and snake-like smoke plumes rose from two fires, wedged between a group of pine trees.
Birky stepped up to the plane door, steadying himself with his arms at his side. A conscientious objector, Birky didn't believe in killing another human being, but he did believe in serving his country. As he stood at the plane door, the wind whistling through his helmet, Birky didn't know that this would be his last jump. He didn't know then that a downdraft—traveling 1,500 feet per minute—waited for him unseen in the sky, and that this angry torrent of air would slam him into the earth a half-mile from his intended landing site, badly injuring his right heel but miraculously sparing his life. Instead, Birky only knew that a fire threatened a national park he had loved since his first visit at age 12. He remembered family drives up the famous Going to the Sun Road, hikes to the Garden Wall, and magnificent glaciers. By jumping, he would be protecting these special memories, as well as the future visits that families would make over the ensuing years. Glacier held a special place in Birky's heart, so when the spotter tapped his shoulder, signaling his turn, he leapt without hesitation.

When Franklin D. Roosevelt signed the Selective Training and Service Act in 1940, our nation's first peacetime draft, he agreed to exempt any man who, "by reason of religious training and belief, is conscientiously opposed to participation in war in any form." Such a conscientious objector clause was nothing new in the United States. When George Washington was recruiting soldiers for the Continental Army during the American Revolution, he exempted "those with conscientious scruples against war." Since 1789, the choice to abstain from fighting for moral or philosophical reasons has always been an enduring First Amendment right. Yet, despite this privilege, conscientious objectors (COs) historically have been persecuted for their pacifist beliefs. During the Civil War, some COs were starved to death and hung by their thumbs. During World War I, COs could be sentenced to death or to prison sentences that stretched from 20 years to life.
As Hitler's shadow descended over Europe and FDR assembled an army, however, it was clear the conscientious objectors deserved a solution that didn't compromise their human rights. Rather than make COs prisoners, Roosevelt and the Selective Service offered them legal ways to serve their country.

More than 72,000 men applied for conscientious objector status during WWII, but only 37,000 were accepted. As opposed to the thousands of citizens who initially protested U.S. involvement in Europe in 1939—most famously Charles Lindbergh—or the young men who refused to register, the men who received IV-E status (conscientious objector) had to prove their objection to all wars. Once accepted, the COs had two options: They could serve as noncombatants in the Armed Forces or join the Civilian Public Service (CPS). At least 25,000 COs chose noncombatant work, going on to serve as medics or clerics in Asia or Europe. The remaining 12,000 joined the CPS, doing work of "national importance under civilian direction" for the National Park Service, U.S. Forest Service, or Bureau of Reclamation or working in one of 41 mental institutions spread throughout the United States.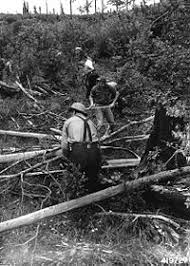 The first CPS camp opened on May 15, 1941, in Patapsco, Maryland; the program quickly spread to 152 locations across the country. The CPS moved into facilities that had been vacated by the Civilian Conservation Corps (CCC) and, like the workers in Roosevelt's public-relief work program, they shared the goal of developing and protecting our nation's natural resources. Although the majority of the men were from the "peace churches"—Quakers, Mennonites, and the Church of Brethren—more than 200 religious organizations were represented, along with COs unaffiliated with a particular church who opposed war on philosophical and moral grounds. Rather than earning an entry-level GI salary, the COs had to pay the government $35 a month for their room and board, which put them in debt pretty quickly. If conscientious objectors couldn't pay, which was common after the Great Depression, their churches often stepped in to sponsor them, adding an additional $2.50 monthly stipend for the COs and contributing more than $7 million over the course of the war to help fund the CPS program.
Adorned in spruce green trousers, T-shirts, sack coats, and caps, the men at CPS 108 at Great Smoky Mountains National Park in Tennessee worked nine-hour days six days a week, repairing roads, fixing telephone lines, planting nurseries, clearing trails, managing fire strikes, and eradicating white pine blister rust, a destructive disease that is lethal if allowed to spread from branch to trunk. Some COs rose before their 6:15 a.m. wake-up call to attend matins (early morning prayer service), practiced an evening prayer service of vespers, and held a church service on Sunday.

Although some locals around Gatlinburg called the COs cowards or "yellow bellies" and occasionally beat them up, Camp Director John Ferguson had no doubts about their contribution. "There is a big satisfaction in watching the men respond to the opportunity to help," he wrote to the American Friends Service Committee, the Quaker organization that had partnered with the Selective Service on the CPS program. "Considering that none of the CCC units stationed in this area are left and that the present ranger and warden staff are only half as large as they should be, it can be seen that the camp is indispensable to the maintenance of the park." In addition to the work outside, COs also assisted with the park administration by managing oil and gas records. A few men even volunteered for the "pest house," an isolated barrack in Pinehurst, North Carolina, where they were infected with influenza and pneumonia as "guinea pigs" for scientific research on respiratory diseases.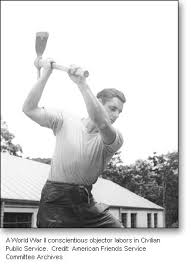 Hugh Bustin worked for the CPS in 1943 and remembers his time at Camp 108 fondly. "The Smokies were a beautiful place to be," he says. "I was surrounded by good people and hard workers." Bustin initially handled maintenance and laundry duties around camp, but with abundant wildlife, four seasons of blooming flowers, and cascading waterfalls at his doorstep, the call of the wild soon prompted him to request trail work. Before his time with the CPS, Bustin had done some hiking around Whalen, Massachusetts, but nothing prepared him for the rigorous job of swinging double-bit axes and working cross-cut saws to maintain the 800 miles of trails that weave through the Smokies. "They'd drop us off at one end of the trail in the morning, and there was no going back," Bustin recalls. "If we wanted to get home, we had miles of hard work ahead of us." Yet despite the tough labor conditions that led to calloused hands, the position deepened Bustin's appreciation of the outdoors. "I got to see wildlife, and it made me aware of what mountains and trees and nature gives us," he said. "It is a great gift."

Birky had a similar experience working—and smoke jumping—in Glacier National Park. "Before working with the CPS, I simply enjoyed the park," he said, "but being on the inside taught me a whole new way to think about ecology and gave me an awareness of the value and purpose in preserving land and beauty."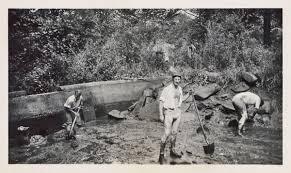 Despite the pristine setting of camps scattered around the Badlands, Blue Ridge Parkway, Glacier, Shenandoah, Sequoia, and the Smokies, the CPS program had its difficulties. Just like the white pine blister rust, many conscientious objectors felt that they, too, were an invasive species in America, sent to the camps to be removed from the public eye lest they compromise the wartime spirit. "The CO, by my theory, is best handled if no one hears of him," General Lewis Hershey, Selective Service director, told the Senate Military Affairs Committee in 1943. Difficulties even arose within the camps themselves—religious tensions, regional rivalries, and more than a few cases of late-night filching of food. In addition, some COs complained of what they viewed as inefficient administration, resented the fact they weren't paid for their work, and questioned whether hauling boulders, surveying land, and clearing leaves qualified as work of national importance. These objections eventually prompted some COs to enlist in the Army so they could earn a decent wage and support their families; others simply quit working and chose prison over the militaristic CPS camps. But for those who stayed in the camps and were committed to the work, this transitional moment in American history became a catalyst for personal transformations.
"The CPS has been a great experience," George Hogle wrote in Calumet, a newsletter published twice a month by CPS Camp 108. "It opened up new vistas of religion which were unexplored territory for me… and I realize only too well the importance of having spiritual companionship and an environment where the world cannot press in so hard on all sides."
"I believe the search for God is the search for life itself, in its fullest and most abundant form," Reed Smith wrote on his application to spend more time in the Smokies. "It is my desire to make this my central aim and adjust all my interests and activities about this central purpose." Reading these letters years later, it's hard to imagine that Great Smoky Mountains National Park, with its tumbling mountains, sublime sunsets, and 1,660 flowering plants, didn't have a little something to do with it.
Along with spiritual progress, the camps also allowed the men to grow socially. With more than 200 religions represented, the CPS squeezed the diversity of a big city into the small, wooded confines of a camp. Muslims slept in dormitory cots beside Jews; Catholics cooked at the same kitchen stove with Jehovah's Witnesses.
"I certainly got experiences I wouldn't have gotten at home," recalls Earl Schmidt, a Kansas native who worked for the CPS for four years and also volunteered for the daring work of smoke jumping. "I remember lots of interesting discussions with the guys. We didn't always agree, but you always learned a different slant."
"It was a brotherhood," adds Bustin. "I learned more as a 19-year-old at the CPS camp than if I'd been at college. I discovered you don't have to share the same faith to be friends."

Even after WWII came to an end in 1945, the government demanded that some COs continue working in the camps; men were eventually released based on accumulated service, marital status, and family size. This slow process not only kept COs from their families but gave returning servicemen the first shot at post-war jobs and educational opportunities. When the CPS program finally ended in 1947, the men returned to college, farming, factory jobs, and office work.
In the years that followed, America became an increasingly mobile and prosperous nation with a renewed emphasis on family life and appreciation for the outdoors. Park visitation boomed—by 1950, more than 32 million people were visiting our national parks each year.
During their time in the camps, the smoke jumpers bonded with their fellow COs so much that they continue to reunite and relive those memories. "I enjoyed the outdoors and the heavy work of the CPS," says Dick Flaharty, a CO from Chicago who worked for both a soil-conservation unit and smoke jumper unit during his tenure. "And I am proud of the fact I gave my country four years of service in the manner I did."" From: http://www.npca.org/news/magazine/all-issues/2011/winter/in-good-conscience.html
-------------------
The Good War, and those who refused to fight it.  
After a day of labor, COs relax in the barracks.   Photo: William Webb
Alternative Service:  "The majority of men who performed alternative service during the war were interned in 152 Civilian Public Service camps across the country. Most men were housed in the barracks of former Civilian Conservation Corps or Forest Service camps, where they worked at hard labor planting trees, fighting fires, building roads and constructing dams in remote locations. Others built sanitary facilities for hookworm-ridden communities, ran medical clinics in areas of rural poverty, cared for juvenile delinquents, conducted agricultural experiments and worked on soil conservation projects. The men wanted more meaningful work, the "work of national importance" they had been promised by law. After several years in the camps they were finally allowed detached service as attendants in mental hospitals, guinea pigs in medical experiments and smoke jumpers fighting fires in national parks.
CO Erie Kindy assists patient at Marlboro State Hospital in New Jersey
Photo: Mennonite Central Committee
Mental Health Reform: Perhaps the most significant long-term contribution of COs to the national welfare was their work in 41 mental institutions in 20 states, and at 17 training schools for "mental deficients" in 12 states. By 1942, most of the employees in mental facilities had left for better-paying jobs in war industries. Their jobs were filled by 3,000 COs. In response to the draconian conditions they found in these institutions, CO's introduced nonviolent methods of patient care, won a lawsuit against the state of Virginia for humane treatment of patients, founded an organization that became the National Mental Health Foundation and in 1946 brought national attention to the issue with a shocking Life Magazine exposé.
COG at work in mental hospital
Conscientious Objector Girls: COs were joined in the hospitals by many women, including wives of COs and nearly 300 pacifist co-eds who call themselves "Conscientious Objector Girls" (COGs). The COGs helped change Eleanor Roosevelt's opinion of Civilian Public Service. Previously, she had written in her newspaper column, "The conscientious objector is not performing any service for the country." After a visit with the COGs, Eleanor wrote that the COs working in the mental hospitals improved standards dramatically. Roosevelt's contacts with the COGs led her to work with members of the historical peace churches and sponsor the new National Mental Health Foundation in the postwar years.
CO participates in cognitive experiment
Human Guinea Pigs:  Nearly 500 COs competed to volunteer as guinea pigs in dangerous and life-threatening medical experiments seeking cures for malaria, infectious hepatitis, atypical pneumonia and typhus. Some CO subjects were inoculated with live hepatitis virus.
We were very concerned of course that we had been called all kinds of names, yellow bellies, and things like that. I had volunteered for an ambulance driver and got turned down, American Field Service, they said they didn't want any more COs, they had too many, but I was young and I wanted to show that I was not a coward, so when they offered me this chance of being a guinea pig, it fit right in with my scheme of things of proving that I was willing to take risks on my own body, but I just did not want to kill someone else.    - CO Neil Hartman
Neil Hartman served as a human guinea pig and was repeatedly injected with live hepatitis virus. Former Surgeon General, C. Everett Koop, then a medical resident performed two biopsies on Hartman.
Other CO volunteers were covered with lice and sprayed with DDT, or subjected to high altitudes, extreme temperatures and lengthy periods of immobility. The starvation experiments conducted at the University of Minnesota were among the most dramatic test for the COs. Healthy, young men committed to the cause were reduced to angry and emaciated skeletons. The dramatic results of the experiments were so severe and long-term that they helped to inspire the Marshall Plan which, as a keystone of U.S. foreign policy, set a precedent for helping countries combat poverty, disease and malnutrition after the war.
CO Lester Glick kept a diary while participating in the starvation experiments. Read a selection from his diary entries.
Smoke jumper Luke Birky
Smoke Jumpers: In 1942, the New Deal program Civilian Conservation Corps (CCC) was disbanded and the conscientious objectors took their place fighting fires in forests throughout the West. While the prevention and fighting of forest fires occupied nearly one-fourth of all CPS labor, the most elite, dangerous and desirable assignment for a CO was smoke jumping. Three hundred CPS men volunteered for this hazardous duty when the first group was formed in the summer of 1943. Luke Birky was among the first group of 60 trained at the Mennonite smoke jumpers camp near Missoula, Montana. By the end of the war, 240 COs had served in the program deployed as squads to base camps in Montana, Idaho and Oregon. Jumping into extremely rugged terrain and using methods barely out of the experimental stage, they parachuted directly onto newly spotted fires before they could rage out of control.
Many of us were wanting to do work that was significant and vital to the U.S. good, and smoke jumping was a new way of fighting fires. Many of us grew up in the West and had a great deal of concern about forest fires....It was a challenge, it was exciting, it was a little scary. I suppose also many of us had been labeled as "yellow bellies," cowards, for not wanting to go into the war and I assume, for some of us at least, there was a secondary motivation that we may have wanted to try to do tasks that might even be dangerous to show that we had courage also."
- Luke Birky, WWII CO.  From: http://www.pbs.org/itvs/thegoodwar/alternative.html
______________
Conscientious Objectors Play Important Role in Smoke Jumping During World War II
"Jumping out of planes via parachutes to put out remote wildland forest fires isn't your typical American job and it isn't for the faint of heart. Since 1939, the technique called smoke jumping has attracted physically fit, courageous and adventurous firefighters and has helped keep communities safe.
By the 1940s, the smoke jumping program was a valuable asset to the U.S. Forest Service.  Unfortunately, with the country's men drafted during World War II, the Forest Service experienced a significant loss in federal personnel which impacted the fire program.
In 1943, 60 conscientious objectors were chosen from a pool of over 300 volunteers. By 1946, the camp disbanded and the men returned to their families and their lives from before the war. Without the service of these men, the Forest Service would have likely had to discontinue the smoke jumping program during the war years.
These smoke jumpers, who were paid $5 per month, undertook work ordinarily accomplished by federal employees, primarily through camps administered by the Quaker, Brethren, Mennonite and Religious Society of Friends historic peace church organizations. This unusual church-state partnership afforded more than 12,000 men the opportunity to perform "work of national importance," but not as combatants."  From: http://wildfiretoday.com/2012/01/28/wildfire-highlights-from-the-usda-blog/
____________
Gmail Tap: Published on Mar 31, 2012 by Google
"Tap into the future of productivity with Gmail Tap for Android and iOS. Double your typing speed with this revolutionary new keyboard."   http://www.gmail.com/tap
http://www.youtube.com/watch?feature=player_embedded&v=1KhZKNZO8mQ#!
Gmail Tap is a binary language that only uses two characters -- dots and dashes, Morse Code, making it easy to learn.     "You do realize Google posted this as an April Fools joke."  Maybe not!
____________
Senior Treat.   This is a real treat for all of us Old Guys. 

This is interesting if you are over 50 years old, otherwise you won't have a clue!
CLICK ON A DATE AND SIT BACK AND ENJOY
This is awesome, pick out one of your favorites from below and give it a try...
1.  JACKIE GLEASON ON THE ROCKY MARCIANO SHOW THE MAIN EVENT (1960)
2.  JAMES DEAN: HIS FINAL TV APPEARANCE (1954)
3.  ELVIS SINGS BLUE SUEDE SHOES (1956)
4.  A TRIBUTE TO ELVIS PRESLEY, THE KING OF ROCK & ROLL (1959-62)
5.  THE EDSEL INTRODUCED ON NBC (1957)
6.  BOBBY DARIN'S "MACK THE KNIFE" (1959)
7.  WESTINGHOUSE DEBUTS HI-TECH "ADVANCED TV" (1951)
8.  WILLIAM BENDIX AS LOVABLE CHESTER A. RILEY (1956)
9.  ICONS I: WHAT MADE 50'S TV GOLDEN (COMPILATION, (1952-60)
10.  THE PATTI PAGE SHOW (1958)
11. BLOOPERS FROM THE HONEYMOONERS (1957-58)
12.  THE CENSORED JERRY LEE LEWIS HERE UNCENSORED! (1957-59)
13.  A TRUE 50's DOO WOP TV CLASSIC (1958)
14.  FAMILY AFFAIR (1966)
15.  ALAN FREED'S BIG BEAT DANCE PARTY DANCERS (1959)
16.  THE STEVE ALLEN SHOW (1957)
17.  The Inventor Of TV Sketch Comedy ERNIE KOVACS (1954)
18.  THE RED SKELTON SHOW (1959)
19.  ICONS: THE DELINQUENCY RAMPAGE! (COMPILATION, 1957-60)
20.  FATHER KNOWS BEST (1953)
21.  PETTICOAT JUNCTION (1962)
22.  OLYMPIC GOLD MEDALIST BOB MATTHIAS (1956)
23.  DANCES OF THE 1950's: THE HAND JIVE (1957)
24.  GROUCHO MARX YOU BET YOUR LIFE (1959)
25.  DRAGNET (1959)
26.  THE IMMORTAL MUSICAL COMEDY OF VICTOR BORGE 1951
27.  EDDIE FISHER SINGS A MEDLEY OF HIS BIGGEST HITS 1953
28.  ABBOTT & COSTELLO: WHO'S ON FIRST? 1951
29.  MORE DANCES OF THE 1950's THE JITTERBUG 1958
30. THE HONEYMOONERS ... IN COLOR! 1969
31.  THE ORIGINAL FLASH GORDON SERIAL theatres-1939; TV-1960's
32.  THE LONE RANGER 1955
33.  THE ENDEARING GRIMACES OF EDDIE CANTOR 1952
34.  BOBBY DARIN NERVOUSLY HOSTS A BEAUTY CONTEST 1957
35.  MORE DANCES OF THE 1950's: THE LINDY HOP 1959
36.  SHAKE, BABY, SHAKE!  IT'S THE KILLER AGAIN! 1958
37.  THE DANNY THOMAS SHOW 1958
38.  SID CAESAR: YOUR SHOW OF SHOWS 1957
39.  HERE COMES TOBOR! 1954
40.  THE ADVENTURES OF SUPERMAN 1954
41.  THE ADVENTURES OF FLIPPER 1964
42.  SPIKE JONES 1951
43.  CAPTAIN VIDEO & HIS VIDEO RANGERS 1950
44.  THE LIBERACE SHOW 1952
45.  MEDIC 1954
46.  THE BIG VALLEY 1965
47.  THE ROOTS OF TV BASEBALL 1950-57
48.  Mc HALE'S NAVY 1962
49.  HOPALONG CASSIDY 1952
50.  DARK SHADOWS 1966
51.  FADS & FANCIES OF THE 50s & 60s
52.  I LOVE LUCY 1952
53.  THE DICK VAN DYKE SHOW 1962
54.  THE BEATLES FIRST TELEVISION APPEARANCE 1963
55.  BAT MASTERSON 1958
56.  MARTY ROBBINS ON THE JOHNNY CASH SHOW 1964
57.  FRANK SINATRA SPEAKS CANDIDLY 1954
58.  PASSWORD 1962
59.  STAR TREK TV ON DEMAND 1966-present
60.  MORE DANCES OF THE 50's: THE SWINGBACK 1958
61.  THE LIVE TV FRIDGE COMMERCIAL CATASTROPHE 1954
62.  THE ARTHUR GODFREY SHOW 1957
63.   BUILDING THE 1958 DODGE 1957
64.  FIGHT CLASSIC: ROCKY MARCIANO vs. JERSEY JOE WALCOTT 1952
65.  AND MORE GREAT ICONS OF THE 50's VOL III 1952-59
66.  ALFRED HITCHCOCK PRESENTS 1959
67.  SATURDAY NIGHTLIVE~~ BEFORE SNL 1954-58
68.  FELIX THE CAT 1959
69.  THE DONNA REED SHOW 1958
70.  THE GOLDBERGS 1952
71.  LUCILLE BALL & CAROL BURNETT 1965
72.  THE LITTLE RASCALS 1955
73.  HIGHWAY PATROL 1956
74.  LOST IN SPACE 1966
75.  BEULAH 1951
76.  BEWITCHED 1966
77.  I DREAM OF JEANIE 1966
78.  SEA HUNT 1957
79.  DYNAMITE JOE RINDONE 1954
80.  THE MILTON BERLE SHOW 1957
___________
"A symbolic gesture to raise awareness about energy consumption, Earth Hour has grown since its beginning in 2007 in Sydney to now include observances in 147 countries and over 5000 cities. For one hour, lights are switched off at 8:30 local time on the last Saturday in March. Increasing public environmental awareness in China, which has overtaken the United States as the world's biggest polluter, has led 124 cities there to mark Earth Hour."
____________
On This Day:
President Lincoln is shot, Apr 14, 1865:
"Confederate sympathizer John Wilkes Booth shoots President Abraham Lincoln at a play at Ford's Theater in Washington, D.C.
Five days earlier, Confederate General Robert E. Lee had surrendered his army to General Ulysses S. Grant at Appomattox Court House, Virginia The war was nearly over, although there were still Confederate forces yet to surrender. The president had recently visited the captured Rebel capital of Richmond, Virginia, and now Lincoln sought a relaxing evening by attending a production of Our American Cousin starring Laura Keene. Ford's Theater, seven blocks from the White House, was crammed with people trying to catch a glimpse of Grant, who was rumored to be in attendance. In fact, the general and his wife had cancelled abruptly for an out-of-town trip.
Lincoln occupied a booth above the stage with his wife; Henry Rathbone, a young army officer; and his fiancée, Clara Harris, daughter of New York Senator Ira Harris. The Lincolns arrived late for the comedy, but the president was in a fine mood and laughed heartily during the production. At 10:15, Booth slipped into the box and fired his .44-caliber single-shot derringer into the back of Lincoln's head. Rathbone rushed Booth, who stabbed the soldier in the shoulder. Booth then leapt from the president's box to the stage below, breaking his leg as he landed. He shouted, "Sic semper tyrannis!" ("Thus ever to tyrants!"--the Virginia state motto) and ran from the stage. There was a pause, as the crowd initially thought the unfolding drama was part of the production, but a scream from Mrs. Lincoln told them otherwise. The stricken president was carried from the box to a house across the street, where he died the following morning."
____________
RMS Titanic
"The British passenger liner RMS Titanic leaves from Southampton, England on her maiden voyage, April 10, 1912. Titanic called at Cherbourg, France and Queenstown, Ireland before heading westward toward New York. Four days into the crossing, she hit an iceberg at 11:40 p.m., 375 miles south of Newfoundland. Just before 2:20 am Titanic broke up and sank bow-first with over a thousand people still on board. Those in the water died within minutes from hypothermia caused by immersion in the freezing ocean."    (Frank O. Braynard Collection)
RMS Titanic hits iceberg, Apr 14, 1912:
"Just before midnight in the North Atlantic, the RMS Titanic fails to divert its course from an iceberg, ruptures its hull, and begins to sink.
Because of a shortage of lifeboats and the lack of satisfactory emergency procedures, more than 1,500 people went down in the sinking ship or froze to death in the icy North Atlantic waters. Most of the approximately 700 survivors were women and children. A number of notable American and British citizens died in the tragedy, including the noted British journalist William Thomas Stead and heirs to the Straus, Astor, and Guggenheim fortunes. The announcement of details of the disaster led to outrage on both sides of the Atlantic. The sinking of the Titanic did have some positive effects, however, as more stringent safety regulations were adopted on public ships, and regular patrols were initiated to trace the locations of deadly Atlantic icebergs."
__________
Yesterday:
I woke up with a stiff neck, I've never had that before, but Misty and I still went to get Jay, as he wanted to work for a little while.  On the way back we were stopped by a neighbor who had just bought 2 lots with a shed.  He said I could have the stuff in the shed.  Jay went back there with a hand truck as it was just across the street, and brought back a small house fridge.   It isn't plugged in yet, as he had to tip it up, and fridges have to settle for 24 hours.  But I did pick up a mount for a ceiling fan out of that shed.  When we got back here, Jay re-mounted my ceiling fan with the 'new' mount, and it finally stopped wobbling.   So the ceiling fan that I bought yesterday can be installed somewhere else.
Jay tried out my mower, as we had picked it up from the repair shop on Thursday.  He mowed most of the grass before he put it away in it's little garage.  It runs like a new one.
I didn't work with Jay, as it is the last of The Days of Unleavened Bread, which is a rest day.