For "Summary Saturday", News, Some New, Some Old:
"If you went out and took a poll of the American people on July 4th (Independence Day) and asked them if they are free, what would the results look like? Of course the results would be overwhelmingly lopsided. Most Americans believe that they live in "the land of the free" and that they are not enslaved to anyone. But is that really the case? Slavery does not always have to involve whips and shackles. There are many other forms of slavery.   One dictionary definition of a slave is "one that is completely subservient to a dominating influence". I really like that definition. Today, millions of Americans are slaves of the system and they don't even realize it.

Debt is a form of slavery, and millions of Americans having become deeply enslaved to our debt-based financial system. When someone enslaves someone else, the goal of the master is to reap a benefit out of the slave. You don't want the slave to just sit there and collect dust.
Today, most Americans have willingly shackled themselves to a system that systematically drains their wealth and transfers it to the very wealthy. Most of them don't even realize that they have been enslaved even as the system sucks them dry….."  More at:  http://www.unhealthyearth.com/2013/01/are-you-slave-of-system.html#more
______
Inspection of Chinese poultry-processing plants may signal opening for imported poultry for human consumption
"FDA continues to investigate pet illnesses associated with Chinese chicken products.
The export of poultry from China to the United States is currently prohibited--past food safety concerns, bird flu outbreaks, and even the frequent turnover of Chinese officials are all cited as reasons for the continued ban. According to a U.S. Department of Agriculture (USDA) Food Safety and Inspection Service (FSIS) spokesman, "FSIS is currently working with the Chinese government to develop a timeline to inspect poultry-processing plants in that country." Some reports indicate that those inspections could be conducted in late January or early February in an apparent step toward lifting the U.S. ban on Chinese poultry.
Although banned from the U.S. poultry market for people, China does export chicken for pet food. But these products have been problematic in recent years. Since 2007, the U.S. Food and Drug Administration (FDA) has conducted extensive testing on chicken jerky treats of Chinese origin. As of Dec. 17, 2012, the FDA has received 2,674 reports involving 3,243 dogs, including 501 deaths, and nine cats, including one death."  More at: http://veterinarynews.dvm360.com/dvm/Veterinary+Food+Animal/Inspection-of-Chinese-poultry-processing-plants-ma/ArticleStandard/Article/detail/803748
______
Coca-Cola Rolling Out New Misinformation Campaign to "Combat Obesity"
"A new Coca-Cola ad campaign focuses on the mistaken belief that beating obesity is a matter of counting calories. This theory has been found to be patently false. All calories are NOT the same, and obesity is the result of consuming too many of the wrong type of calories
Carbs (fructose and grains) affect the hormone insulin and leptin, which are very potent fat regulators. Fats and proteins affect insulin to a far lesser degree
While soda consumption in the US has declined by 40 percent in the last 10 years, consumption of artificially sweetened "diet" beverages has risen in that same time
Research published in 2011 found that people who drank two or more diet sodas a day experienced waist size increases that were six times greater than those of people who didn't drink diet soda
Research from 2005 found drinking more than two cans of diet soda a day increased risk of obesity by more than 57 percent. Drinking more than two cans of regular soda per day increased obesity risk by just over 47 percent." More at: http://articles.mercola.com/sites/articles/archive/2013/01/30/coke-misinformation-campaign.aspx
"When Coca-Cola released "Coming Together," a 2 minute ad addressing obesity, it was met with jeers and howls of laughter. Now that the laughter has died down, CSPI thought it would attempt to translate the ad's Cokespeak into plain English."
______
Paralyzed Dogs Walk Again With Nose Cell Transplant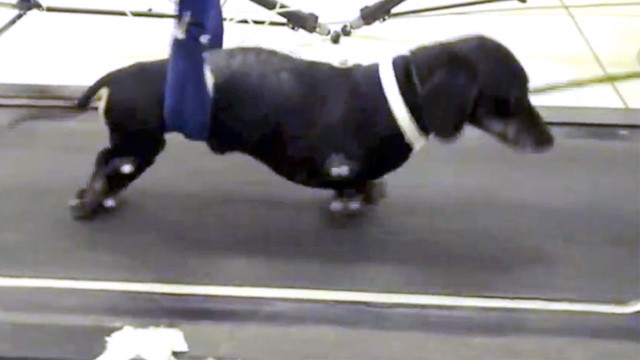 Jasper the dachshund is shown at the start of a spinal cord regeneration trial at Cambridge University in London. (Cambridge University)
"May Hay, a dog lover, used to cart her 10-year-old dachshund, Jasper around in a trolley because his short hind legs were paralyzed after he was hit by a car.
But after researchers took some cells from the dog's nose -- that's right, his nose -- and implanted them in his injured spine as part of a new study, Jasper could walk again.   "Now, he whizzes around the house and garden and is able to keep up with the other dogs," Hay told BBC. "It's wonderful."
Jasper was one of 34 dogs with paralyzed hind legs to participate in a randomized, double-blind study at Cambridge University in England. The results have now been published in Brain, a neurology journal. Researchers first collected olfactory "ensheathing" cells from the dogs' noses, cultured them in Petri dishes for three to five weeks and then injected them into the dogs' spines.
Researchers assessed the dogs' mobility on treadmills before and after treatment, discovering that the cells didn't restore communication between the brain and the hind legs, but somehow restored mobility and coordination to the legs.  The researchers concede they're not sure exactly why they had the success that they did."  More at:  http://abcnews.go.com/Health/nose-cells-paralyzed-dogs-walk/story?id=17763218
______
Keep Pets Warm During Storm
"Animal welfare agencies throughout the Northeast urged pet owners to take extra precautions to ensure the safety of their companion animals during the blizzard forecast for New England and New York this weekend.
"Animals rely solely on their human caregivers for safety and comfort—especially during winter storms," said Joanne Bourbeau, northeastern regional director for The Humane Society of United States. "Anyone in the path of this extreme weather and potential power outages should include their pets in preparations, including stocking up on pet food and supplies."
Currently as much as three feet of snow is predicted for some areas, and Winter Storm Nemo is expected to cause a number of power outages in its wake.
Bourbeau also reminded dog owners to make sure that their pets have all their tags on when going for walks -- as it is easy for animals to become distracted and run off. Smaller dogs and older dogs should have coats when outside in extreme weather and owners should limit their play time outside to make sure that they do not suffer from cold." From: http://theanimalrescuesite.greatergood.com/clickToGive/ars/article/Keep-Pets-Warm-During-Storm389?adId=108846&placementId=303391
______
Remembering the Crew of the Space Shuttle Columbia
"Ten years ago, on February 1, 2003, America and the world received the tragic news that Mission Control at Johnson Space Center had lost contact with the Space Shuttle Columbia while it was crossing the heavens at nearly 15,000 mph.  At approximately 9:00 a.m., within seconds of the last communication received from the Columbia crew, residents in Texas and Louisiana reported hearing a loud noise and seeing debris falling from the skies……
Today we remember with gratitude the seven souls who were lost aboard the Space Shuttle Columbia. In pursuit of knowledge and the exploration of our universe, these brave individuals faced exceptional dangers and ultimately sacrificed their lives in the name of science and exploration. On this tenth anniversary of their death, I hope we each honor their legacy by challenging ourselves to dream, to achieve more, and to reach farther than ever thought possible. We must continue the noble work of the Columbia and her crew and remain a nation that is steadfastly committed to the exploration of that enormous expanse of unvisited territory—the next frontier." More at: http://www.cornyn.senate.gov/public/index.cfm?p=TexasTimesWeeklyColumn&ContentRecord_id=7f777286-d546-47d3-8ffe-742834157e79
_______
This British Assault on an Island Off Argentina Is for the Birds
On South Georgia Island, scientists are gearing up for the biggest rat extermination project ever. The Mission: to completely rid this British territory of the pesky rodents in order to save other wildlife. WSJ's Cassell Bryan-Low reports.
LITTLE DOWNHAM, U.K.—"Britain is dispatching a band of skilled killers to an island off the Argentine coast on a boat carrying a lethal arsenal.
No, not to repeat the Falklands War. This time, it is to attack a problem that has been brewing in a remote British overseas territory for more than 200 years: rampaging rats.
Specialists from the U.K. are calling it the world's biggest rat cull. The location is the glacial island of South Georgia in the Atlantic, about 1,200 miles east of the tip of South America. The problem: the island is overrun with the rats that were first brought by sealing and whaling ships in the 18th century.
South Georgia is uninhabited by people. But the rats are a serious nuisance, conservationists say, because they eat the eggs and chicks of many species of birds—killing tens of thousands every year. That includes some that are unique to the island and in danger of extinction, such as the small, brown-speckled South Georgia Pipit, the Antarctic's only songbird."  More at:   http://online.wsj.com/article/SB10001424127887324734904578243631470293820.html
______
What's Unfolding in Egypt?
Map of Egypt (from CIA World Factbook).
"As riots continue, many Egyptians believe their president has hijacked the government and become a modern-day Pharaoh. How might these events affect our world?
Two years ago rioters successfully toppled the former Egyptian President Hosni Mubarak, and the riots ceased for a while. But the riots have started again, this time against Egypt's new President Mohamed Morsi, who has declared martial law and made his decrees immune to oversight by the courts during the transition.
With the recent string of events, many wonder if Morsi has a hidden agenda."     More at: http://lifehopeandtruth.com/prophecy/blog/whats-unfolding-in-egypt/
______
On This Day:
U.S. sends first combat troops to South Vietnam, Feb 9, 1965:
"A U.S. Marine Corps Hawk air defense missile battalion is deployed to Da Nang. President Johnson had ordered this deployment to provide protection for the key U.S. airbase there.
This was the first commitment of American combat troops in South Vietnam and there was considerable reaction around the world to the new stage of U.S. involvement in the war. Predictably, both communist China and the Soviet Union threatened to intervene if the United States continued to apply its military might on behalf of the South Vietnamese. In Moscow, some 2,000 demonstrators, led by Vietnamese and Chinese students and clearly supported by the authorities, attacked the U.S. Embassy. Britain and Australia supported the U.S. action, but France called for negotiations."
_______
Satchel Paige nominated to Baseball Hall of Fame, Feb 9, 1971:
"On this day in 1971, pitcher Leroy "Satchel" Paige becomes the first Negro League veteran to be nominated for the Baseball Hall of Fame. In August of that year, Paige, a pitching legend known for his fastball, showmanship and the longevity of his playing career, which spanned five decades, was inducted. Joe DiMaggio once called Paige "the best and fastest pitcher I've ever faced.""
_______
Yesterday:
When Misty and I walked down to the mail boxes, a neighbor's relative marveled that nearly 18 year old Misty was trotting along so well at her age.  They have a 9 year old poodle, and asked me if I would groom him while they are visiting this weekend.  So that's what I will be doing tomorrow.
Miss Priss and Arlo, the two foster cats, spent a lot of time chasing each other around the living room and porch at full speed.  So fast I could hardly tell which was which.  The patio door to the porch was open, as it was a lovely windows-and-doors-open day.